From the Open-Publishing Calendar
From the Open-Publishing Newswire
Indybay Feature
CRASH THE RNC: Sector 4 Barricade Building Contest
click image below for large printable poster (2.3mb) — 11"x17" and larger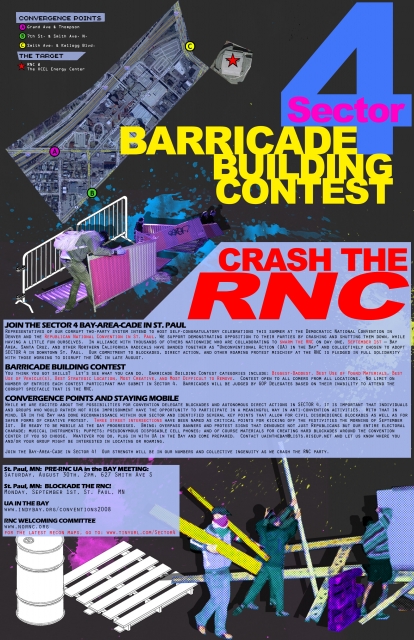 CRASH THE RNC: Sector 4 Barricade Building Contest
JOIN THE SECTOR 4 BAY-AREA-CADE IN ST. PAUL
Representatives of our corrupt two-party system intend to host self-congratulatory celebrations this summer at the Democratic National Convention in Denver and the Republican National Convention in St. Paul. We support demonstrating opposition to their parties by crashing and shutting them down, while having a little fun ourselves. In alliance with thousands of others nationwide who are collaborating to swarm the RNC on day one, September 1st — Bay Area, Santa Cruz, and other Northern California radicals have banded together as "Unconventional Action (UA) in the Bay" and collectively chosen to adopt SECTOR 4 in downtown St. Paul. Our commitment to blockades, direct action, and other roaming protest mischief at the RNC is pledged in full solidarity with those working to disrupt the DNC in late August.
BARRICADE BUILDING CONTEST
You think you got skills? Let's see what you can do. Barricade Building Contest categories include: Biggest-Baddest, Best Use of Found Materials, Best Use of Vehicle(s), Best Strategic Location, Most Creative, and Most Difficult to Remove. Contest open to all comers from all locations. No limit on number of entries each contest participant may submit in Sector 4. Barricades will be judged by GOP Delegates based on their inability to attend the corrupt spectacle that is the RNC.
CONVERGENCE POINTS AND STAYING MOBILE
While we are excited about the possibilities for convention delegate blockades and autonomous direct actions in SECTOR 4, it is important that individuals and groups who would rather not risk imprisonment have the opportunity to participate in a meaningful way in anti-convention activities. With that in mind, UA in the Bay has done reconnaissance within our sector and identified several key points that allow for civil disobedience blockades as well as for safer forms of creative protest. Three street intersections have been named as critical points for kicking off the festivities the morning of September 1st.
Be ready to be mobile as the day progresses. Bring: overpass banners and protest signs that denounce not just Republicans but our entire electoral charade; musical instruments; puppets; pseudonymous disposable cell phones; and of course materials for creating hard blockades around the convention center if you so choose. Whatever you do, plug in with UA in the Bay and come prepared. Contact uainthebay [at] lists.riseup.net and let us know where you and/or your group might be interested in locating or roaming.
Join the Bay-Area-Cade in Sector 4! Our strength will be in our numbers and collective ingenuity as we crash the RNC party.
---
PRE-RNC UA in the BAY MEETING:
Saturday, August 30th, 2pm
RNC Welcoming Committee convergence center, 627 Smith Ave S
St. Paul, MN
BLOCKADE THE RNC:
MONDAY, SEPTEMBER 1st
St. Paul, MN
---
UA IN THE BAY
www.indybay.org/conventions2008
RNC WELCOMING COMMITTEE
www.noRNC.org
We are 100% volunteer and depend on your participation to sustain our efforts!
Get Involved
If you'd like to help with maintaining or developing the website, contact us.