From the Open-Publishing Calendar
From the Open-Publishing Newswire
Indybay Feature
Mayor Antonio Villaraigosa commits animal cruelty
Yesterday in the LA Times the Mayor posted a list of his favorites restaurants. Besides having expensive tastes he also has cruel tastes. His favorite restaurant in LA is pricey Patina. He says their foie gras is "great." He admits to eating this cruel $28 appetizer every time he visits the restaurant.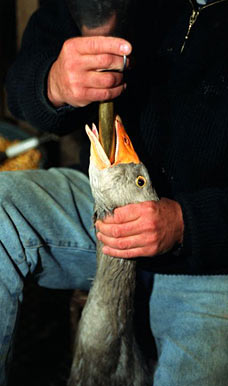 In July 2006 Antonio went out to lunch with an LA Times journalist for an interview. Antonio ordered foie gras and a $140 bottle of red wine declaring it a "good value." We the citizens of LA paid for his cruel "value" meal. And what's he doing drinking an entire bottle of wine on the job in the day time? Maybe this is how he got in trouble with his mistress and destroyed his marriage and family
After the Times ran the article animal lovers everywhere made sure to educate Antonio on foie gras. Foie gras is the liver of a goose or duck that's been force fed. They shove metal feeding tubes down their throats to inject massive amounts of fattening food a few times a day. Their livers become enlarged ten times normal size which causes them to be diseased besides extremely painful. They can no longer walk, their esophagus rips open or they choke on their own vomit. Then they are killed and their livers are fed to rich, ignorant folk who don't care about animals or their own health.
Many countries have banned foie gras completely such as Sweden, Switzerland, Germany, Denmark, Finland, Poland and Israel. Even the pope has claimed that it's a "violation of biblical principles." Governor Schwarzenneger passed a bill in 2004 to ban foie gras in California effective 2012.
After being educated about this inhumane food in 2006 Antonio told animal lovers that he'd make more conscious food decisions in the future. Since then the animal community in Los Angeles has vocally turned against Villaraigosa because of the dismal performance of his appointed Director of Animal Services Ed Boks. Euthanasia has increased over 30% and three times as many animals are dying on their own because of lack of care. Because of budget cuts necessary from Antonio's expensive tastes--Spago caters all of the Mayor's events--32 Animal Control Technicians will soon be fired. People with families will soon have no job while our Mayor eats expensive foie gras and bragging about it.
By publicly telling the world that foie gras is "great" and he eats it all the time he is very publicly hitting animal lovers in the face with a two by four. You know he really wanted to say "I eat kittens and puppies alive!" but an aide probably edited that out of his list. This is one petty and vengeful little Mayor.
As of the writing of this article there were 480 who hated his list and 248 who "enjoyed" it. Everyone, go and vote here
http://theguide.latimes.com/profiles/4170/lists/170885
Tell the Mayor that his choice of expensive inhumane food sucks as much as he and his Director of Animal Services.
I can't wait for Antonio's next top ten list, his favorite clothes. You just know he'll brag about wearing baby seal skin, alligator shoes and slippers made out of bunny fur.
We are 100% volunteer and depend on your participation to sustain our efforts!
Get Involved
If you'd like to help with maintaining or developing the website, contact us.