From the Open-Publishing Calendar
From the Open-Publishing Newswire
Indybay Feature
Related Categories:

U.S. | Global Justice & Anti-Capitalism | Government & Elections | Police State & Prisons
Anarchists Offer to Call Off All Protest Plans
Unconventional Denver, a group of anarchists organizing against the Democratic National Convention, announced on Monday its offer to call off all protests during the convention if the city, federal government and the DNC agree to redirect the current $50 million earmarked for heightened security during the DNC and invest it in Denver communities. This money is being used to install surveillance cameras, flood Denver with hundreds of extra police officers and federal agents, and purchase new police weapons such as pepper ball rifles and tasers. Unconventional Denver believes these purchases will be used to suppress free speech and will have a lasting negative impact on the people of Denver.
"As anarchists, we feel the greatest problem with government is how its primary interest is to protect the profits of those in power, even when it comes at the expense of the general public," said Clayton Dewey, an organizer with Unconventional Denver. "Spending $50 million dollars on weaponry to attack people voicing their opinion and flooding the streets with riot police while schools close down, children go without health care and people lose their homes is exactly the problem with the corrupt two-party system we're opposing this August."
The group is giving the City of Denver, the federal government and the DNC a chance to prove them wrong. If $50 million dollars is spent on any items from a list of possible programs the group has compiled, they will call off all protests which include street parties, rallies, marches, protesting fundraisers and nonviolent direct action aimed at disrupting what they're calling the "spectacle of a sham democracy".
According to research, compiled by the group, $50 million dollars is enough money to provide 18,986 children with health care for a year. There are upwards of 160,000 children in metro Denver alone without healthcare coverage. $50 million dollars would also provide 88,495 homes with renewable electricity for one year or six new elementary schools for the Denver area. Any way you cut it, the money could be invested in real security for the future of the people of Denver instead of being used to suppress democracy, says Unconventional Denver.
"That's what we're working towards- a world where people's basic needs are met and those most affected by the issues at hand are the ones that have the most say," explains Kelli Refer of Unconventional Denver. "When you look at the DNC, you see that the opposite is true. Instead of our needs being met, our city is being militarized. And instead of the people who have the most at stake making decisions in the convention, it's the corporations and party-insiders living it up behind a wall of heavily armed police."
If the DNC can prove them wrong, Unconventional Denver and hundreds of other anarchists will be elsewhere while the convention goes on. "If the city agrees to fund people's needs instead of corporate greed and suppressing dissent, I'll be spending my free time catching up on some books and being with my family," says Dewey. "But I have this sneaking suspicion the Democrats aren't going to go for it."
Unconventional Denver is the local organizing body of a national network of anarchists mobilizing in opposition to the DNC and the RNC.
Members of Unconventional Denver will hold a press conference to further elaborate on their proposal in front of the Denver City and County Building at 4:45pm on Monday. The press conference is timed to coincide with the 5:00pm city council meeting where a proposed ordinance restricting what protesters can carry during the DNC will be discussed.
FACTS: WHAT COULD $50 MILLION BUY FOR DENVER COMMUNITIES?
• 11,356 People with Health Care for One Year OR
• 88,495 Homes with Renewable Electricity for One Year OR
• 888 Music and Arts Teachers for One Year OR
• 8,876 Scholarships for University Students for One Year OR
• 450 Affordable Housing Units OR
• 18,986 Children with Health Care for One Year OR
• 6,622 Head Start Places for Children for One Year OR
• 877 Elementary School Teachers for One Year OR
• 6 Elementary Schools
• 80,128 Free Lunches for Kids
• 2,423 Students With College Paid For
Source:
http://www.nationalpriorities.org
Related Links for the story:
Official Statement
http://dncdisruption08.org/?p=122
Rocky Mountain News Video: Unconventional Denver
http://www.rockymountainnews.com/videos/detail/unconventional-denver/
Denver to Spend $25 million to fortify police presence
http://www.coloradoindependent.com/view/denver-to-spend-25
A free speech graveyard at the Democratic National Convention
http://www.coloradoindependent.com/view/a-free-speech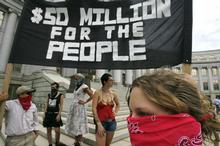 We are 100% volunteer and depend on your participation to sustain our efforts!
Get Involved
If you'd like to help with maintaining or developing the website, contact us.