From the Open-Publishing Calendar
From the Open-Publishing Newswire
Indybay Feature
women in black weekly vigil and some Zionist propaganda
women in black weekly vigil and some Zionist propaganda
On this Friday Women in Black distributed leaflets about the building of settlements in Israel. There are 120 Israeli settlements and Israeli outposts built illegally in the west bank. They control more then forty percent of roads and land in the west bank, making the lives of Palestinians impossible. Settlements are connected by bypass roads. For each 100 km of a bypass road 2500 acres of west bank is confiscated. Settlements and outposts are illegal under international law and several U.N. resolutions.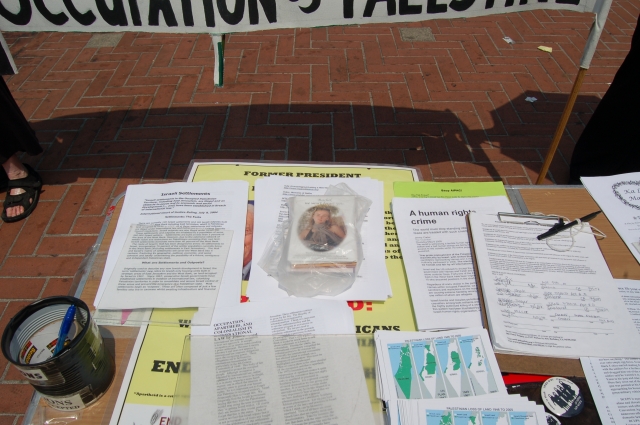 Zionists were also present. They have been harassing Women in Black for a while now. I took some photos to show the absurdity of their arguments.
The t-shirt of the woman to the right reads "freedom is not free". And I must ask in response: if freedom is not free then what is its price? Are hundreds of billions of dollars a good price for "freedom"? How about more than six hundred thousands Iraqis dead?
The fact that Zionists support the occupation in Iraq is not surprising. Zionism and Colonialism share the view that sees non-Europeans as uncivilized and in need of the west to educate and administrate them.
The sign says "born in Israel used in the U.S." and it shows some technologies that were invented in Israel. I find it hilarious that Zionists would choose not to mention the fact that 60% of Israel GDP involves weapons technology and military training. It's not surprising that Zionists would hide that fact. Many of the weapons deals are with corrupt and dictatorial governments such as Burma and China. Furthermore, Israeli Army personal trained the South African Army (during the Apartheid), death squads in South America, and other dictator's armies.
Another fact that Zionist would not mention is that although Israel's natural resources do not include diamonds another 25% of Israel GDP involve diamonds. Israel has become a safe heaven to many who make millions of dollars from the exploitation and death of people in the diamonds mines in Africa.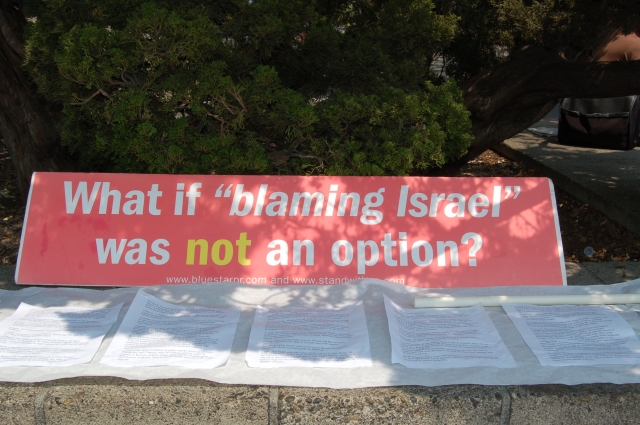 What if we could blame Aliens from Mars? "Today 20 Palestinians died in a missile attack on Gaza, the Alien's army stated that each person was a potential terrorist and that the attack was caused by the Palestinians themselves". Or "more and more Palestinians are dying at checkpoints, trying to reach hospitals. The Alien government has announced that Palestinians are to blame for this death, after all they are supporting terrorism".
What a Zionist fantasy. What if Israel can just get away with the atrocities and genocide that it commits in Palestine? What if we could blame the Palestinians for the occupation and terror?
Here's a better idea, what if Zionists own up to the atrocities and terror that the government of Israel commits in Palestine? What if people who are trying to fight for human rights and against apartheid would not be labeled by Zionists as Anti-Semitic? What if Women in Black would not be harassed and intimidated for standing for human rights?
We are 100% volunteer and depend on your participation to sustain our efforts!
Get Involved
If you'd like to help with maintaining or developing the website, contact us.