From the Open-Publishing Calendar
From the Open-Publishing Newswire
Indybay Feature
UA in the Bay to Join the Resistance Against the RNC in St. Paul
With a strong history of resisting oppression at home and abroad, Bay Area anarchists, anti-authoritarians, and other radicals are banding together as "Unconventional Action (UA) in the Bay" in solidarity with those committed to shutting down the corrupt spectacle that is the RNC on September 1st.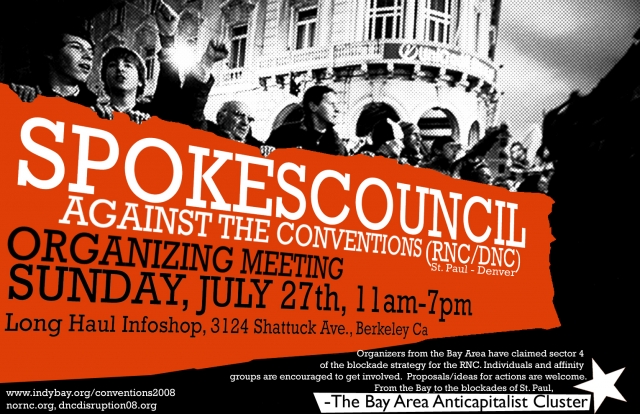 Responding to the RNC Welcoming Committee's "Swarm, Seize, Stay" strategy which involves dividing St. Paul into sectors to facilitate coordination of blockades and other creative resistance to the RNC, UA in the Bay has collectively chosen to adopt
SECTOR 4
in downtown St. Paul, Minnesota; and we fully support the St. Paul Principles as outlined at the NoRNC.org website.
UA in the Bay emphatically encourages others to join our call to lock down Sector 4! We believe it will be a critical sector to seize and hold. We welcome the participation of other regional clusters who would like to co-adopt, or that of affinity groups and individuals who would like to plug in without having to adopt their own sector. Our strength will be in our numbers and collective ingenuity as we crash the RNC party.
7.27.08 Spokescouncil I:
Those interested in participating in planning direct actions or otherwise demonstrating against the RNC in Sector 4 are invited to the Spokescouncil Against the Conventions, Sunday, July 27th, 11am-7pm at the Long Haul Infoshop (3124 Shattuck Ave, Berkeley, CA). UA in the Bay is calling upon Bay Area and Santa Cruz anarchist, anti-authoritarian affinity groups/smaller clusters to send representatives so we can accurately assess our strength and begin strategizing within SECTOR 4 to shut down the RNC. Individuals not associated with an affinity group are also welcome!
8.10.08 Spokescouncil II / Skillshare / Benefit:
Location, schedule, and events TBD at 7.27.08 organizing meeting. Stay tuned to
http://www.indybay.org/conventions2008
for details.
We're aware that meetings sometimes may be difficult to attend, so an alternative means of showing solidarity, commitment, and cluster strength has been borrowed from A Midwestern Cluster's model.
SOLIDARITY ASSESSMENT (as outlined by A Midwestern Cluster):
A solidarity assessment is easy as vegan pie to create. Follow the instructions below and you'll be done in no time.
Step 1: Get on a public computer.
Step 2: Create a brand new email.
Step 3: Write an email to uainthebay [at] lists.riseup.net expressing your affinity group's/cluster's solidarity and commitment to holding SECTOR 4, including an estimate of your numbers.
(Please do not include specifics. The internet isn't a safe means of communication.)
TRUE COURAGE TAKES PLANNING. GET INVOLVED NOW TO MAKE A DIFFERENCE THIS SEPTEMBER 1st and BEYOND.
Updates will be released as planning decisions are made by consensus at UA in the Bay meetings.
With love and solidarity,
UA in the Bay
uainthebay [at] lists.riseup.net
http://www.indybay.org/conventions2008
We are 100% volunteer and depend on your participation to sustain our efforts!
Get Involved
If you'd like to help with maintaining or developing the website, contact us.