From the Open-Publishing Calendar
From the Open-Publishing Newswire
Indybay Feature
Introduction to Bicycles with Free Skool Santa Cruz, Summer 2008
Free Skool Santa Cruz (FSSC) is a completely grassroots effort, a collection of locals acting collectively and autonomously to create a skill-sharing network, a school without institutional control. It is an opportunity to learn from others and share what they know, to help create self-reliance, vital communities, and beauty in the world. Classes and workshops offered during the summer of 2008 include free drawing at Natural Bridges, Ju-Jitsu, knitting, letter writing to prisoners, consent and sexual/intimate violence, building a bike wheel, and so much more.

On July 18th, I went to the Bike Church because the back tire was flat on my bicycle. Although the mechanic was getting ready to close shop for the day, I given a warm welcome to put my bike up on a rack and repair it myself. It felt good to personally take care of my transportation needs rather than rely on the assistance of someone else. I returned home, checked my Free Skool Santa Cruz calendar, and learned that a class called "Intro to Bikes, Bike Maintenance" was being held the next morning at the Bike Church.

That next morning, July 19th, I rode down to the Bike Church ready for my first day of summer skool. A very kind bike church mechanic and two other classmates were ready to get started. The class was a practical overview of the bicycle, from brakes to shifting to proper tool usage. It was also a useful introduction to the Bike Church. Time was allocated for group instruction and discussion during the first portion of class and then time was given for the three of us to troubleshoot our own bicycles with guidance from the mechanic. One highlight for us was learning to true our wheels. After class, not only did our bicycles ride much smoother, but we felt empowered and made new friendships.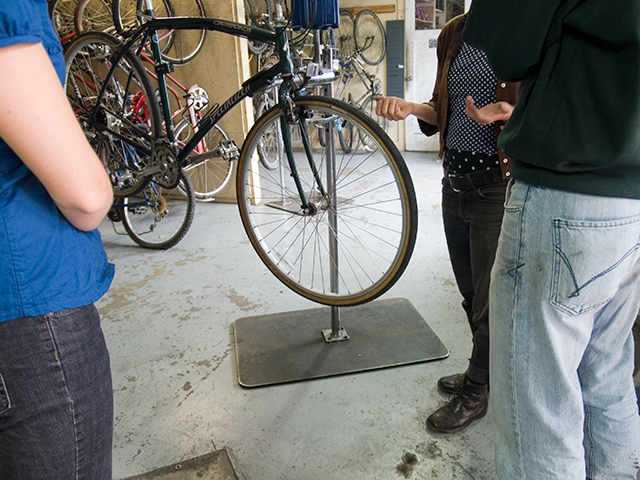 Intro to Bikes, Bike Maintenance will take place again on August 16th and September 20th at the Bike Church, 703 Pacific Avenue, starting at 11am.
Build a Bike Wheel will take place on August 10th and September 14th, also at the Bike Church, at 11am.
Women's/Transgender Bike Workshop is scheduled for every other Sunday. August 3rd and 17th, September 7th and 21st, at the Bike Church, 11am.
For more information on the Bike Church and the free classes they offer, call 425-BIKE (831-425-2453) and visit
http://bikechurch.santacruzhub.org/index.html
Free Skool Santa Cruz
http://santacruz.freeskool.org
The Bike Church can help you get ready for a long tour or a cross-town commute. You can learn to fix flats, build and true wheels, adjust shifting and brakes.

You don't need to be a mechanic to use the Bike Church's do-it-yourself repair facility. People of all aptitudes make use of the shop. Bike church volunteers are there to help you learn how to work on your bicycle. We encourage people to learn by getting their hands dirty and to familiarize themselves with the machine that they rely on to get them from place to place.

THE BICYCLE CHURCH : MON - SAT 3PM - 7PM (every day except sunday)
703 PACIFIC AVENUE SANTA CRUZ (enter on spruce) : (831)425 BIKE : bikechurch(at)santacruzhub.org

The Bike Church is a part of the Hub For Sustainable Transportation.
We are 100% volunteer and depend on your participation to sustain our efforts!
Get Involved
If you'd like to help with maintaining or developing the website, contact us.