From the Open-Publishing Calendar
From the Open-Publishing Newswire
Indybay Feature
SACRED SHELL MOUNDS SAVED IN MARIN COUNTY
A long drawn fight to save Sacred Shell Mounds in Marin's Oxford Valley has ended with success. Thanks to the hard work of local activists and the prayers and support form the Vallejo InterTribal Council and Wounded Knee. The ancestors are happy.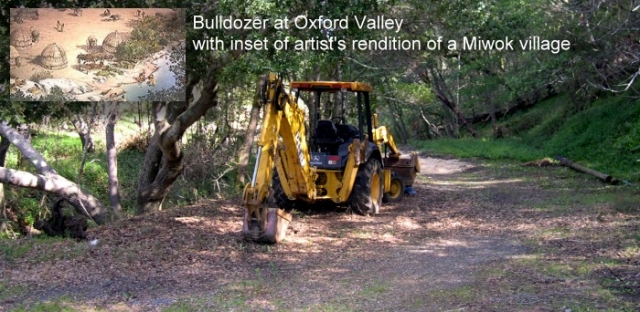 July 15, 2008 A Victory: A local Montessori school is now in the process of going thgrough the reviews to build a small school on this site, respecting the sacred shell mounds and the locale's special needs.
Here's a note from Oxford Valley activist Mark Wallace:
Some very good, if expected, news regarding Oxford Valley: Marin Montessori School has closed escrow on the purchase of the valley.
We can all breath a sigh of relief, now, since we no longer have to worry about the valley being subdivided and largely paved, as has been the plan of all the previous developers who have had their eye on Oxford Valley.
At this point, I've had a chance to meet many, if not most, of the directors and staff of Marin Montessori. I can say that I am absolutely confident that they will be wonderful stewards of the valley. They are as committed to environmental preservation of the valley as any of us in the neighborhood, and I expect them to be very good new neighbors.
A few folks near Oxford Valley have been complaining and sending out negative flyer's about the school. I want to make it clear that these people are not associated with the Friends of San Pedro Mountain. The small group of people who have voiced opposition to the school have not been part of the 50+ neighbors in FOSPM who have worked now, for years, to fight subdivision and development in Oxford Valley.
I want to thank all of our neighbors who have fought this long fight to prevent subdivision and large scale development of the valley. It's been a running battle that been going on for at least the 14 years we've lived in the neighborhood. The story has always been the same: a developer looks at Oxford Valley and sees dollar signs instead of the things we see: the beauty of nature and our cultural and natural history. Fortunately, Marin county has some strict guidelines for development near streams and on hillsides, or this valley would have been paved over years ago. As we've learned, however, the good intentions of the County are not enough: it has taken fully engaged and vigilant neighbors to prevent a subdivision from slipping by. Also, the legal byways involved in understanding how to effectively oppose a subdivision are complex, to say the least, and the timely and expert help from Ladd Cahoon at the Law Office of John Edgecomb has been invaluable.
It is not often that a neighborhood "wins" a battle of this kind. Usually the developers eventually get most of what they want. In this case, we are deeply grateful to Marin Montessori for assuming stewardship of this land. Without a well-intentioned buyer, we were guaranteed to have immediate construction of a monster home followed by further subdivision and, and likely continuous construction (similar to Leona) for years to come.
Thanks again to everyone who has contributed to FOSPM: financially, with volunteer work, and by concerted letter writing and attendance of public hearings. And a heartfelt thanks to our neighbor Tony White for recognizing this unique opportunity to preserve the valley while helping his school, and working tirelessly to make it happen.
Thanks, -Mark Wallace
more of the story at:
http://www.brightpathvideo.com/Local_News.htm
We are 100% volunteer and depend on your participation to sustain our efforts!
Get Involved
If you'd like to help with maintaining or developing the website, contact us.