From the Open-Publishing Calendar
From the Open-Publishing Newswire
Indybay Feature
Boston Woodard, is a prisoner/journalist who writes about the reality of life inside the Prison Industrial Complex. This is his most recent article and it is about his experience with music and the arts and how they can be used as a tool to improve prisoners lives and reduce recidivism.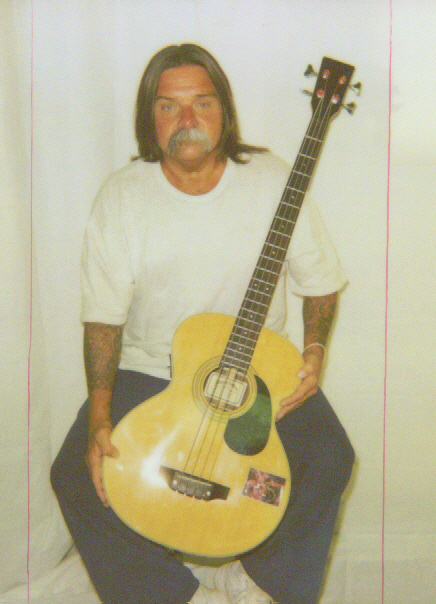 Arts in Corrections
A Glowing Hope
By Boston Woodard
Since the eighteenth-century, prisoners of every ilk develop methods to survive in the tumultuous and violent insanity inherent throughout the history of the prison system. It was a consuming struggle just to find a meal each day in the early days of confinement, as the authorities made little or no provision for the support of prisoners. It took more than a hundred years for society to figure out that those who meticulously manufactured the U.S. Constitution clearly wrote it for all citizen's -- including prisoners.
Prisoners have historically been an under represented group within the social strata and in this epoch of 'Three Strikes, You're Out," brought on by the "tough on crime" crowd, the atmosphere inside prison walls has become enveloped by a shadow of hopelessness and frustration, as even the most liberal members of our society turn their backs on prisoners and their families for fear of appearing to be soft on crime.
It seems the policy of California's governor Arnold Schwazenegger and some seemingly virulent politicians of keeping prisoners from important self-help programs is a perfect example of how today's prison system is working against rehabilitation and social involvement for prisoners. It is just plain wrong to leave prisoners ill-prepared before release on parole. As abhorrent and ill-fated as the current climate of our states temperament towards prisoners increasingly grows, many prisoners feel there is no one who cares whether they receive rehabilitation while behind these prison walls. Occasionally, a glow of hope shines from the ostracism imposed on prisoners.
It wasn't until the mid twentieth-century that a tide of change would flow over the prison system in the United States. In the 1940's, warden Clinton Truman Duffy who was dubbed "the man who reformed San Quentin" came on scene. Warden Duffy began sweeping changes in the way San Quentin's prisoners were treated. He fired sinister guards, closed the dungeon and was not afraid of prisoners.
Warden Duffy was the son of a former prison guard and was raised on the grounds just outside the walls of San Quentin in Marin County California. Throughout his entire life Duffy grew up in the presence of convict workers who tended the gardens that surrounded the walls of San Quentin and other convict work assignments inherent during that prison history era. After becoming warden, Duffy did everything to change the brutal methods used in the prison by the guards. Duffy started new and better programs for the convicts to stay occupied, giving them the opportunity to improve their educational skills and learn new trades. Duffy was also very aware that many prisoners were heavily involved in the arts before coming to prison.
Duffy started the prison newspaper The San Quentin News' and Alcoholics Anonymous. He began a boxing program, organized baseball and began enhanced music and arts programs allowing the convicts to perform at special prison functions. It was soon learned that the sports, religious and especially the arts programs such as creative writing, music and various painting and drawing mediums, changed for the better the lives of the prisoners and those who worked behind the walls of the prison. Recidivism plummeted dramatically among prisoners who were matriculated into Warden Duffy's programs.
These programs softened the tension and allowed prisoners to work toward self-betterment. There was a significant drop in gang activity. Fewer fights and stabbings took place. The rest of the prison's general population frequently gathered for music performances and art shows provided by participating arts students. These activities eased the overall anxiety of prison life for the convicts as well as prison staff.
There were some old-time guards who resisted these new rehabilitation programs for the prisoners; it was foreign to them and stood in the way or what they believed they were hired to do – degrade, humiliate and punish the horrible convicts. If prison staff refused to acclimatize with the new rehabilitative measures, they were promptly dismissed from their duties by Duffy.
Warden Duffy surmised that for 150 years, dark draconian methods leveled against the convict contributed nothing toward the rehabilitation of anyone who would eventually be paroled. It is important to know that if the arts programs are taken seriously, they can have a profound rehabilitative impact on those prisoners who were involved upon their release from prison. If society expects prisoners who parole (which is 90 plus percent of them) to remain free as productive members of society, fair and just attention needs to be given to prison arts programs.
Throughout the decades, insight and understanding of the benefits of Duffy's rehabilitative arts, sports and religious programs, afforded prisoners the opportunity and the tools to develop and hone their skills.
Ernie Schaffer, a prison music teacher in California in the 1970's once explained, "When these men are with instrument, their world changes for the better as will mine and yours."
The William James Association, an organization that promotes work services in the arts, environment, education, and community development currently provides the Prison Arts Project for prisoners. The Prison Arts Project contracts with professional artists to provide in-depth, long-term arts experiences for incarcerated men and women. Begun in 1977, the program selects
and hires professional visual, literary and performing artists to teach in California state prison facilities. The Prison Arts Project also establishes Artists-In-Residence programs for the National Endowment for the Arts and the Federal Bureau of Prisons.
The William James Association is a nonprofit1 community service corporation founded in 1973 by Page Smith and Paul Lee. The association is named for the American philosopher, William James, who was deeply concerned with the relationship between philosophical thought and social action.
Through the vision and efforts of Eloise Smith, the William James Association began the Prison Arts Project in 1977 as a pilot program at the California Medical Facility (CMF) prison in Vacaville, Ca. Since that time, WJA has dedicated itself to providing arts experiences to incarcerated individuals in the belief that participation in the artistic process significantly and positively affects one's views of oneself and the world.
There was also much interest by some elected officials regarding the positive possibilities of arts being part of the bigger rehabilitative picture. In 1980, California State Senator Henry Mello, was responsible for getting legislation passed to allow the Arts In Corrections program to expand.
In 1980, Jack Bowers began working at Soledad State Prison as a music instructor with the Arts In Corrections (AIC) program. Bowers was sincere and very courageous at doing something good for prisoners. He was very successful in his effort to instill the qualities necessary in becoming a good, all around musician. Bowers was co-responsible for the Stars Behind Bars music program at Soledad with the help of Buddy Harper, a Duke Ellington alumnus. The Stars Behind Bars program took prisoner musicians from neophyte status to levels they could only dream of. The confidence and self-esteem levels Jack Bowers raised in his charges didn't get any better. Over the years, hundreds of prisoners benefitted from the hard work and effort of Jack Bowers.
Today, Jack Bowers is the Chairman of the Board of Directors for the William James Association based in Santa Cruz California, a job he truly deserves.
When asked about why doing what he did for so many years in prison was important to him, Jack offered a few examples. He spoke of one prisoner who picked up a guitar for the first time and actually knew how to play it. The prisoner told Jack that he had constructed a guitar neck out of cardboard, drew in the strings, and learned how to finger the notes to various music patterns on the cardboard neck. This determination and desire to be involved with the arts amazed Jack. Another young prisoner of about 18 years old - Rico, not assigned to the arts program, would appear in Jack's class and was sort of a nuisance. Jack said if he wanted to "hang around" he would have to at least act as if he were doing something. Rico's motivation was uncanny, and according to Jack, Rico became one of the most accomplished musicians he ever instructed. The story that sounds most abstruse is of a prisoner in Soledad State Prison's infamous "0-Wing" segregation unit ("the hole") that Jack helped present an award to. This prisoner had won a national writing contest but before he could except the award, he had to sign a release before the award could be officially presented and publicized. Jack explained that it was both overwhelming and surreal to be part of this event; one he was proud to be part of. The prisoner was hand-cuffed with waist chains and bound with ankle shackles. He was then escorted to a designated area in the prison where he signed the release, and was presented with the award. He was hurried back to his cell. This prisoner was eventually released from administrative segregation and continued to write.
It's the need and want for the opportunity to change that is important to understand when talking about prison arts programs. There are so many men and women behind prison walls that crave for the opportunity to get involved with the arts. These programs are lacking in resources/funding and official understanding of just how rehabilitative these programs are. You would think that the Department of Corrections would pay more attention to these programs, see the rehabilitative benefits, and help them accordingly. This would also prove, that recently adding the word "Rehabilitation" to it's official logo isn't a smoke and mirror maneuver to appease some federal court order.
In the mid 1980's, San Quentin ARTS IN CORRECTIONS program was headed by arts facilitator Jim Carlson. Carlson an accomplished artist and educator, assembled one of the largest and most productive running Arts programs the Department of Corrections has ever allowed. With painting and drawing classes, crafts, various art projects and a very active music program, Carlson set the standard for well organized prisoner rehabilitation programs guided through the arts. Today, Carlson works as the Arts Facilitator at New Folsom State Prison in Represa California.
During the l990s, the public was bombarded with a barrage of talk about crime, those who commit it and the punitive measures that should be leveled against them. Longer prison sentences spawned by the Three Strikes You're Out law and the obscene amount of money pumped into it, took the attention and funding straight out of the rehabilitation coffer. Instilling this unfounded fear in the public lead to the belief that all prisoners are irretrievable miscreants and should not be given the opportunity to grow as humans. Interest shifted from rehabilitation to the depletion of programs such as Arts In Corrections to punitive measures.
Creative writing teacher and author Judith Tannenbaum worked for many years inside the walls of San Quentin. Judith explains that, "What I offer depends on the needs of the particular class I will meet with -- anything from reading to one-on-one consultation, to work with basics of poetry (image, sound, line, voice) to creating projects."
For years, Anne Greene has taught hundreds of prisoners and said she understands the benefits of teaching prisoners with, "emphasis on group process and in-class writing in a relaxed, informal working atmosphere."
Teacher and poet Tracy Gourdine once said, "It's amazing how attentive and willing to engage in the arts prisoners are when given the opportunity."
Retired California Medical Facility Arts Facilitator Jeff Hesemeyer said many prisoners come to prison when they are young. Hesemeyer feels this is when they are at the height of their learning abilities. Communication, survival and learning skills all help toward the sense of accomplishment which are all attainable through the prison arts programs. Hesemeyer explained that Arts In Corrections teaches prisoners to discover new things about what they do not know and that it's also a great healing force.
Arts Facilitator/Musician Bill Scholer at Solano State Prison in Vacaville, California, explains, "we are all born with our own temperament. Some of us are born to be creative and it's harmful to neglect our nature. If neglected, it can create havoc in our community. In order for prisoners to rehabilitate themselves, they have to find some positive aspect to their nature -- Arts In Corrections provides that positive venue. It should be important for us all to understand the value of the humanities and the importance of self discovery through the arts, as did warden Duffy so many years ago."
Warden Duffy not only recognized and understood the rehabilitative benefits of prisoners participating in creative programing, he had the courage to do it during the tumult of a dark prison era.
With the need for programs to accommodate the multitude of prisoners who want and need to change for the better, the already established Arts In Corrections program and the William James Association deserve everyone's support.
The guidance, experience, opportunity and rehabilitative prospects these groups offer to prisoners and the general public are outstanding and necessary.
###
Boston Woodard is a prisoner/journalist who wrote for The San Quentin News, The Soledad Star and edited The Communicator. Boston has been a student of and participated in programs that were facilitated by every teacher and Arts Facilitator talked about in this article.
Boston Woodard B-88207
CSP-Solano, 13-F-8-L
P.O. Box 4000
Vacaville, CA. 95696-4000
For more information about the William James Association and the Arts-In-Corrections program, see
http://www.williamjamesassociation.org/
************************************************
You can read Boston's previous articles here:
Appealing the Impossible
Sunday May 18th, 2008
http://www.indybay.org/newsitems/2008/05/18/18500099.php
Shake-Down
published: Wednesday Apr 23rd, 2008
http://www.indybay.org/newsitems/2008/04/23/18494693.php
Zip Gun
Published: Friday Apr 11th, 2008 2:37 PM
http://www.indybay.org/newsitems/2008/04/11/18492221.php
The Shell Game
Published: Thursday Mar 27th, 2008
http://www.indybay.org/newsitems/2008/03/27/18488993.php
Medical Snafu, Ongoing Prison Problem
Published: Thursday Feb 14th, 2008
http://www.indybay.org/newsitems/2008/02/14/18479245.php
Parole Board Pillory
Published: Sunday Dec 16th, 2007
http://www.indybay.org/newsitems/2007/12/16/18467346.php
Hog-Tied (The Transferring of Sophanareth Sok)
Published: Thursday Oct 4th, 2007
http://www.indybay.org/newsitems/2007/10/04/18451787.php
Foreign National Prisoners, Targeted For Out-Of-State Transfers
Published: Saturday Sep 1st, 2007
http://www.indybay.org/newsitems/2007/09/01/18445270.php
" H 0 R R I F I E D "
Published: Sunday Aug 19th, 2007
http://www.indybay.org/newsitems/2007/08/19/18441509.php
"Unacceptable Material"
Published: Friday Jun 8th, 2007
http://www.indybay.org/newsitems/2007/06/08/18426088.php
The Parole Conundrum
Published: Monday Dec 18th, 2006
http://www.indybay.org/newsitems/2006/12/18/18338477.php
We are 100% volunteer and depend on your participation to sustain our efforts!
Get Involved
If you'd like to help with maintaining or developing the website, contact us.