From the Open-Publishing Calendar
From the Open-Publishing Newswire
Indybay Feature
Scientologists in Action: The True Nature of Scientology's "Vulture Ministers"
One of the Scientology cult's many front operations is called the "Volunteer Ministers." Scientology delights in relentlessly producing an endless supply of "press releases" extolling the pure, selfless altruism of these heroic humanitarians, who, according to Tom Cruise, are the ONLY ones who REALLY know what to do at the scene of a disaster or emergency. Namely, to deliver "touch assists" (a sort of creepy, inappropriate massage), take down names and addresses, and give out their bizarre "Way to Happiness" pamphlet.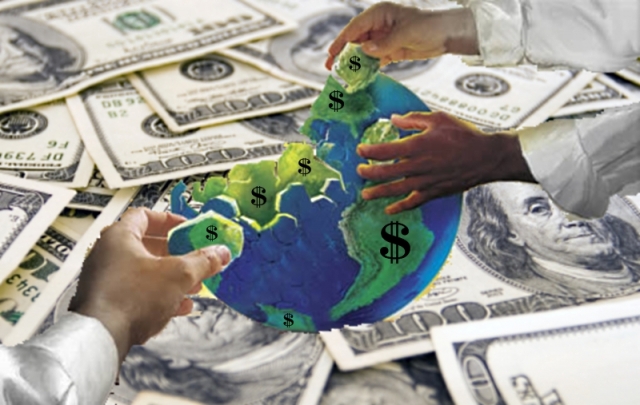 Human rights advocates, public health officials, and emergency personnel in nations worldwide have another name for these jet-setting opportunists. They call them "Vulture Ministers."
One of the Vulture Ministers' most famous public escapades was at the ruins of the World Trade Center in the days following 9/11. Legitimate mental health professionals were there, of course, to help the victims and counsel the witnesses. Meanwhile, the Vulture Ministers in their bright yellow t-shirts descended upon the scene. Scientology's maniacal hatred of psychologists and psychiatrists is well known. True to form, the Vulture Ministers performed blocking maneuvers to prevent psychologists from doing their work.
A leaked e-mail from a Scientology leader describes the scene.
"Additionally we are trying to move in and knock the psychs out of counseling to the grieving families and that could take another 100 plus people right now. Due to some brilliant maneuvering by some simply genius Sea Org Members we tied up the majority of the psychs who were attempting to get to families yesterday in Q&A, bullbait and wrangling. They have a hard time completing cycles of action and are pretty easy to disperse."
The Scientologist actually admits that at Ground Zero, he and the other Vulture Ministers obstructed the work of mental health professionals through arguments and physical intimidation. After asserting that only Scientologists know what the hell they're doing, he goes on to disparage the ministers of various (legitimate) religions who were "working hand in hand with the psychs."
"The fire-fighter company down the street from the org lost 14 members on Tuesday. No one can do anything for them or the rest but Scientologists. The other religions here with their ministers have shown their true colors and are working hand in hand with the psychs to give these people as much false data and restimulation as they can. They HAVE NO TECH and they're not even trying to hide it anymore. They've crossed over and abandoned anything spiritual and to hell with them."
The Scientologists also somehow scammed Fox News into believing they were a group of mental health professionals called "National Mental Health Assistance" (NMHA). For five hours on September 14, the toll-free phone number for this deceptive group crawled across the bottom of Fox News programming. It was a toll-free number to Scientology headquarters in Hollywood. Meanwhile, the real NMHA, the National Mental Health Association, issued a public warning in response to the conduct of the Vulture Ministers, saying that they were "intentionally confusing the public" by presenting themselves as mental health service providers. According to NMHA President Michael Faenza, "The public needs to understand that the Scientologists are using this tragedy to recruit new members. They are not providing mental health assistance."
The September 11 attacks were only one opportunity of many that the Vulture Ministers have taken as a means of exploiting the victims of tragedies and disasters, and recruiting new members. Every time there is a natural disaster or school shooting somewhere, the Vultures will appear.
In Russia, after the Beslan school hostage crisis in 2004, the Health Ministry ordered Scientologists out of the area, saying "that various psychological tactics the groups use, including what it called hypnosis, may be harmful not only for adults, but for children that have already suffered severe mental shock."
In the UK, Vulture Ministers were up to their usual tricks in the aftermath of the 7/7/2005 London bombings, targeting the families of victims and emergency workers. It was reported that the Vulture Ministers had been told to get away from survivors of the bus bombing in Tavistock Square.
In a recorded discussion with an undercover BBC reporter, two top Scientologists admitted that the purpose of the Vulture Ministers was to keep the psychologists and psychiatrists away from the victims and witnesses, and called this "spiritual security."
After the Virginia Tech massacre in 2007, dozens of Vulture Ministers showed up on the campus. Bulletins to Scientology members said that help had been requested by the university provost, the Salvation Army and the Red Cross, but these organizations denied that any requests had been made.
No matter how much phony, "feel-good," happy-slappy propaganda Scientology releases about its "Volunteer Ministers," it doesn't change the truth about these unskilled, obstructive cultists: Their only goals are to give the impression that Scientology is a benevolent, ordinary religion, and to recruit more paying customers. Fortunately, no matter how many self-congratulatory press releases they write, they are not having much success with either goal.
To learn more about how you can help put a stop to the Scientology cult's many ongoing crimes, including an internal corrections gulag, coerced abortions, toxic waste dumping, and many other things that will astonish you, please visit
http://www.xenu.net
and
http://www.enturbulation.org
*See also:*
Excellent BBC Radio report (2006). Elodie Harper goes undercover to reveal the tactics used by Scientology followers in the immediate aftermath of traumatic events.
http://www.bbc.co.uk/radio/aod/networks/fivelive/aod.shtml?fivelive/flreport_scientologynew
Transcript of this BBC Radio report on Volunteer Ministers
http://www.daisy.freeserve.co.uk/stolgy_25.htm
Scientology at Ground Zero
http://www.xenu.net/archive/events/20010911-tragedy/
Scientology's Volunteer Minister program
http://www.cosvm.org/
Volunteer Ministers
http://encyclopediadramatica.com/Volunteer_Ministers
We are 100% volunteer and depend on your participation to sustain our efforts!
Get Involved
If you'd like to help with maintaining or developing the website, contact us.