From the Open-Publishing Calendar
From the Open-Publishing Newswire
Indybay Feature
Scientology cult uses "fair game" tactics against disabled cult critic
The Scientology cult has retaliated against a prominent critic in Plymouth, England by filing a false police report of "assault," and as well as reporting his cultivation of medical cannabis.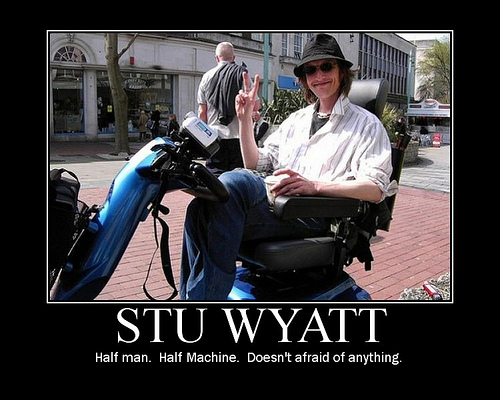 Stu "Killdozer" Wyatt is a notorious "suppressive person" in Plymouth, England. Because of his health condition, he rides a motorised scooter. Stu frequently protests the pathetic Scientology "stress-test" tables of Plymouth, shooting rather amusing video footage all the while as he asks tough questions of embarrassed, mixed-up Scilons. Stu is also a longtime campaigner for medical cannabis. This has been well-known to the police, and up to now, they have left him alone.
On June 12, in response to a complaint by Plymouth's "Church" of Scientology, Plymouth police came to Stu's home and arrested him for "assault." The Scientology complaint was based on an incident that occurred on June 3, which Stu documented on videotape (it can be seen here:
http://www.youtube.com/watch?v=njEioJRDFLs
). Fortunately for Stu, there was no assault, as the tape will show. For some reason, however, Plymouth police decided to be tough guys about the cannabis, and took Stu to jail. Here is Stu's message to the anti-Scientology "Enturbulation.org" forum:
===
Ok - so where shall I start?
8:30am, I get a knock on the door. I answer in my boxers, and find 4 police outside asking me by name. They invite themselves, tell me I am under arrest for assault and proceed to search my flat. I ask them what they are searching for, and they mention video, so I give them all 21 cult watch tapes and my camcorder. They also notice cannabis in my flat..... :(
They were here for an hour or two.... They took all cannabis that they could fine (a lot - mostly trimmings and wastage that I was going to use for cream).... I cooperated with the police 100%, and willingly showed them where everything was.
What they took:
1 camcorder.
21 tapes (all the cultwatch masters....) :(
My beloved vapureyes vapouriser
My 250W lighting system and electronic timer
One huge sack load of wastage trim (that I was going to use to mass produce cream)
The remains of 4 plants (long since stripped of anything smokable)
1/2 oz or thereabouts of smokeable White Widow trim (top leaves and budlets)
Various little bags and pots of crap phosphorous weed (unsmokeable, unuseable)( that I forgot was there.
All my ziplock bags
All the silver foil in my growroom, as well as any leaves they saw on the floor.
Anyway... I was arrested (but not handcuffed), taken into the van, and driven to the police station at 9.30ish.... I was booked in, and chucked in a bare cell (just toilet and matress... nothing to read, nothing to see). Apart from the fingerprinting/dna and interview, I was in there until 9.00am today....
I was only fed once (pastie and a cup of tea).... I was denied making a phonecall for a few hours (when I needed to speak to someone who I knew would be home)... I was also denied a duty solicitor that evening when I wanted to ask questions about the case (being told "You'll see him tomorrow"). When desperate for water (I was relapsing and had a 'fever' of sorts), they refused answering the intercom for 1.5 hours... and I had to result to banging on the cell door with my walking stick and screaming through the gap until someone answered. I was also not offered any washing facilities.....
Anyway - the interview: I was honest and polite.... The first part was about my alleged assault on Sandra on June 3rd. Both her and Ryan had written statements saying that I had driven into her, hit her with my stick and run over her toes. The police will see on the video that there is no actual evidence of any assaults (basically - as they did not happen)....
Then it goes onto the cannabis, and again, I was open and honest.
The resulting factor of all of this is that I now have a "PROTECTION FROM HARASSMENT" letter stating that I cannot have any contact with Scientologists for 12 months, or they could simply arrest me and throw me into jail. We are waiting to speak to a police chief over this, to find out if this infringes on my legal right to protest and free speech.
I also got charged with possession with the intent to supply, and cultivation with the intent to supply.
I was refused bail that evening, and was kept in overnight.
Zero sleep. Stinking to high heaven. Hungry and relapsing....
I was in court at 10am this morning, where there was no mention of any harrassment, but obviously the cannabis charges stuck. I pleaded "Not Guilty" to cultivation with the intent to supply and "No Plea" to posession with the intent to supply (or the other way round. I cant remember)....
The case was then sent to the Crown Court, where I will have to appear at 9.45am on August 8th.... The worse case scenario is that I get 14 years in jail but I personally believe that I will not get a custodial sentence... Time will tell. But IM OUT!
Luckily, I was given bail. The PROSECUTION solicitor actually stated that he was surprised that I was not given automatic bail the night before given my medical condition and that I had zero arrests or convictions to my name.
So yeah.... Im finding out if I am going to be allowed to protest, but there is every chance that I may have to step back and concentrate more on global protesting/videos and helping moreso with enturb moderating.
Anway - Im fucked. Ive had very little sleep for days and a lot of stress.
===
The term Fair Game is used to describe various aggressive policies and practices carried out by the Church of Scientology towards people and groups it perceives as its enemies. In written policies dating from as early as the mid-1950s, Scientology founder L. Ron Hubbard told his followers to take a punitive line towards perceived opponents. In 1955, he wrote "the law can be used very easily to harass ... The purpose of the suit is to harass and discourage, rather than to win – if possible, of course, ruin [the target] utterly". In 1967, Hubbard extended this policy as follows:
"ENEMY — SP Order. Fair game. May be deprived of property or injured by any means by any Scientologist without any discipline of the Scientologist. May be tricked, sued or lied to or destroyed."
You can help us put a stop to the cult/criminal corporation of Scientology. Visit
http://www.enturbulation.org
, and join the effort.
Stu's "Cult Watch" YouTube site:
http://www.youtube.com/user/PlymouthScientology
General (as well as very detailed) information about the Scientology cult/criminal racket:
http://www.xenu.net
We are 100% volunteer and depend on your participation to sustain our efforts!
Get Involved
If you'd like to help with maintaining or developing the website, contact us.