From the Open-Publishing Calendar
From the Open-Publishing Newswire
Indybay Feature
View other events for the week of

6/ 4/2008
Save UCSC Water Polo!!!!
Date

Wednesday June 04

Time

5:00 PM

-

6:00 PM

Import this event into your personal calendar.
Location Details
College 10
Social Sciences 1, Rm 110
Event Type

Meeting

Organizer/Author

Athletic director Linda Spradley has been faced with budget cuts and has made an executive decision to cut both men's and women's water polo. We have been given one chance to argue against this injustice and we need all of our athletic programs, freinds, families, just about anybody to come rally with us. We want as many people to come and show support for athletics as possible, but there are some guidelines as well. We want to voice an argument in a responsible, respectful, and mature manner and that includes all of our supporters. So heres a couple things to keep in mind:
Be respectful, show your support by being there but leave us to voice it.
Come dressed accordingly, best options would be team shirts, uscs athletics shirts, or just any ucsc gear.

We cannot expresss how much it would mean to both men's and women's water polo to have some support in our fight for our sport. I dont have to tell anybody how big of a deal sports are in a student athletes life; Please come help us keep our's alive.

As we now know, it is not the lack of funds but priorities with these funds that is the problem. Water Polo is such an important aspect to many members of the UCSC community that we must come to this meeting in solidarity with their fight to save it. As stated above, please be respectful and come to quietly show support for men's and women's water polo. Thank you!



Added to the calendar on Sunday Jun 1st, 2008 4:46 PM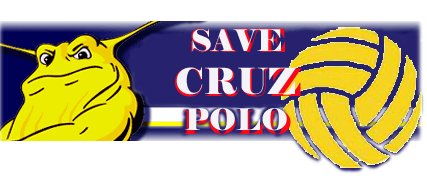 EVEN IF YOU CANNOT ATTEND PLEASE HELP US BY WRITING A LETTER OR A NOTE EXPRESSING YOUR SUPPORT AND WHAT UCSC WATER POLO MEANS TO YOUR FRIENDS, YOUR CAMPUS, AND YOUR COMMUNITY. EMAIL THEM TO ME OR CHELSEA !!
Thank you!
Dear friends and family,
I am writing this email to ask for your help. Yesterday the men's and women's water polo teams were informed that both programs would be cut from the UC Santa Cruz athletic department. It seems that the athletic directors could not choose a worse time to drop this information on us. Following a celebratory all- athlete barbeque where members of our team and the student athlete body were honored for their accomplishments, our coaches were called into a meeting to be told that there would no longer be water polo at UCSC. The main reasons given were budget cuts and money issues, lack of pool time, and the possibility of UCSC joining a conference in the future that includes other schools with no water polo teams. Now, a week before finals, our attention has turned to doing everything in our power to reverse this decision.
Anyone who knows me knows of my obsession with water polo. It is not just a hobby, it is my life. Water polo has been my motivation to succeed in college; it has provided me with my best friends, job opportunities, and a different outlook on the world. Those of you who play water polo know exactly what I am talking about. Imagine how heartbroken my team and I are at the revelation of this news. My story makes this situation especially painful. After an amazing high school career, I spent two years at UC Davis, where although I tried to make the best of things, I had a rough time. I red shirted my first year, and was a deep bench player my second, and although the people at Davis were great, I knew that I needed to move on and find my niche. The decision to transfer is an extremely difficult one, I can't express how hard it is to leave your team, but ever since I came to Santa Cruz, I have known it was the right one to make. I am happy here. This year has been one of my happiest and most successful as a Banana Slug water polo player. I was able to find my place in the team and become an important asset. In UC Santa Cruz's most successful year ever, we placed third in the D3 national tournament, with a 2-2 season record against both teams who played in the championship game. I was acknowledged on the first team all-tournament, and given the honor of best all-around player for our team. My experience at this school has been extremely positive and our hope and excitement for next year's season was especially great. I cannot think about what it will be like if none of this exists next year. My heart and soul is water polo. If this decision goes through all of our lives will be drastically different.
Not only is this cut devastating to each of us personally, it also affects the Santa Cruz community and our fellow athletes. Last year the water polo team headed the referendum committee which won $70,000 more for the athletic program. This year's president of SAAC (the Student-Athlete Advisory Committee) was a member of the men's water polo team, and next years elected president is a member of the women's team. The water polo team has also headed the community service effort of UCSC athletics, the only team with more logged hours being the men's soccer team. Our team has additionally been participating in BAWSI, a program where members of our team play sports with grade-school girls and encourage them to exercise. Also, our teams have GPAs among the highest of all student-athletes.
So now I am here asking for your help. Here is what you can do to help me and the UCSC Banana Slugs:
1. Forward this email to anyone you can think of. Anyone who might know me, cares about the Banana Slugs, or has a connection to water polo. The cutting of water polo teams is becoming a big trend in money-starved universities, and we cannot loose our sport. If our team goes it could prompt other universities to do the same. Your team could be next.
2. We need testimonials, letters, and notes directed toward the athletic director and the powers that be. We have a meeting with them on Wednesday and one of our strategies is to show how many people there are that care about this team. It would be a big help if you could email me a note showing your support that we could print out and bring to the meeting by Monday night.
3. As much as we hate to ask for money, we need money. The athletic department needed to cut $50,000 from the budget, and by taking away our two teams they got rid of $40,000. If we can provide them with a check for that amount of money, would they still be able to say no to us? Anything that you can offer would be greatly appreciated, and your pledge could help buy us another year of water polo.
Even if you cannot offer us anything, your support and concern really means a lot. We want to have as many people as we can possibly get to come to our meeting on Wednesday as a show of unity. It is at 5:00pm in Social Sciences 1, room 110- wear your slug gear. Thank you for taking the time to read this email; hopefully we can get enough people behind us to overturn this decision. The UCSC water polo team will not give up, but we need all the help we can get.
Thank you,
Nila Ward
(
nila.ward [at] yahoo.com
)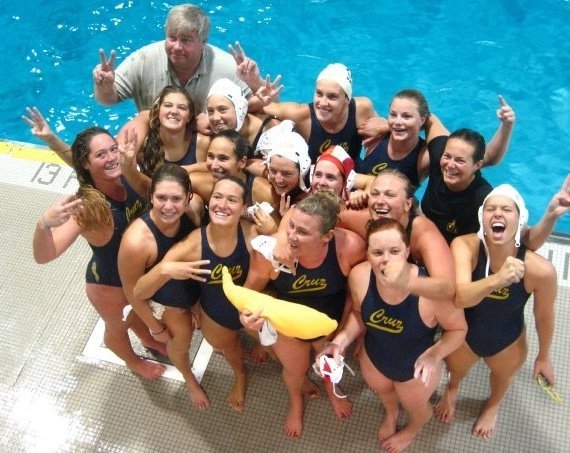 3rd in the nation.
Expected to be champions next year.
Will you let them destroy us?
This is G o o g l e's cache of
http://www.goslugs.com/
as retrieved on May 28, 2008 05:23:45 GMT.
At goslugs.com they took two articles off of the main page about water polo.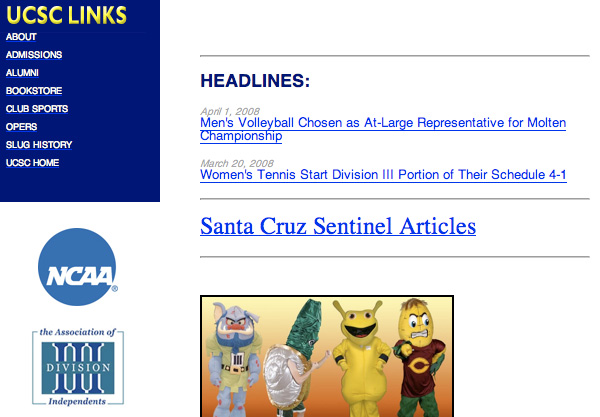 Why were these links so quickly removed from GoSlugs.com ??
March 11, 2008
Martinez from Men's Water Polo Selected for Prestigious Health Policy Program in Washington D.C.
http://www.ucsc.edu/news_events/text.asp?pid=1980
"I was doing horribly in school," he recalled. "I barely got through second through sixth grade." His parents, who had immigrated to the United States from Mexico as children, had never attended college, and they wanted more for their children. They chose an unusual avenue for Martinez: They sent him to the city pool to play water polo. Martinez grins as he tells the story, acknowledging the incongruity of a kid from East L.A. embracing a sport associated with tony suburbs and prep schools.
"It went from a hobby to being my life--I stopped going out with friends because I was always at the pool. It's where I learned discipline, teamwork, and working with other people," he said. "It pulled me away from the street environment I could've fallen into. I found another way to release my energy."
Martinez liked the intensity of water polo, which challenged his physical capabilities, and it also opened new doors. He enrolled at Cathedral High School in downtown Los Angeles, one of the few schools that offered the sport, and he joined an elite club team, the Commerce Aquatics, that competed nationally. "I went to Hawaii twice and to Florida," recalled Martinez.
Competing on all-Latino teams in the white-dominated sport also exposed Martinez to racism for the first time. "It ticked people off to lose to a team like ours," he said.
At UCSC, Martinez was the only nonwhite player on the water polo team, but playing college water polo "was a dream," he said. The Slugs won the Division Three national championship during his third year, and last fall, he wrapped up his fourth and final year with the team.
--
March 9, 2008
Women's Water Polo Finishes Weekend 5-1 With Win Over La Verne
http://www.goslugs.com/teams/waterpolo/women/news/2007-2008/weekend.html
In a game that that was tied for most of the action, the Slugs put away three goals in the final period to pull away from the La Verne Leopards. Senior Cara Hipskind led all scorers with two goals. The win caps a five win weekend with the only loss to the home pool Cal Lutheran Regals, a team the Slugs have already beaten twice this season. Cruz will now take two weeks off for finals and will next be in action against East Coast power Hartwick.
We are 100% volunteer and depend on your participation to sustain our efforts!
Get Involved
If you'd like to help with maintaining or developing the website, contact us.