From the Open-Publishing Calendar
From the Open-Publishing Newswire
Indybay Feature
Related Categories:

California | San Diego | Santa Cruz Indymedia | Education & Student Activism | Labor & Workers
A Message for TAs, RAs, and Other Grads: Support UC Service Workers!
Service workers (AFSCME 3299) are negotiating a new contract with UC. They are demanding basic fairness. Their core demand is equal work for equal pay.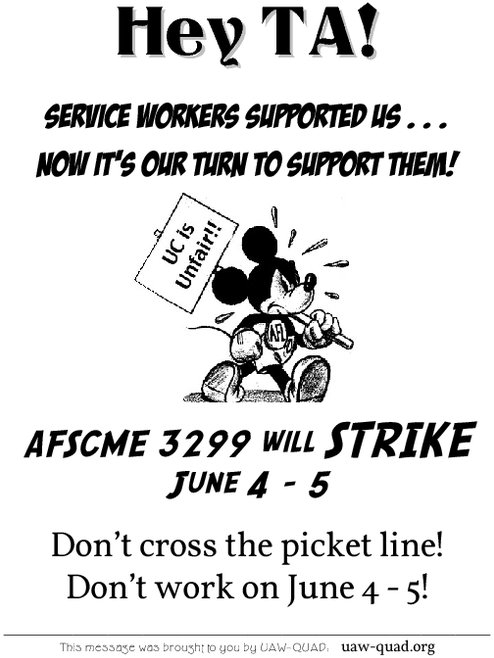 Download PDF (237.0kb)
Because UC refuses to follow this principle, AFSCME may call a strike in the next two weeks. If that happens, they will be counting on you to honor their picket lines.
AFSCME has stood up to suppor t us before.
Now it's our turn to suppor t them.
We won't cross a picket line!
Who is AFSCME?
AFSCME stands for: American Federation of State, County, and Municipal Employees.
AFSCME writes: "We are service workers: Custodians, Food Service Workers, Cooks, Groundskeepers, Bus Drivers, Building Maintenance Workers, Parking Representatives, and Security Guards.
"We are patient care technical workers: Radiologic Technologists, Sonographers, Patient Care Assistants, Unit Service Coordinators, Respiratory Therapists, Phlebotomists, Lab Technicians, LVNs, Admitting Workers, Patient Billers, Pharmacy Technicians, Surgical Technicians, Sterile Processing Technicians, Patient Escorts, Dental Assistants, Nursing Aides, and Medical Assistants."
What are the issues?
• UC is failing California's poorest communities.
UC is one of the largest employers in California, but does not pay workers family­sustaining wages. Their failure to pay a sustainable, market wage per petuates pover ty in our communities. Could you live in Santa Cruz on the $10/hour that some AFSCME workers are paid? What if you had to raise a family on those wages?
Many AFSCME workers receive 25% lower wages than workers in similar jobs at CSU!
If a strike happens:
The university will all but shut down as AFSCME workers and their suppor ters stop work by refusing to cross the picket line. The picket line, on the other hand, will be booming.
What should I do if I teach class or section that day?
Cancel your class or section and encourage your students, fellow undergraduate and graduate students, staff, and faculty members to join workers and suppor ters on the picket line. Join the line yourself. Organize students from your department to go to the picket line together.
Will I be penalized for honoring the picket line and missing lecture or section?
As Academic Student Employees (ASEs), we have the right to honor the picket line. Our contract with UC states:
"individual ASE's retain rights of free expression including their right to engage in activities in sympathy with other UC unions or bargaining units who are striking at the work location of the ASE."
As ASEs represented by UAW 2865 we have the right to follow our consciences, cancel work for the day and join the picket lines at the base of campus in solidarity with AFSCME workers.
• UC has misplaced priorities.
UC executives plead poverty when AFSCME asks for a fair contract. They claim that they can't afford wage parity for medical workers. But UC hospitals profited $371 million in 2006. UC Executive pay continues to rise, with annual compensation for some administrators reaching over $900,000.
UC does not face a problem of resources. What we have instead is a problem of priorities.
• Patient care is suffering at our Medical Centers.
Because comparable institutions pay up to 25% more than UC, they struggle to recruit and retain permanent staff, leading to an over­reliance on temporary, per diem, and traveling staff in some depar tments. This has the potential to adversely affect patient care. For more information about this subject, visit
www.ucpatientcarewatch.org
.
What is AFSCME Fighting For?
AFSCME writes:
"We are asking that UC start living up to the industry standards so we can recruit and retain the best qualified staff for our patients and students. We need market wages that will lift our families out of poverty and benefit our communities."
Here are some of AFSCME's demands:
• Wage parity with workers doing similar work at other schools and institutions.
• A minimum wage of $15 or $16 per hour.
• Guaranteed healthcare, pension and parking costs.
• Overtime Pay for hours worked after our scheduled shift, as required by CA law.
• A minimum percentage of career workers at UC.
• All contracted workers becoming direct UC workers.
• No contracting­out of AFSCME represented jobs, new or existing.
What can I do to help?
Share information with fellow students, staff, faculty and students. Encourage your students to respect AFSCME in the event of a strike, and to join the picket line.
Educate yourself!
For more information about AFSCME, visit
www.afscme3299.org
.
For more information about your right as a grad student employee to support the strike and refuse to cross a picket line, visit
www.uaw­quad.org
.
Get involved with UAW­QUAD to build solidarity with AFSCME. Now is the time to get involved!
Why should I walk the line with AFSCME?
As ASEs: AFSCME workers supported us when we fought with UC for a strong contract. It's time for us to reciprocate and help them their fight for just wages and decent working conditions.
As members of this community: We are concerned and upset when anyone among us is suffering. The mistreatment of UC workers is an offense to the values we hold as a community: gender and racial justice, and wages that enable everyone to live with dignity. Suppor ting service workers in their fight for fair contracts is a crucial part of realizing these values.
UAW­QUAD (UAW Members for Quality Education and Democracy) is an independent organization of UAW 2865 members. We work to democratize our union and promote solidarity. We welcome new members who want to work with us! Visit our website:
www.uaw­quad.org
We are 100% volunteer and depend on your participation to sustain our efforts!
Get Involved
If you'd like to help with maintaining or developing the website, contact us.