From the Open-Publishing Calendar
From the Open-Publishing Newswire
Indybay Feature
Related Categories:

California | East Bay | San Diego | Santa Cruz Indymedia | Education & Student Activism | Labor & Workers
Know your enemy: About the UC executives
Who are we fighting?
Our opponents are UC Executives. We are not facing just the Regents, but rather a confusing and dysfunctional mélange of UC Executives, Regents, assistant-Vice-whatevers, who constantly point the finger elsewhere and cannot communicate with other departments. But they will give themselves raises.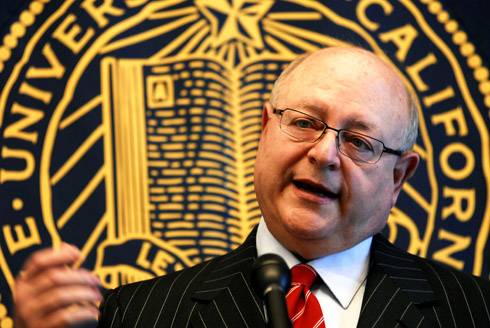 The lowdown on the incoming UC President
The incoming UC President Yudof will have a compensation package valued at $828,000 in the 2008-2009 fiscal year. See the March 27, 2008 SF Chronicle article here. Some highlights:
"At UC, his base salary of $591,084 will be a significant boost over the base pay of departing President Robert Dynes, who receives $405,000 a year.
As you can see from my compensation package, I'm not starving to death," he said, smiling broadly.
In addition to his salary, Yudof's compensation package will include an $8,916 yearly car allowance, supplemental pension payments totaling $228,000 in fiscal 2008-09, and varying amounts each year after that. His total compensation package for fiscal 2008-09 is valued at $828,000, excluding moving expenses as well as standard health, retirement and management benefits."
Yudof will also have a 6,800-square-foot rental house provided for him in the Oakland hills at the cost of $136,320 in the first year while $8 - $9 Million will be spent on renovating the UC mansion. President Dynes has been living in the 13,239 square-foot Kensington manor for the past five years. No problems besides UC Executive pay scandals. UCOP press releases are spinning this as necessary renovations and they provide stupid pictures of cracks in the wall, chipped paint, etc. here. Read the May 8, 2008 San Francisco Chronicle article here. The SF Chronicle describes the mansion:
"The three-story, 10-bathroom house has sweeping views of the bay and is surrounded by 10 acres of land. Its impressive Mediterranean gardens, which are open to the public, are maintained by UC Berkeley's school of landscape architecture.
The mansion is typically staffed by one house manager. The president's private quarters totals 4,328 square feet and includes three bedrooms."
A dysfunctional system
A February 12, 2008 San Francisco Chronicle article summarizes a report provided by the Western Association of Schools and Colleges, the organization that accredits the university, which explains how dysfunctional the UC Executive system is:
"A decentralization of the university's administration, with many important decisions being made by top executives case by case without review or approval from the governing Board of Regents, allowed violations of UC compensation policies, the report says.
In addition, the report says, there is confusion about the roles and responsibilities of the university president, the regents and the 10 campus chancellors with no clear lines of authority and boundaries.
There was no consistent annual evaluation of executives and no self-assessment or training for the regents, the report said. In addition, there is no clarity on how regents should make official statements or decisions on behalf of the board."
At the recent May 6, 2008 Brown Bag lunch event with UCSC Chancellor George Blumenthal, administrators belittled AFSCME workers for asking the Chancellor to communicate with UCOP and the Board of Regents to end poverty wages. The above report finds that none of the UC Executives really knows how to talk to one another nor do they know who is supposed to make decisions. Yet excessive "market rate" UC Executive pay is protected while service workers have to work two and three jobs to make ends meet.
The state appointed neutral factfinder, Carol Vendrillo, urges:
"it is time for U.C. to take a broader view of its priorities by honoring the important contribution that service workers make to the U.C. community and compensating them with wages that are in line with the competitive market rate."
This is about priorities, not resources.
We are 100% volunteer and depend on your participation to sustain our efforts!
Get Involved
If you'd like to help with maintaining or developing the website, contact us.