From the Open-Publishing Calendar
From the Open-Publishing Newswire
Indybay Feature
Striking janitors picket high-tech companies to demand adequate healthcare
Four hundred striking janitors demand that Silicon Valley companies require cleaning contractors to pay living wages and provide healthcare benefits to workers' families. Rotating picket moves to Cisco Systems and other leading high-tech companies.
As hundreds of janitors continue to walk off their jobs throughout the San Francisco Bay Area, 400 janitors picketed in front of Cisco Systems in San José on Friday, May 23, 2008. On the fourth day of the strike, the janitors called on high-tech industry leaders to support good jobs with adequate healthcare for all workers and their families.

The striking workers formed a picket line spanning the intersection of Zanker Road and Tasman Drive in north San José. The action blocked traffic through the area for two hours, and limited access to the Cisco Systems corporate campus.

The strike began after contract negotiations for more than 6,000 janitors broke down on May 15, 2008 when the Bay Area's largest cleaning companies refused to offer even a modest pay and benefit increase for janitors. The companies include Able, ABM Janitorial Services, Acme/GCA, Brilliant General Maintenance, Customized Performance, Diamond Janitorial Services, DMS Facility Services, Integrated Service Solutions, OneSource, Pacific Janitorial Services, Service by Medallion, Service Performance, Somers Building Maintenance, United Building Services, and United Maintenance.

The strike in Silicon Valley is being led by the Service Employees International Union (SEIU) Local 1877. The local is part of SEIU United Service Workers West, which represents more than 40,000 property service workers across California. Members of other unions, such as Unite Here and Teamsters Joint Council 7, and community organizations, such as the San José Peace and Justice Center, supported the picket.

At issue is that, while Silicon Valley boasts the highest median income in the country, janitors working for high-tech companies like as Intel, Cisco, Oracle, Applied Materials, Apple, Hewlett Packard, Google, and Yahoo are paid less than $23,000 per year. This is less than a third of what the Public Policy Institute of California calculates that it takes to survive in Silicon Valley. In addition, some janitors must wait as long as 30 months before receiving health benefits for their families. As a result, half of the workers' families have no access to healthcare.

Maria López, who has worked as a janitor for Cisco Systems for 9 years, explained, "My husband and I work very hard, but we're paid so little we have to share a house with two other families. No one should have to live like this."

Mike Garcia, President of SEIU Local 1877, said, "Silicon Valley's corporate leaders have a moral responsibility to support much needed improvements in wages and health benefits for hard-working janitors and for all working people."

Striking janitors establish picket line across the intersection of Zanker Road and Tasman Drive at Cisco campus.
Striking janitors marching on Zanker Road at Cisco campus in San José.
Members of SEIU Local 1877.
Members of the union Unite Here.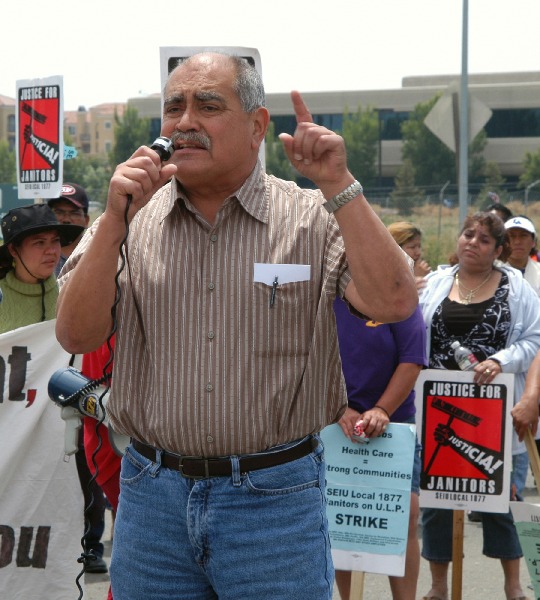 Mike Garcia, President of SEIU Local 1877.
Picket line in front of Cisco sign on Zanker Road.