From the Open-Publishing Calendar
From the Open-Publishing Newswire
Indybay Feature
Elizabeth M. Stephens' & Annie M. Sprinkle's Green Wedding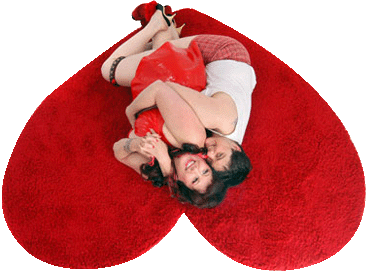 Import event into your personal calendar
Date:
Friday, May 16, 2008
Time:
Event Type:
Concert/Show
Organizer/Author:
Location Details:
In the Shakespeare Glen, the University of California in Santa Cruz's amphitheater in the redwood trees. For directions: http://maps.ucsc.edu/
---
ELIZABETH M. STEPHENS' &
ANNIE M. SPRINKLE'S
GREEN WEDDING#4
SATURDAY, MAY 17th, 2008
ARRIVE 2:30pm
CEREMONY 3:00-5:00 PM
THEMES FOR GREEN WEDDING #4:
Love, Compassion, Earth, Environmentalism and Green.
THIS YEAR'S VOWS: We will formally enter the environmental movement by making vows to love and cherish the Earth. We invite you to join us in taking these vows along with us if you so choose.
WHERE: In the Shakespeare Glen, the University of California in Santa Cruz's amphitheater in the redwood trees. For directions: http://maps.ucsc.edu/
WHO: Our friends, community members, environmentalists, artists, colleagues, lovers,families, students, professors, conference participants, and YOU plus your guest(s).
PLUS: Green Wedding will be held in conjunction with a three-day cutting edge art conference,"Intervene! Interrupt! Rethinking Art as Social Practice." http://may2008.artintervention.org hosted by UCSC's Art Department.You are invited to the conference too.
DRESS: Wear green and dress in the theme(s) of the wedding. Be formal, not so formal, in costume, sculptural attire, or be as you wish. But whatever you wear, please make it green. For example; green evening gown, forest ranger,Tara, herbalist, Martian, a hemp bikini, praying mantis, Al Gore, leprechaun,Earth Mother, a tree, Jolly Green Giant, a greenback, Robin Hood, green snake handler, Girl Scout, bio-diesel dyke.
DURING THE WEDDING: Green beverages, green hors d'oeuvres, and green wedding cake will be served. (Gratis.)
DINNER AFTER THE WEDDING: For those who wish to stay for an organic Green Dinner while overlooking the sea, the "Intervene! Interrupt!"conference organizers have invited our wedding guests (who are registered) to join them at 6:00 pm. The cost is $20 per person. Each individual guest must make a reservation at http://may2008.artintervention.org by filling in the registration form for the conference—the link is at the top of the home page. You don't have to attend the entire conference—but you very well may want to. The conference is free of charge, but the conference organizers had to cover the costs of the meals. The dinner is being catered by Dogstar Catering. Click Here to learn more.
NO MATERIAL WEDDING GIFTS PLEASE!
HOWEVER WE WELCOME YOUR COLLABORATION IN THE CREATION OF THE WEDDING. You can attend purely as a guest, or be a guest-collaborator. We invite you to choose one, or more, of the roles below, or create one of your own. Feel free to be non-traditional or traditional. WHATEVER YOU CHOOSE TO DO IT DOESN'T HAVE TO BE ABOUT THE BRIDES, but about the themes of green, love, environmentalism, earth, compassion, equal rights or whatever you think is relevant for the day. We will weave all your collaborations into a gala extravaganza. All known collaborators will be credited in the wedding program and on our web site, www.loveartlab.org/ No special skills or talents are required.

DO OFF STAGE
Usher, hand out programs, create a green zone, tickle with peacock feathers, do the green beverage kiosk, make or serve some hors d'oeuvres, pin on boutonnières, circulate a Green Peace petition, do a tree hugging performance, collect garbage, serve the cake, other.

BE ON PRODUCTION CREW
Help set up, clean up, be a stage hand, assist the sound person, dressing room manager, hairdresser, make-up artist, other.

CREATE DOCUMENTATION
Shoot photos, video or film for us, make sketches, write a curatorial
statement, do an article or essay, organize a live online feed, other.

ARTS & CRAFTS
Decorate, make and give out party favors, make boutonnières for the guests, other.

HELP WITH GREEN DINNER
Make a green toast, set up, clean up, decorate, other.

***RSVP ONLY IF YOU WISH TO COLLABORATE
To Annie Sprinkle at annie@anniesprinkle.org

If you are collaborating please include your phone numbers and email address should we need to talk and confirm your role with you.

THE VENUE: For a virtual tour of the Shakespeare Glen roll your mouse on top of the photo at: http://admissions.ucsc.edu/see/virtualTour/shakespeare.cfm

We might run out of chairs so bring a blanket, mat or a cushion to put on the earth. It can also make your chair more comfy. Also bring suntan lotion.

FOR MORE INFORMATION: Please visit the virtual home of the Love Art Laboratory at www.loveartlab.org See photos and videos of our past three weddings for inspiration.

THE ABOVE IS A PRIVATE INVITATION.
PLEASE DO NOT POST ON A WEB SITE OR PUBLIC FORUMS.

Please visit the San Jose ICA to see our past three wedding costumes
http://www.sjica.org/exhibitions/this_show_needs_you/tsny.htm
BRIDAL PARTY CAST and CREW (so far)
If you see something you would like to do, email us, as we might need more than one or two or three.
Brides
: Annie M. Sprinkle & Elizabeth M. Stephens
High Aztec Priest:
Guillermo Gómez-Peña
Homily:
Helen & Newton Harrison
Flux Priest
: Geoff Hendricks
Emcee
: Veronica Hart
Bridal Party
: Joseph Kramer, Veronica Hart, Jennifer Gonzales, Angela Ellsworth, Tina Takemoto, Camille Norton, Lian Sifuentes, Joyce Brodsky, Sur Rodney (Sur), Greg Archer, Tirza Latimer, Lindsay Kelley and more.
Bridal bouquet sculptures:
Angela Ellsworth
Ring Bearer:
Tina Takemoto
Escort of Robert Sprinkle-Stephens:
Dr. Patty Gallagher
Live music and nature sounds:
saKAna
Sustainable Bridal Couture:
Kaytea Petro
Annie's Silk corset:
Ms. Antoinette's
Versatile Fashions
Flower girrrll:
Sur Rodney (Sur)
Sets:
: Shannon Walsh and Alan Tollefson
Music
: saKAna
Cake
:Suzanne Geneste de Besme
Graphic Design:
Chandra Nalaani
Green Mermaid:
Adrienne Skye Roberts
Conference coordinators:
Lindsay Kelley, Shelby Graham, Dee Hibbert-Jones, EG Crichton, Natalie Loveless, Jamie McMurray
Wedding Planner and Director:
Janna Sobel
Wedding Production Manager:
Alicia Relles
Earth Bearers:
Nina Chase, Glen Navarra Domingo
Additional Performances:
Victoria Singh, Emma McNary, Tina Butcher, Sadie Lune, Joseph Kramer, Danielle Abrams, Tirza Latimer, Cynthia Wehr, Lian Sifuentes, Isabelle Reichert, Sean Fletcher, Ms. Antoinette, Camille Norton, Greg Archer, Noland Plant, Sonic Collaboration, Margaret Wade
Photography:
Lydia Daniller, Libby Patterson, Nomi Talisman and more
Videography:
Christina McPhee, Max Cirigliano, Kari Nevil
Green hors d'oeuvres:
Chrys Fawley and Charlotte/ Hannah Pederson and Maryasha Katz
Green Dinner:
dogstar catering
With love,
Elizabeth M. Stephens and Annie M. Sprinkle
Added to the calendar on Fri, May 16, 2008 12:49AM
We are 100% volunteer and depend on your participation to sustain our efforts!
Get Involved
If you'd like to help with maintaining or developing the website, contact us.