From the Open-Publishing Calendar
From the Open-Publishing Newswire
Indybay Feature
Homeless Improve Their Lot
A new homeless encampment is being built in downtown Fresno that includes a sense of community and homes that are built to last. A Fresno Police Department representative says that evictions may begin soon.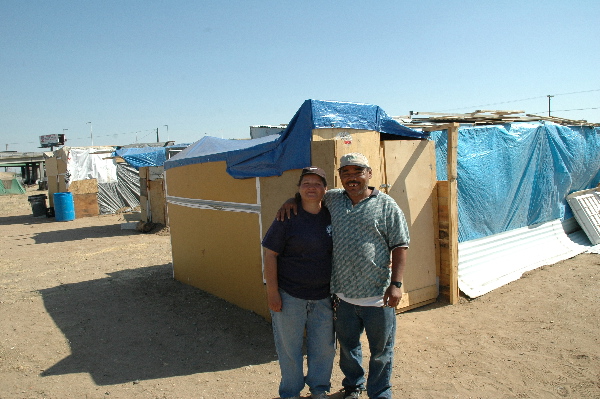 Homeless Improve Their Lot
By Mike Rhodes

I got a call from Big Sue (a homeless woman in downtown Fresno) yesterday. Sue said that there was a new homeless encampment in downtown "and they are starting to build condominiums." The encampment is on H street, just north of New Jack City (an encampment with about 100 homeless people). New Jack is under a bridge and is the only encampment in town where the City of Fresno has put up portable toilets for the homeless. The City pays a security firm to provide 24 hour a day/7 day a week protection for the toilets (there are 3 toilets) at a cost of $13,000 a month.

The new encampment, which is yet to be named, is on an unused vacant lot and consists primarily of Mexican immigrants. I spoke with Francisco and Maria who live in one of the homes that have been constructed at this location. Francisco says they feel safer at the new encampment, because of the drugs and violence they say are at New Jack City.

The shelters being constructed on this vacant lot are much more similar to the housing built by the poor in Latin America than what is typical in other Fresno homeless encampments. Francisco and Maria invited me into their house. It has several rooms, a rug on the floor, and a corrugated tin roof. They told me they are building a new house at the far end of the lot. We walked to where their new house is being built, passing a number of other structures built out of wood, with doors, and rain proof roofs. As we passed a tent, Maria said they were giving their current home to the man that lives there.

Memo, another resident in this new encampment, told me "the man who owns this land came by the other day and said we could stay here as long as we keep it clean." Francisco said "he (the owner of the lot) even brought us some building materials." Francisco's house has a sturdy foundation, framed walls, and they are talking about putting shingles on the roof. These houses are being built to last.

There is a sense of community in this new encampment that you don't feel in all homeless encampments. "We look out for each other," Maria said. This sense of community might be a cultural bond that the residents have, since most of them have moved here from Mexico.

Later in the day, I was talking to Sargent Bruce Hartman from the Fresno Police Department. I have spoken to Hartman on several occasions while covering stories about the homeless. Hartman knows a lot about the encampments and what is going on in the area. I asked him what he thought about this new housing development. "They are on Southern Pacific land," he said. Hartman added that the railroad has been talking to the police about evicting the squatters and that it is likely they will post signs telling the people living there to move on. Move on? Where to? Hartman suggested they move under the bridge at New Jack City.

Will the inhabitants of the new encampment be forced to move into the more dangerous New Jack City or will the City of Fresno figure out some way to support these creative, community minded, and peaceful people to continue to develop this new encampment. The houses being constructed are better than the tool sheds built by the City at the Poverello House and the new encampment doesn't cost the city anything. The City spent over $300,000 to instal the tool sheds and they are paying the Poverello House every month for their upkeep. Here you have a settlement that is not costing the city a dime, it is on vacant unused land, the people are living in better conditions than they are in Tool Shed City, and somehow the police have come to the conclusion that they need to evict the people living in the new encampment.

Someone once said "When all you have is a hammer, everything looks like a nail." I think the phrase applies more to the Fresno Police Department than to the residents in the new homeless encampment.

###

We are 100% volunteer and depend on your participation to sustain our efforts!
Get Involved
If you'd like to help with maintaining or developing the website, contact us.