From the Open-Publishing Calendar
From the Open-Publishing Newswire
Indybay Feature
Mike Flugennock Presents Another Damn' Election Cartoon
Oh, alright, goddammit...

To all you classy chatterers, all you Sunday morning jabberers, Donkeycratic apparatchiks, Roe v. Wade Worriers, Liberal Whiners...yes, I give up, you're right; there IS a distinct difference between the Repuglicans and the Democraps, and I can spell it out for you plainly and elegantly right here: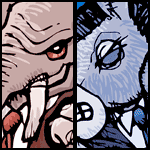 OK, fine. Enough, already. There IS a difference. Let's get started:
Your Repuglicans: Absolutely dedicated to domination, coercion, and control, no matter what. Never mind the bombast about freedom; check 'em out for real. Everything from your uterus to your bedroom to your TV, they want a finger in it. You know exactly what you're getting from this crew: God, Guns, Guts. No mealy-mouthing around; it's not like they're trying to kid you or anything. They know who they are and what they stand for, and they're comfortable in their own institutional skin. Their message couldn't be more clear. Their dream girls may be barefoot and pregnant, but at least you know what the GOP's all about. And, speaking of what you're all about, how about:
Your Democraps: Back in '02, there was a lot of discussion of what the Democratic Party was all about, and now we know the answer -- just call 'em the Seinfeld Party! I mean, what have they done in the past decade-ish? They abdicated their right to challenge an election, they supported the war and occupation in Iraq, they agreed to an escalation of the war in Iraq, they avoided impeaching El Presidente for violating the Constitution AND the Geneva Convention a fistful of times, they let the Mukasey nomination skate, they re-authorized the USA PATRIOT Act...but ask any party acolyte, any Liberal or "progressive" these days, and you'll get a load of guff about how important it is to "not hurt the Democrats' chances", almost as if we somehow just magically owe them something no matter what. They can't point to a goddamn' thing they've done to end the war, bring the troops home, restore the Constitution, close down Guantanamo, defend workers' rights or anything else, but Dog forbid you run a Left independent candidate against them -- especially if you don't live in a "safe state" -- lest you have your ass roasted for "hurting" the Democrats. That's pretty much what they're about now, basically: not getting hurt. Their messaage isn't "We'll fight to restore freedom and peace" or "We'll defend the poor and working class", but "Whatever you do, please don't hurt us!".
So, there you are, all you Naderites out there; there really is a difference between the Republicans and Democrats. Now, get out there and do your duty on Election Day.
http://www.sinkers.org/posters/vote08
http://www.sinkers.org/posters/vote08/wellruleyou.jpg
http://www.sinkers.org/posters/vote08/donthurtus.jpg
We are 100% volunteer and depend on your participation to sustain our efforts!
Get Involved
If you'd like to help with maintaining or developing the website, contact us.