From the Open-Publishing Calendar
From the Open-Publishing Newswire
Indybay Feature
FCC Hearing: Internet Freedom Under Attack (Pt. I)
New York Times Reports: "The Raging Grannies Greet F.C.C."
Boy howdy did we, with signs, songs, chants.
Lyrics below by Granny Gail
Chants by Granny Ruth
Photos (first 3) by Sharat G. Lin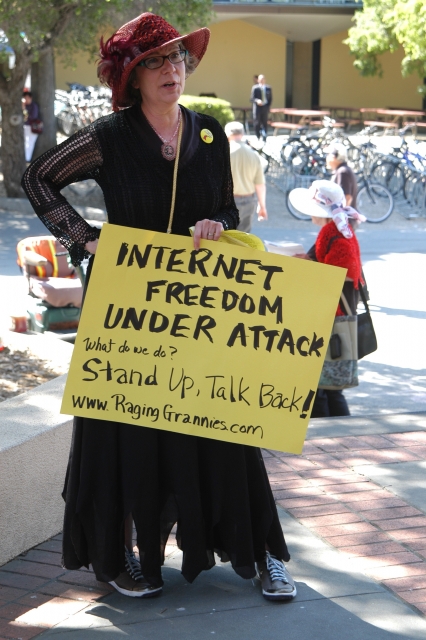 http://bits.blogs.nytimes.com/2008/04/17/the-raggie-grannies-greet-the-fcc/
New York Times article (link above) features video of Grannies singing
in front of Dinkenspiel Hall at Stanford University on the historic occasion of
the assembly of all 5 members of the Federal Communications Commission
at Stanford University on April 17, 2008
CHANTS
Fiddle De Dum Fiddle De Dee
We want internet that's free
Comcast Only WANTS big bucks
Raging Grannies say that...
ISN'T VERY NICE!
Comcast, Pando Rich and Rude
We don't like your attitude
Your "bill of rights" is just a scam
the People have a Bet-ter plan
**FCC REGULATION!**
G-U-I-L-T-Y
COMCAST has NO alibi
They're Guilty, They're Guilty
Big Telecom is Guilty!
What has Comcast got to hide?
They had SEAT-warmers inside!
Stacked the deck, told some lies
Grannies say, APOLOGIZE
Inspired by previous hearing at Harvard U. in Feb '08 when Comcast blocked the public from attending the open hearing
SONGS
Oh My Darlin' FCC
tune: Clementine
Can the chickens in the henhouse
All be guarded by the fox
Every farmer knows it WON'T do
and the HEN house needs a lock
So when Comcast says "just trust us"
We all know it's just a stall
The FCC must do its duty and proTECT ac-cess for all
Oh my darling, oh my darling, oh my darling FCC
Keep computers safe from foxes
Don't let Comcast mess with me~
(More songs in Part II)
Our message was filmed for the record being sent to the FCC. Grannies Gail and Ruth also spoke during the public comment period the same day.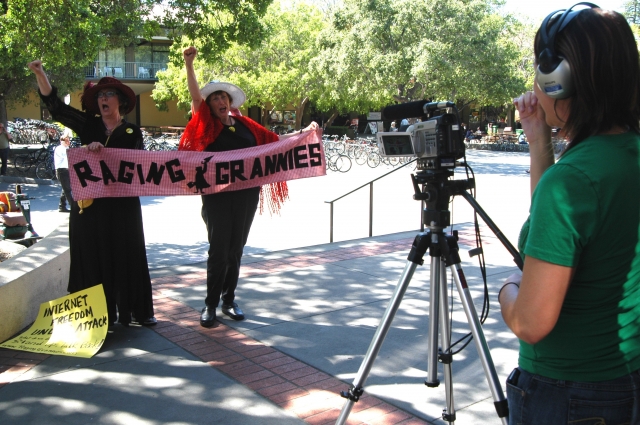 Let it go into the official record:
Internet Freedom Under Attack
What do we Do?
Stand up, Talk Back!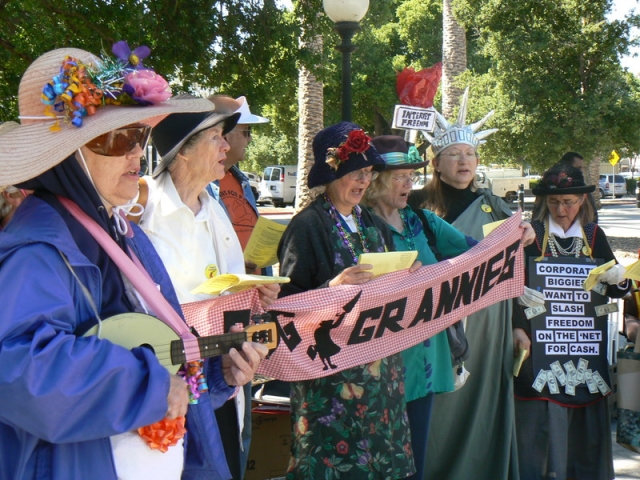 Ukulele and Tuba accompaniment too
We are 100% volunteer and depend on your participation to sustain our efforts!
Get Involved
If you'd like to help with maintaining or developing the website, contact us.