From the Open-Publishing Calendar
From the Open-Publishing Newswire
Indybay Feature
Narwallagraphic Protest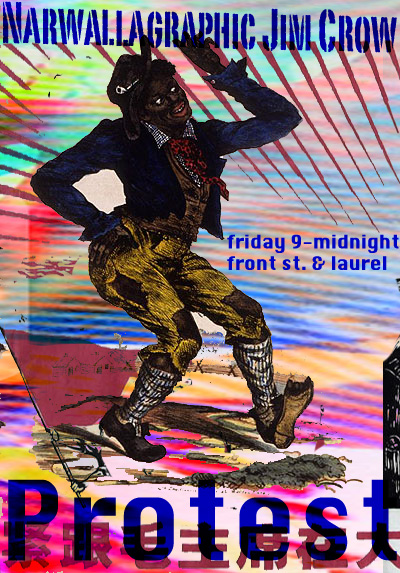 Import event into your personal calendar
Date:
Friday, March 21, 2008
Time:
Event Type:
Critical Mass
Organizer/Author:
Andreas Nicholas
Location Details:
Protest/Mass assembly event at the bank parking lot at Front and Laurel St. in downtown Santa Cruz. from nine-to-midnight.
---
(print you own narwallagraphic flyers!)
http://stemcellfilms.com/narwal/psd/PROTESTFLYER.psd
narwallagraphic protest
friday (s) 9pm-12 midnight.
Front Street and Laurel in the Community Bank Parking Lot (unless we are blocked and forced to relocate to another public parking lot.)
We are protesting against the unconstitutional Jim Crow laws in Santa Cruz.
FREE "KNOW YOUR RIGHTS" FREE SCHOOL LESSON.
Bring your own civil liberties.
family and children welcome.
DID YOU KNOW?
1. Jim Crow Laws are used to discriminate against minorities and the homeless and encourage profiling by officers to decide who to enforce the laws on.
2. The Santa Cruz City Ordinance 9.64 is unconstitutional, and discriminately prohibits access and use of public property, which it defines as "loitering"
2. The Supreme Court in 1999 struck down loitering laws as unconstitutional because they abridge the peoples right to assemble. (City of Chicago vs. Morales, 97-1121)
3. Santa Cruz City's unreasonable West Cliff parking Curfew has been repealed for similar reasons.
4. The Constitution guarantees you're right to free speech, freedom of the press, and the right to peaceably assemble.
WHAT ARE MY RIGHTS IF APPROACHED BY A POLICE OFFICER?
The law permits police officers to approach you in a public place to request information. You need not submit to questioning and are free to walk away.
If the police reasonably suspect that you are committing, have committed or are about to commit a crime, they may briefly detain you for questioning. Under these circumstances, the officers may request your identification and an explanation for your actions. You are not required to answer. You may be frisked for weapons during the detention if the police officers reasonably suspect that you are armed and dangerous. If while frisking you for weapons, they find anything illegal, it may be confiscated and you can be arrested.
THINGS TO SAY IF AN OFFICER DETAINS YOU:
It is always important not to disrespect police officers for obvious reasons... If a Police Officer asks to see your ID, ask if you are being arrested and under what charges and if you can leave. Unless he demands to see it because you have broken the law, You should not show him your ID.
You can be arrested without a warrant if the police have reason to believe that you have committed or are about to commit: (1) a felony whether or not in their presence; (2) a misdemeanor in their presence; (3) a misdemeanor not in their presence if they have reason to believe you may escape, cause injury to persons or property, or destroy evidence unless immediately arrested. Without your consent or special circumstances, you cannot be arrested in your home without a warrant.
You can also be arrested without a warrant for traffic violations, including: driving or attempting to drive while intoxicated or under the influence of alcohol or drugs; failing to stop or give information in the event of an accident causing death, bodily injury or property damage; driving or attempting to drive on a suspended or revoked license; fleeing or attempting to elude police officers; or when the police reasonably believe you will disregard a traffic citation.
WHAT ARE MY RIGHTS IF ARRESTED?
If you are taken into police custody, you have the right to: be informed of the charges against you and the allowable penalties; obtain a lawyer, including the right to have one appointed if you cannot afford one; have a judge decide whether you should be released from jail until your trial; and remain silent.
The police may ask your name, address, and other routine processing questions. Before questioning you about anything else, the police must tell you that you have a right to remain silent; that any statement you make may be used as evidence against you; and that you have a right to speak with a lawyer and, if you wish, to have a lawyer present when you are being questioned. The police must also tell you that a lawyer will be assigned to your case without cost if you cannot afford a lawyer but want to speak to one before questioned. The questioning must stop if you state that you wish to remain silent or request a lawyer.
You silence cannot be used against you. However, what you say, as well as what you write or sign, can be used against you. Unless you actually requested a lawyer, the police may later ask you to speak with them. If you have requested a lawyer instead of merely refusing to answer questions, the police cannot question you further unless you later decide to talk without the benefit of legal counsel.
In Short, smile, be quiet, be polite, and don't uncle tom the police because they'll just use you.. As long as you keep drugs and alcohol to a minimum, they'll get frustrated and probably just look for someone easier to detain.
Hope to see you there! Let's bless america!
Added to the calendar on Thu, Mar 20, 2008 10:20AM
We are 100% volunteer and depend on your participation to sustain our efforts!
Get Involved
If you'd like to help with maintaining or developing the website, contact us.