From the Open-Publishing Calendar
From the Open-Publishing Newswire
Indybay Feature
SUNDAY: Nader & McKinney at Herbst Theater in SF for Green Presidential Debate
DOORS OPEN AT 1:15 PM - Come Early for Best Seats!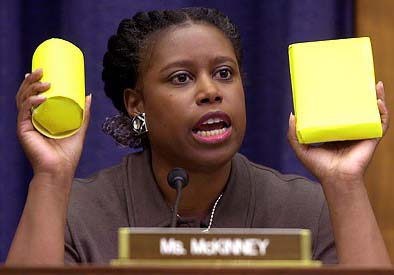 Green Campaign 2008: A Presidential Debate That Matters
Sunday January 13, 2:00 PM
Herbst Theater, Veterans Memorial Bldg
401 Van Ness (opposite City Hall)
San Francisco, CA
(3 blocks from Civic Center BART station)
Parking available at Performing Arts Center Garage, 360 Grove St., 11 am to 7 pm, $12
COME SEE AND HEAR:
• Ralph Nader
http://www.draftnader.org/
• Cynthia McKinney
http://www.allthingscynthiamckinney.org/
• Jared Ball
http://www.jaredball.com/
• Kent Mesplay
http://www.mesplay.org/
• Kat Swift
http://www.bexargreens.org/katforprez/
• Jesse Johnson
http://www.youtube.com/watch?v=mMxgYnmdHfg
. . . TALKING ABOUT THE ISSUES OF THE DAY!
Hosted and Moderated by:
Cindy Sheehan
http://www.cindyforcongress.org/
Aimee Allison
http://www.aimeeallison.org/
Gayle McLaughlin
http://www.gaylemclaughlin.net/
Ross Mirkarimi
http://www.sfgov.org/mirkarimi
Mark Sanchez
http://en.wikipedia.org/wiki/Mark_Sanchez_%28politician%29
Matt Gonzalez
http://www.mattgonzalez.com/
$10-$25 Donation at the door (sliding scale)
Sponsored by:
The Green Party of Alameda County
The San Francisco Green Party
The Sacramento County Green Party
Endorsed by:
The Green Party of San Mateo County
The GPUS Delegates Committee of the GPCA
...UPDATES...UPDATES...UPDATES...
+ All seven people who are on the Green Primary Ballot have been invited to the Debate
+ The five people named above have confirmed their participation, and we are waiting to hear from Kat Swift
+ Previously announced Speaker Elaine Brown has withdrawn from the race
+ We plan to put a downloadable audio file of the debate on this site
+ KPFA radio's Larry Bensky will anchor the event live, for broadcast at a future date.
+ Amy Goodman's DEMOCRACY NOW will send a video crew to tape the event for broadcast later in the week
+ Want to be a delegate for a candidate at the GPUS Nominating Convention in Chicago this July? See cagreens.org for details.
* NOTE: Ralph Nader's office has asked us to state that he is not a candidate.
* DONATE to finance the Debate!
For those of you who appreciate all the volunteer effort that went into putting this event together, we are happy to offer Reserved Box Seats - only 50 available! - with your very generous donation of $50-$100+ each. The seats can be seen at:
http://sfwmpac.org/herbst/
ht_pdfs/ht_seatchart.pdf .
First come, first served, so please reserve your seats now, by e-mailing:
alameda -at- cagreens. org
If you can't attend, please mail your donation to:
Green Party, 2022 Blake St., Berkeley, CA 94704
and note that it for the Debate! Thank you!
Last Day to REGISTER GREEN: JANUARY 22ND
to be able to vote in the February 5th Primary!
Your local county registrar of voters must receive your voter registration card by January 22, so if you're mailing it in, please mail it early!
http://www.acgreens.org/debate
We are 100% volunteer and depend on your participation to sustain our efforts!
Get Involved
If you'd like to help with maintaining or developing the website, contact us.