From the Open-Publishing Calendar
From the Open-Publishing Newswire
Indybay Feature
Students at Fresno City College held a Free Speech celebration today. They are fighting for the right to hand out flyers to their fellow students, read poetry that is not censored, and to hold a banner for whatever cause they believe in.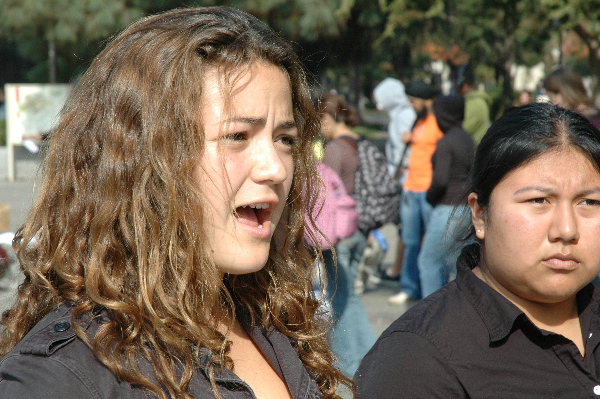 Students at Fresno City College (FCC) distributed flyers, displayed artwork, and held banners near a campus water fountain today. All of these activities were done without the permission of the campus administration and therefore were in violation of FCC rules that regulate free speech. According to Sarah Reuter, one of the event organizers, the rules regulating free speech at FCC are arbitrary and sometimes based on the moral and religious beliefs of school administrators. Reuter said that a group was allowed to pass out bibles earlier this week, and yet an AIDS prevention group was refused permission to hand out condoms earlier this year. She said the administrator told them (the AIDS prevention group) that they objected to the condoms because they promote promiscuity and they (the administration) preferred the students to use abstinence.
Reuter and Cresencia Cruz are both members of the Free Speech Collective that want to change FCC's rules. Cruz said their group is "seriously concerned with the free speech policy at FCC. Many of the rules and regulations as outlined for student organizations are unfair and at times unconstitutionally restrictive." Reuter said "there are four main regulations we have a serious problem with. One is the practice of approval stamps on campus. These are used to regulate free speech and to censor ideas. You need to get an approval stamp to put any kind of a flyer on the kiosks." Reuter said "the stamp is denied on the basis of content if the administration deems that the content is inappropriate for the campus"
Reuter said that leafleting is not allowed on campus. She said "the reason given for this is that it could end up as litter, but there are inconsistencies with this because students are not allowed to hand out flyers or condoms, but they are allowed to hand out bibles and candy and so it is the content that is being regulated."
The Free Speech Collective also takes issue with the FCC policy of requiring groups to wait 10 days while the administration considers the approval of flyers. Reuter said "we don't believe it should take 10 days and 3 signatures for an event to be approved. Also, all events should be approved."
"There is a free speech area on campus, but we feel that the very nature of having a limited free speech area is unconstitutional," Reuter said. The area where today's event took place, at the water fountain on the south side of campus, is more the center of campus than where the free speech area is located. Reuter said the booths near the water fountain are rented out to banks and other businesses but that students are not allowed to host independent events at that location.
The student event at the fountain did attract a large number of students who listened to the music, browsed the free literature, and looked at the art work on display. There were also a couple of spirited political debates taking place at the anarchist free literature display.
In a flyer handed out at today's event, the Free Speech Collective asks students if they think they have freedom of speech. They write: "What about last year when the killer coke campaign was going on and flyers were not approved for posting because the word 'killer' might incite violence. Even though within it's context the very meaning of it was to end the violence the Coca-Cola Company had inflicted. As if the word 'killer' was really going to make some student go out and bang a Coca-Cola vendor machine to death. . . come on, get real! The reality was that Coca-Cola at the time was our vendor and posting something anti Coca-Cola would be so darn disrespectful. But should our freedom of speech be restricted through corporate fear?
A corporate owned state is a fascist state. A corporate owned school is a fascist school!
Now, what about condoms? This is a college institution in which many students are indeed sexually active and we need to face the fact that sexually transmitted diseases are increasing. For instance, the Central Valley has the highest rate of Chlamydia and teen pregnancies in all of California. Why is it that handing out condoms has in the past been prohibited with countless bogus excuses varying from the weather to collage students using them as water balloons. Okay, what does the weather have to do with condoms???"
Free Speech Collective members passed out condoms at today's event. Reuter and Cruz said that the collective, in addition to holding free speech events like the one today, was also taking the fight to the FCC Academic Senate in an effort to change the college's policy. The group has a comprehensive proposal for changing the current policy and bringing the FCC campus free speech policy in compliance with the first amendment of the US constitution.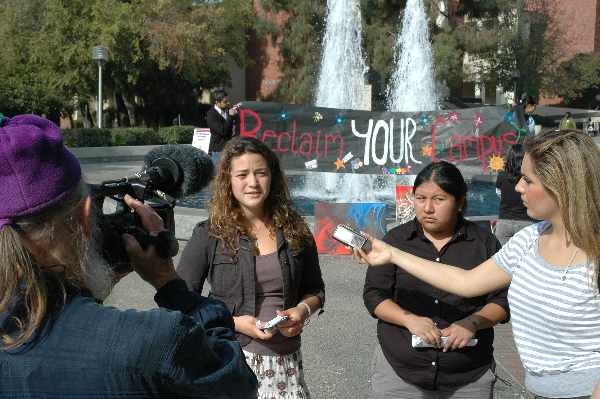 Sarah Reuter and Cresencia Cruz, both members of the Free Speech Collective, held a press conference to call for free speech at Fresno City College. All photos by Mike Rhodes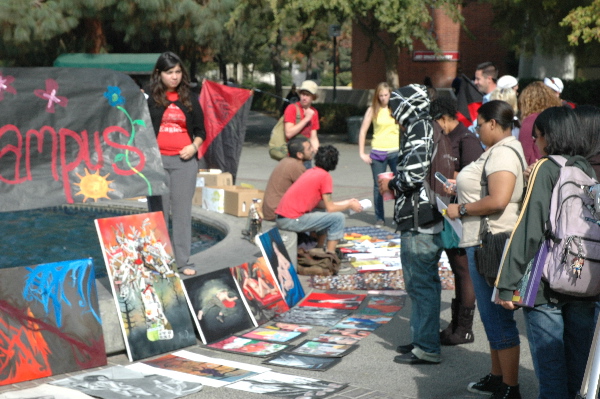 We are 100% volunteer and depend on your participation to sustain our efforts!
Get Involved
If you'd like to help with maintaining or developing the website, contact us.