From the Open-Publishing Calendar
From the Open-Publishing Newswire
Indybay Feature
5th San Francisco Korean American Film Festival and 10th Asian Film Festival
Extraordinary Asian Films from Classic to Contemporary: NOV 8th - 18th, 2007
Opening and Closing Night @ Castro Theatre with gala
Tickets prices range: $6 for children and senoirs $9 adults $10 opening and closing night films
Special discount: visit website
http://www.eastraordinary-cinema.com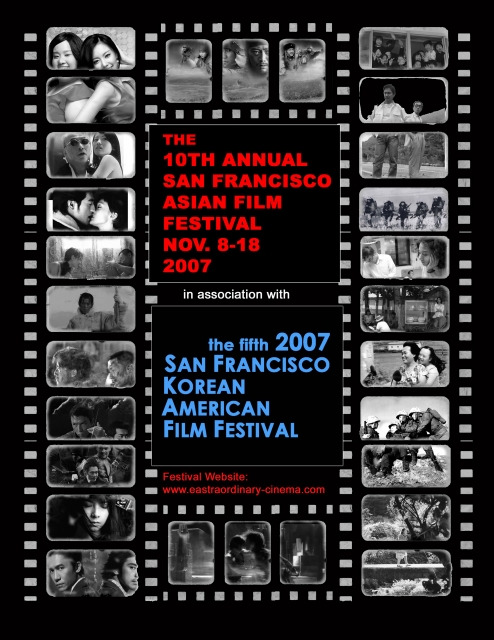 Now, in its 5th year, the San Francisco Korean American Film Festival (SFKAFF), is pleased to announce an exciting collaboration with the 10th San Francisco Asian Film Festival (SFAFF) in bringing the world's hottest Asian cinema to the Bay Area. As this year's theme states "Extraordinary Cinema from Asia: Classic to Contemporary", SFKAFF and SFAFF are screening 40 films from the 1930's to the present. Want the recent horror, action, drama, epic adventures or even cult films? You name it; we have it! And this year we are bringing our opening and closing nights to the Castro Theatre so more of you can enjoy the Asian film goodness!

To kick off this festival, we are screening the epic feature GENGHIS KHAN: TO THE ENDS OF EARTH AND SEA at the Castro Theatre. Having topped the box office in Japan, the $30m Japanese-Mongolian co-production, directed by Shinichiro Sawai ('W's Tragedy'), tells the story of the vast ambitions and indomitable spirit of historical figure Genghis Khan. Beautifully shot over a period of four months on location in Mongolia, this is one epic surely not to be missed on the big screen. There will also be an opening night gala before the screening. Come hang out with fellow Asian film lovers and discuss Asian cinema over a glass of champagne!

Our closing day/night line-up at the Castro is also nothing short of exciting, including TUYA'S MARRIAGE, CONFESSION OF PAIN, FLASH POINT, THE BANQUET and INVISIBLE TARGET. THE BANQUET is an award-winning period drama directed by Xiaogang Feng. Following the tradition of Chinese Wu-Xia film, the film is a loose adaptation of Hamlet with a kung-fu twist. INVISIBLE TARGET from Hong Kong tells the story of three police officers being thrown together to bring down a criminal gang of seven. No doubles were used for the film's amazing stunt sequences. The actors in the film performed their own stunts, and they don't disappoint.

To add to the amazement, San Francisco audiences will have an opportunity to watch some of the older South Korean films from the (50's , 60's and 70's) that laid the foundation for South Korean cinema's recent resurgence.
The festival will present four classics of South Korean cinema: FLOWER IN HELL (1958) by Shin Sang-Ok, which follows two brothers struggling to survive in the economy of the immediate years following the Korean war; MARINE WHO NEVER RETURNED (1962) and WILDFLOWER IN BATTLEFIELD (1974) by Lee Man- Hee, where Korean War is a part of their subject matter, a subject matter felt directly by most everyone in front of and behind the camera, since they lived through the experiences of the very war they're portraying.
We're also screening THE COACHMAN (1961) as part of a collection of free to the public academic DV screenings. This film features a career defining performance by Kim Seung-Ho, who received a retrospective of his work at this year's Pusan International Film Festival.

Of course, we have a long list of excellent recent films: FORBIDDEN QUEST (2006) follows a film about what happens when a self-produced, illustrated erotic novel gets out of hand after getting into the wrong hands. We're also bringing back the South Korean submission for Best Foreign Language Oscar, THE KING AND THE CLOWN (2005), and DRIVING MY WIFE'S LOVER (2007) having screened at Sundance this year, is an unusual road trip with some quirky characters.

Surely our film goers have a bigger appetite for HK action films. That's why we also have FLASH POINT, starring Donnie Yen whose name is synonymous with mind-blowing action. DRAGON TIGER GATE, based on a popular comic in HK, combines CGI effects with traditional kung fu, and the result is spectacular. We all know that HK cinema is more diverse than just having the action genre. ISABELLA, featured in our festival, is a rare breed in HK cinema as it is an indie film that enjoyed both critical and commercial success.

Throughout these eleven days of cinematic fun, we are offering a diverse line-up of quality films, such as winner of Golden Bear at the 2007 Berlin Film Festival TUYA'S MARRIAGE and the magical-realist fable KHADAK from Mongolia. Plus, 200 POUND BEAUTY, will surely amaze and amuse audience at the same time.

As a special one-time-only screening, we present to you NANKING, a documentary about the shocking crimes against humanity in Nanking, China, during the Japan's pre-WWII Invasion of China. This film has not been released in the U.S. yet and has already been generating Oscar buzz. Last but not least, we are bringing Ruan Lingyu's silent classic, THE GODDESS (1934) to the big screen. The film has been named by director Chen Kaige as his favorite film of the 1930s.

All in all, our 5th San Francisco Korean American Film Festival, in association with the San Francisco Asian Film Festival, promises not to disappoint. If you enjoyed our festival last year, we're sure you will love what we have to offer this year! We're back and we're bigger and better than ever!

We are 100% volunteer and depend on your participation to sustain our efforts!
Get Involved
If you'd like to help with maintaining or developing the website, contact us.