From the Open-Publishing Calendar
From the Open-Publishing Newswire
Indybay Feature
Rally against the LRDP - Wednesday, November 7th at UCSC
UC Santa Cruz's irresponsible plans for expansion have been made without the meaningful participation or consent of the student body, and in disregard of Santa Cruz residents' concerns. On November 7th, we will make visible our opposition to UCSC's Long Range Development Plan, while dialoguing with each other about the issues at hand. Come one, come all!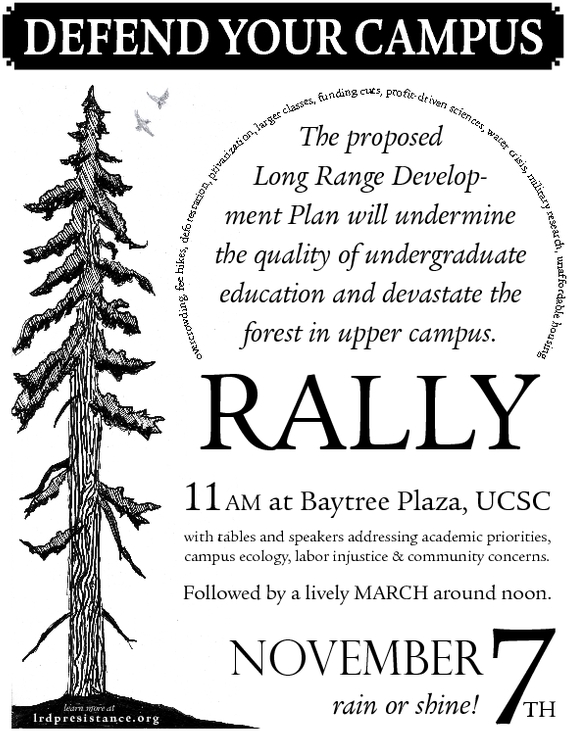 The rally, with tables and speakers, begins 11:00am at the
Baytree Plaza
, UCSC campus.
At around noon, we will begin the march.
November 7th - rain or shine.
For updates and more information:
LRDPresistance.org
UCSC's new Long Range Development Plan:
- Proposes unsustainable growth and disregards the concerns of Santa Cruz residents. The resource capacity to support this expansion simply doesn't exist. The addition of 4,500 new students and construction of associated infrastructure will result in overcrowded, unaffordable conditions, as housing, traffic and water resources are already critically stressed.
- Plans a rapid expansion of facilities in the midst of a serious lack of funding for existing programs, instead of planning in such a way that addresses this deficit and the deep seated structural problems that created it.
- Is the bulldozer clearing the path towards privatization, which will be justified by the intensifying budget crisis. Privatization increases tuition and changes academic priorities. Corporate-funded research and prestige-generating graduate programs are emphasized, to the detriment of undergraduate programs and unprofitable departments like the arts & humanities.
- Has been opposed by the Santa Cruz City Council and numerous prominent faculty members including Craig Rienarman (Sociology), Robert Meister (Politics) and John Isbister (Economics). The Santa Cruz Faculty Association has provided highly critical analysis of the expansion and many of its members oppose the LRDP.
- Would destroy 120 acres of beautiful redwood, chaparral and mixed evergreen forests in the currently undeveloped upper campus. Alternative, environmentally superior expansion options exist.
- Is accompanied by a flawed and spineless Environmental Impact Report that understates impacts and proposes inadequate mitigation measures. There was no outside review of the EIR, the UC Regents themselves are the certifying authority, and binding language has been consistently avoided, meaning that the UC has no legal obligation to perform expected mitigations.
For sources and further investigation, please visit: