From the Open-Publishing Calendar
From the Open-Publishing Newswire
Indybay Feature
As California burns, where is the CA. National Guard?
At a time when southern California is a blazing inferno, this action alert from Bill Lackemacher of Sacramento for Democracy urges Governor Arnold Schwarzenegger to bring the California National Guard back home from Iraq.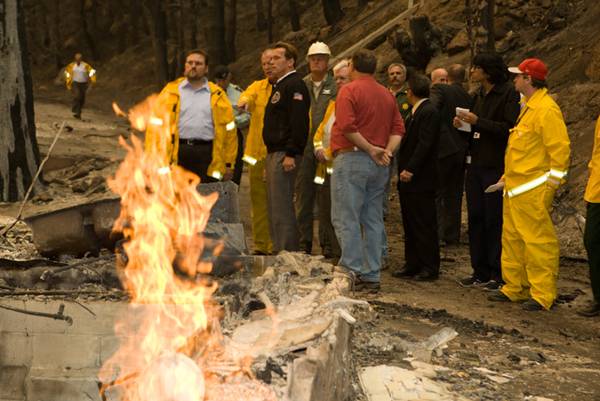 As CA burns, where is the CA National Guard?
by Bill Lackemacher, Sacramento for Democracy
As Southern CA goes up in flames, where is the CA National Guard? According to CNN, there are only 1,500 CA National Guardsmen fighting these fires. Where are the rest of our National Guardsmen, and why are they not helping to fight these fires? Are they in Iraq? If so, how many are still in California?
To the best of my knowledge, there are about 20,000 CA Army National Guardsmen. When I called their office, I couldn't get a straight answer about how many CA Air National Guardsmen there are. I'm not sure why they won't tell me. They wanted to know who I was and why I wanted to know how many there were. What are they hiding?
We all know that our guardsmen are in Iraq protecting Halliburton and the Multi-national Oil Corporations. I think it's well past time to tell our Governor to Bring Our CA National Guard Home! Please call the governor's office and tell him that we want our Guard Home Now to protect our great state!
Call Governor Schwarzenegger today!! 916-445-2841 (Press 1 for English, then 5 for "Hot topic issues", then 0 to speak to someone)
http://gov.ca.gov/interact#email
I believe it is due time that we revive Loni Hancock's, AJR 36, to bring our CA National Guard home!