From the Open-Publishing Calendar
From the Open-Publishing Newswire
Indybay Feature
SFSU College Republicans Plaster Campus with Swastikas
Just a heads-up, that the College Republicans have just handed the local left a modest political goldmine.
Never mind the direct equation of Earth Liberation Front's alleged torching of a Hummer dealership with the Ku Klux Klan or the Nazi Party of Germany... and also, let us set aside anything any of the text ostensibly "argues" (for we must use terms implying reason with care when speaking of right-wing American "discourse" at this moment in history).

For your purposes, dear activists, it should suffice that every single one of these 8.5x14" flyers, plastered all over campus this very minute, has "symbols" of "hate groups" on it, as part of the Rethug Youth call for a "dialogue" on "terrorism." These symbols include a prominent swastika, a swastika that visually leaps out at the viewer from many feet away.

Remember what they said about the GUPS flyer being blood libel? Well, it's time to go forth, and counterpose! If the direct comparison to the treatment of GUPS is made, the Administration will be hard-pressed not to (likewise) suspend the Rethug Youth group. Of course, that may be just what they want, as a setup for their upcoming Horrorwitz Week. On the other hand, what if they're not allowed to reserve any rooms on campus in which to hold their little rally, because they're suspended for plastering the campus with swastikas?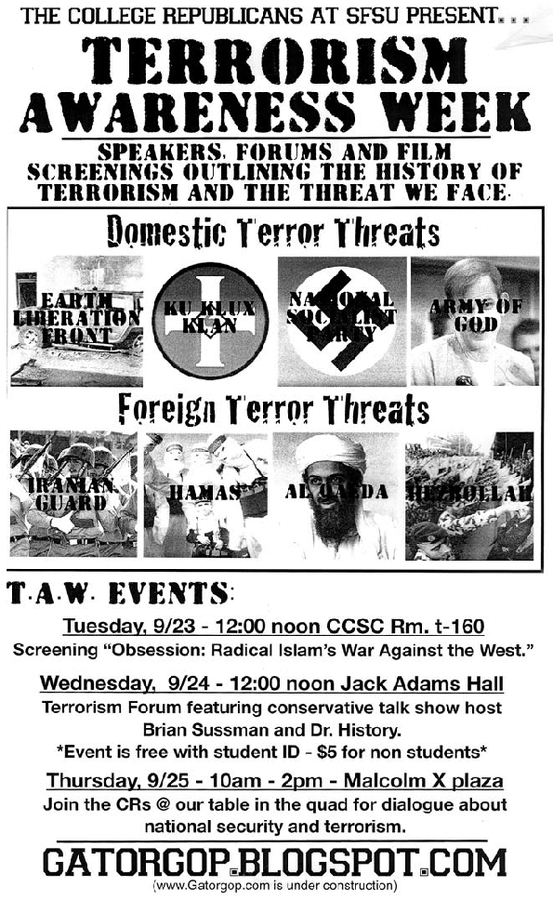 Let's try that again.

Original is 8.5x14".