From the Open-Publishing Calendar
From the Open-Publishing Newswire
Indybay Feature
2007 Practical Activism Conference at UCSC (10/27)
This year's conference will take place on SATURDAY, OCTOBER 27, 2007.

Practical Activism is a free, student-led conference providing learning opportunities and tools to create local and global change.
This day-long conference takes place at the University of California at Santa Cruz.

Workshops, Speakers, Tabling Organizations, Creative Activism Activities, Live Music, and More.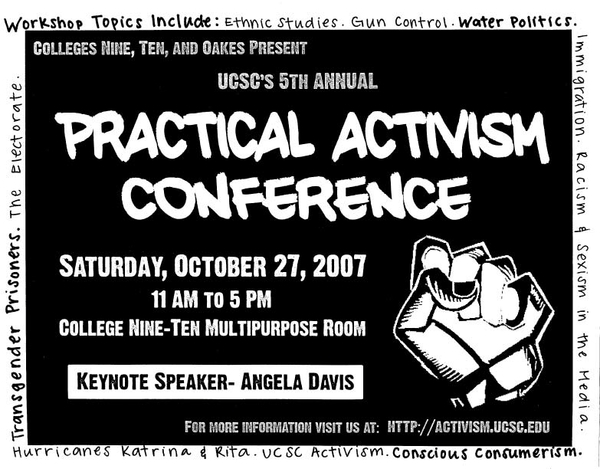 PRACTICAL ACTIVISM 2007
Schedule of the conference
workshop descriptions & titles:
session one: 1:00pm - 2:15pm
"Pass the Teargas: Student Activism at UCSC:"
UCSC Alumni and former UC Alumni Regent, Gary Novack, and History of Consciousness graduate student, Gregory Caldwell, will facilitate an interactive discussion about what it means to be a student activist in today's socio-political climate. This workshop will also cover the history of activism on our campus and effective ways to have your activism make a difference.
"Across the Border: A Critical Look at Immigration"
This workshop will focus on the impact of immigration on the US economy and other aspects of our society, while debunking myths about immigration. Locally, it will address the ICE Raids in Watsonville and also provide students the means to get involved in the community. Guest speakers include Latin American and Latino Studies professors Jonathan Fox and Jose Palafox in addition to Ramiro Medrano of MigraWatch in Watsonville.
"Transgender Prisoners: Trapped in a Gender Binary"
Rashad Shabazz, doctoral student in the History of Consciousness Department and prison abolitionist, will speak about the discrimination and hardships that transgender prisoners face in todayís penal system. Issues revolving around the gender binary, sexuality, and the prison industrial complex will also be discussed.
"Crimes Against Humanity: Hurricanes Katrina & Rita"
The mainstream mediaís representation of Hurricanes Katrina & Rita is quite possibly inaccurate, most notably in terms of the general understanding of the immediate rescue and relief given to New Orleans residents and the cityís current state. This workshop will provide a (re)education of government actions in response to the hurricanes as well as providing ways you can contribute to the recovery of New Orleans and itís citizens.
"Buyer Be-Aware: Being a Conscious Consumer"
This workshop will foster awareness and provide tools regarding our responsibilities as consumers in the local and global communities. Professor Dana Frank and student activists will discuss the global history of consumerism and address sustainable and social consumer movements.
session Two: 2:25pm - 3:40pm
"The Absence of Color"
This workshop focuses on the lack of an Ethnic Studies department at UC Santa Cruz, the only UC without such a program. We hope to promote awareness of and encourage a dialogue around the current academic atmosphere on campus. Guest speaker Paul Ortiz will engage the audience in thinking in terms of the current ìabsence of colorî at UCSC.
"Privatization of Water: Owning Water, Owning Life"
Is water a right or a privilege? Who has access to water and who does not? This workshop will delve into the issues lurking around water privatization, who it affects and how they survive within these conditions. Professor Ben Crow and student activists will show how complicated and difficult it is for some people just to have basic access to this necessity, and what you can do to bring awareness to others and make a difference.
"Defending Our Campus: Armed Students?"
James Armstead, Law of War professor at UCSC, will lead a discussion and Q and A session focusing on international gun control politics, specifically their relevance to college campuses domestically and abroad.
"Act for Change: Tools for Empowerment"
While not all members of our community have access to or a voice within the electorate system, this workshop will provide tangible ways in which individuals can work within this system to make change. Learn to write a bill, get involved in advising elected officials, and find your voice.
"Girl Fight: Challenging Racism & Sexism in the Media"
Popular culture is constantly affecting us in ways that we are unaware of. This interactive workshop featuring professor Francesca Guerra will explore the ways in which we are sold racist and sexist propaganda and will inspire you to look at the media with a critical eye.
http://activism.ucsc.edu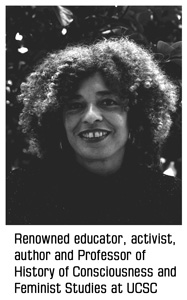 Through her activism and her scholarship over the last decades, Angela Davis has been deeply involved in our nation's quest for social justice. Her work as an educator – both at the university level and in the larger public sphere – has always emphasized the importance of building communities of struggle for economic, racial, and gender equality.

Professor Davis' teaching career has taken her to San Francisco State University, Mills College, and UC Berkeley. She has also taught at UCLA, Vassar, the Claremont Colleges, and Stanford University. She has spent the last fifteen years at the University of California Santa Cruz where she is Professor of History of Consciousness, an interdisciplinary Ph.D program, and Professor of Feminist Studies.

Angela Davis is the author of eight books and has lectured throughout the United States as well as in Europe, Africa, Asia, Australia, and South America. In recent years a persistent theme of her work has been the range of social problems associated with incarceration and the generalized criminalization of those communities that are most affected by poverty and racial discrimination. She draws upon her own experiences in the early seventies as a person who spent eighteen months in jail and on trial, after being placed on the FBI's "Ten Most Wanted List." She has also conducted extensive research on numerous issues related to race, gender and imprisonment. Her most recent books are Abolition Democracy and Are Prisons Obsolete? She is now completing a book on Prisons and American History.

Angela Davis is a member of the executive board of the Women of Color Resource Center, a San Francisco Bay Area organization that emphasizes popular education – of and about women who live in conditions of poverty. She also works with Justice Now, which provides legal assistance to women in prison and engages in advocacy for the abolition of imprisonment as the dominant strategy for addressing social problems. Internationally, she is affiliated with Sisters Inside, a similar organization based in Queensland, Australia.

Like many other educators, Professor Davis is especially concerned with the general tendency to devote more resources and attention to the prison system than to educational institutions. Having helped to popularize the notion of a "prison industrial complex," she now urges her audiences to think seriously about the future possibility of a world without prisons and to help forge a 21st century abolitionist movement.
We are 100% volunteer and depend on your participation to sustain our efforts!
Get Involved
If you'd like to help with maintaining or developing the website, contact us.