From the Open-Publishing Calendar
From the Open-Publishing Newswire
Indybay Feature
Zooming At You: Public Assembly Ban in City Parking Lots: 8:30 AM City Hall 9-27
The Downtown Commission will be on the business end of staff and police "persuaders" come next Thursday September 27th, when the SCPD returns with thin stats to push through the Coonerty "Parking Lot Panic" Law. Listed below are the phone numbers of Downtown Commission members (City Hall doesn't have their e-mails for some reason). Call them and tell them to vote no or at least wait until we can get more public records.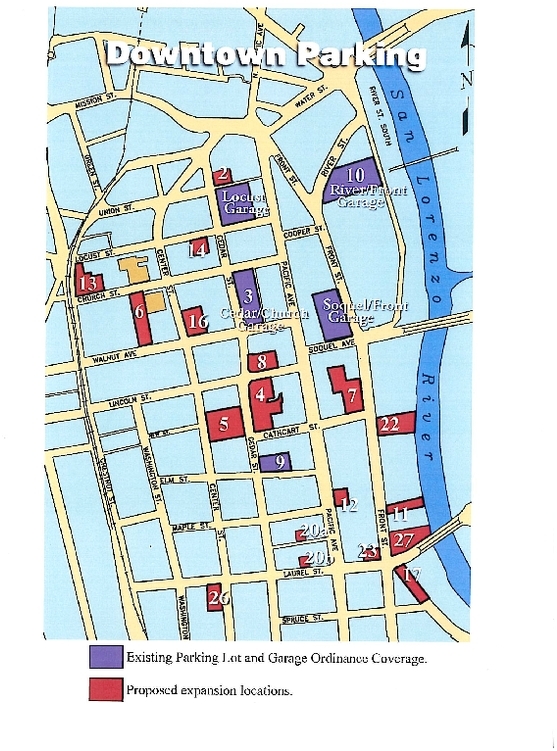 Marlin Garlund, the Parking Authority guy, sent me the attached reports for the Downtown Commission's meeting next Thursday.
For some of the grim prior history of the attempt to constrict public spaces for the convenience of the police and city workers see
http://www.indybay.org/newsitems/2007/
09/06/18445965.php .
The following are the phone numbers of the Downtown Commissioners who should be available to the public. If they're not, ask them to delay any decision until they actually meet with you.
Once they pass it, it'll slide through City Council like shit through a goose. If they don't, Ryan Coonerty may have some trouble removing these public spaces "in the interests of security".
Sheila Coonerty: 429-4115
Joe Ferrara 426-0158
postmaster [at] atlantisfantasyworld.com
June Hoffman 420-0135
Jeffrey Kongslie 650-470-6000
Geri Mandel 426-5557
Julie Shattuck: 457-0313
Ron Slack: 458-1100 X205
Marlin Granlund (staff person) 420-5184
I'm also attempting to upload a map of City parking lots affected, the staff report, the SCPD's chart justifying this parking lot public assembly ban, and a brief summary of restrictive laws in other cities re: parking lots and garages.
I shall comment on the SCPD's figures in a future comment. The problem, of course, is that there's no chance to get independent or even more extensive police records if the Downtown Commission acts to forward this recommendation to City Council (even without as a neutral matter).
Earlier in the summer, the Downtown Commission turned down the SCPD and Parking Authority's request because they declined to provide any new figures. Now they are providing a few (a very few). This might cause publicity-sensitive Commission members to pass the buck to City Council where, as we know, anything the SCPD wants, the SCPD gets.
So CALL MARLIN and/or DOWNTOWN COMMISSIONERS and ask them to delay any final action on this matter until there's time to get some real stats and check the ones we're given. And start figuring out creative protest strategies to stop this latest police power grab.
Otherwise, kiss 6 square blocks of public space goodbye and say hello to more harassment (particularly of poor people).
Oh, yeah, I forgot, there's the SCPD doesn't do profiling or selective enforcement.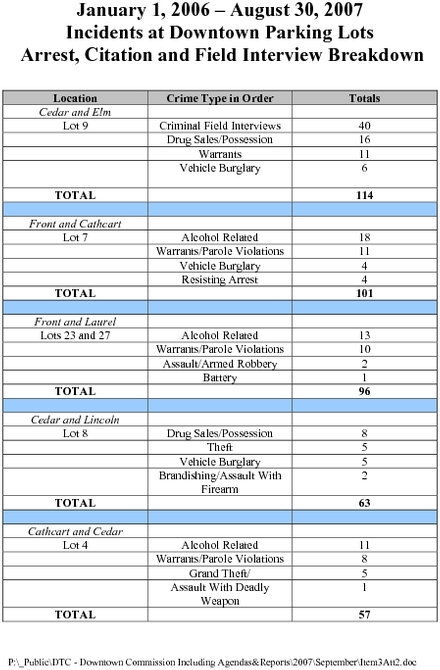 The police stats that are being presented to justify this massive seizure of public space.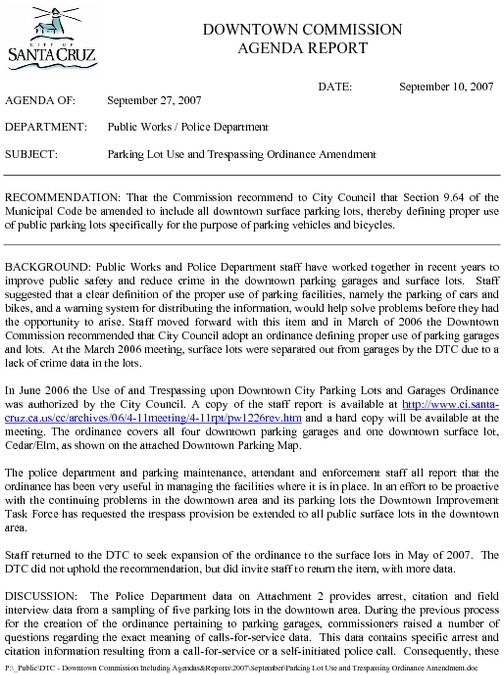 The folks pushing for this new law wrote this.
We are 100% volunteer and depend on your participation to sustain our efforts!
Get Involved
If you'd like to help with maintaining or developing the website, contact us.