From the Open-Publishing Calendar
From the Open-Publishing Newswire
Indybay Feature
Related Categories:

Central Valley | Environment & Forest Defense
Federal Judge Denies PacifiCorp Request to Throw Out Klamath Dams Toxins Case
In a big victory for the embattled Klamath River, Judge William Alsup of the United States District Court for the Northern District of California on Friday rejected PacifiCorps' request to throw out the Klamath dams toxins case filed by the Klamath Riverkeeper. The lawsuit alleges that toxic blue-green algae thrives and settles in the reservoirs above PacifiCorp's dams, creating a toxic environment for salmon and endangering human health. Renowned environmental attorneys Joseph Cotchett and Robert F. Kennedy Jr. will continue to argue the case against PacifiCorp, a company owned by Warren Buffet's Berkshire Hathaway Corporation.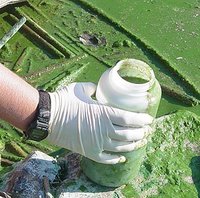 NEWS RELEASE: FOR IMMEDIATE RELEASE: August 21, 2207
KLAMATH RIVER KEEPER
Contacts:
Niall McCarthy, Cotchett, Pitre, and McCarthy (650) 697-6000
Regina Chichizola, Klamath Riverkeeper:
(530) 627-3280 or (541) 951-0126
FEDERAL JUDGE DENIES PACIFICORP REQUEST TO THROW OUT KLAMATH DAMS TOXINS
CASE
Joseph Cotchett and Robert Kennedy will continue to argue case against
PacifiCorp
A federal judge ruled on Friday that a nuisance case against PacifiCorp can
go forward. The claim filed on behalf of a group of Klamath Basin residents
alleges that PacifiCorp's Klamath River dams produce toxins that endanger
plaintiffs' economic well being and way of life. The ruling came as a result
of PacifiCorp's attempt to have the case dismissed.
"PacifiCorp's attempt to rob Klamath residents of their right to a day in
court has failed. This ruling means that PacifiCorp will stand trial accused
of poisoning our river and thereby destroying the livelihoods and rights of
Tribal members, fishermen and business owners," according Regina Chichizola
of the Klamath Riverkeeper, a non-profit plaintiff in the case.
Several Yurok and Karuk Tribal members, a Klamath River business owner, a
Pacific Coast salmon fisherman, and Klamath Riverkeeper sued PacifiCorp on
May 2, 2007 for damages resulting from the toxic water conditions that
PacifiCorp's dams create. The groups cited risks to human health as well as
a decline in the salmon fishery.
No tribal government is involved in the suit.
Friday, Judge William Alsup of the United States District Court for the
Northern District of California rejected PacifiCorps' request to throw the
case out. He also rejected PacifiCorp's request to delay the case while
FERC completes the highly contentious dam relicensing proceedings that have
been ongoing since 2004.
According to plaintiffs' complaint, PacifiCorp has caused damages to the
individuals by creating toxic conditions in the reservoirs and the entire
Lower Klamath. Specifically, the suit alleges that toxic blue-green algae
thrives and settles in the reservoirs above PacifiCorp's dams, creating a
toxic environment for salmon and endangering human health. According to
plaintiffs, when the algae and its toxic by-products flow downstream, it
threatens not only their livelihoods but their way of life. They allege
that PacifiCorp has decimated the Klamath salmon fishery, dissuaded tourism
and other recreational uses of the river, and seriously impeded tribal
religious ceremonies, most of which are river-based.
Attorney Niall McCarthy, a partner of the law firm of Cotchett, Pitre &
McCarthy who argued for the plaintiffs, haled the order as "sending a clear
message that PacifiCorp cannot willfully and knowingly risk its downstream
neighbors' health, livelihoods and way of life and hide behind FERC when the
time comes to compensate its victims."
"Tribal residents on the Klamath River have the right to perform religious
ceremonies and fish. PacifiCorp's dams have devastated the Tribes'
traditional food supply and economy. People conducting religious ceremonies
should not have to worry that they could end up sick if they touch the
Klamath River," said Chichizola, while noting the Klamath Riverkeeper has
many tribal fishermen as members.
Although Judge Alsup found that the Federal Energy Regulatory Commission
(FERC's) authority over dam relicensing precluded an injunction directing
PacifiCorp to modify its dam operations, he also ruled that claims for money
damages against PacifiCorp could go forward. In addition, he rejected
PacifiCorp's contention that under California law, the FERC permit precluded
nuisance claims, finding that the FERC license "cannot be read as to go so
far as to demonstrate 'an unequivocal legislative intent to sanction a
nuisance.'"
# # #
S. Craig Tucker, Ph.D.
Klamath Campaign Coordinator
Karuk Tribe of California
office: 530-627-3446 x3027
cell: 916-207-8294
ctucker [at] karuk.us
http://www.karuk.us
We are 100% volunteer and depend on your participation to sustain our efforts!
Get Involved
If you'd like to help with maintaining or developing the website, contact us.