From the Open-Publishing Calendar
From the Open-Publishing Newswire
Indybay Feature
Animal Place Rescues Birds from Cockfighting Operation
Animal Place continues to save hens and chicks from massive cockfighting operation.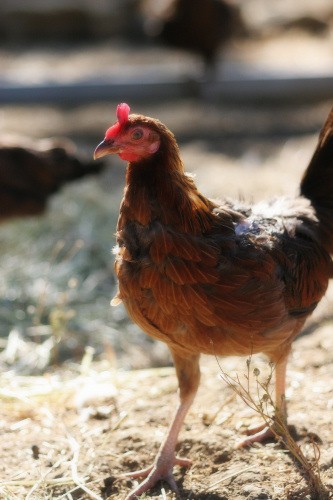 Animal Place Rescues Birds from Cockfighting Operation
Sanctuary seeking homes for hens and chicks; will save more birds tonight
Vacaville, California, August 9, 2007 – Sixty hens and nearly 20 chicks found at the site of one of the largest cockfighting operations ever discovered in Sacramento County are now safe and settling in to their new surroundings. The birds, rescued on Monday, are enjoying a life free from violence and exploitation at Animal Place, a 60-acre sanctuary for abused and discarded farmed animals in Vacaville.
News of the abused and neglected hens and chicks reached Animal Place after Sacramento law enforcement raided the cockfighting operation on July 4 and representatives from the Humane Society of the United States later entered the property to assist the animals. Deputies found evidence of a large-scale cockfighting and breeding operation, including between 300 and 600 cockfighting roosters, all of whom were taken by Sacramento County Animal Care & Regulation (SCAC&R).
Marji Beach, Animal Place's program coordinator, and Cally Jones, the sanctuary's senior animal caregiver, traveled to the cockfighting site accompanied by Pat Claerbout, director of SCAC&R. The three arrived at dusk, a bird's natural quiet time, and began the arduous task of carefully catching the hens and their chicks amid the filthy property, which was littered with debris and plywood shacks.
"The facility was in utter disrepair," says Beach. "It was hard to imagine anyone living or working there. Splintered wood, rusted metal and derelict buildings were the norm. Even more disheartening is that the only life these roosters knew was the brutality of the pit."
With the Michael Vick dog-fighting case receiving so much publicity recently, Beach wonders why cockfighting is rarely viewed with the same outrage as its canine counterpart. "The pain and suffering these birds endure before, during and after fights is no different from the pain and suffering fighting dogs endure," says Beach. "These roosters and hens deserved better than a miserable life ending with a miserable death."
Animal Place will return to the site tonight to save additional hens who were not caught during Monday's rescue effort.
Cockfighting is a centuries-old blood sport in which two or more specially bred birds, known as gamecocks, are placed in an enclosure to fight, for the primary purposes of gambling and "entertainment." A cockfight usually results in the death of one of the birds, though sometimes both are killed. A typical cockfight can last anywhere from several minutes to more than half an hour. Common injuries include punctured lungs, broken bones and pierced eyes. Such severe injuries occur because the birds' legs are usually fitted with razor-sharp steel blades or with gaffs, which resemble three-inch-long, curved ice picks. These artificial spurs are designed to puncture and mutilate.
Participating in a cockfight in California carries only misdemeanor charges for the first offense, unlike many other states, including Nevada, Oregon and Arizona. (Sacramento officials said participants in the July 4th fight would face felony cruelty to animal charges, as well as misdemeanor cockfighting charges.)
What you can do:
• Adopt a pair! While the hens and chicks are discovering the joys of perches, clean water, good food and dust-bathing, Animal Place will seek permanent homes for many of the birds, whose sudden presence has stretched the limits of the sanctuary. All homes should be within 100 miles of the sanctuary. Those interested can contact
info [at] animalplace.org
or 707-449-4814.
• Donate to help the birds! A tax-deductible donation will help provide food, care and bedding to the rescued hens and also assist in the care of all the animals at the sanctuary. Your contribution will also help in placement of these hens. Visit
http://www.animalplace.org/fighting.html
for more information.
• Be a compassion cop! Look out for cruelty and neglect toward animals in your area, such as numerous roosters tethered in triangle-shaped pens. Cockfighting generally occurs in rural areas but can occur anywhere. If you suspect that cockfighting is going on in your neighborhood, alert your local law enforcement agency and urge agency officials to contact the Humane Society of the United States for practical tools, advice and assistance.
Animal Place is a nonprofit sanctuary for abused and discarded farmed animals located in Vacaville, California. Since 1989, Animal Place has been taking in animals who have been abused or neglected and have no place else to go. Animals rescued from auctions and stockyards and animals used in research also make up the many animals who share 60 acres of forest, meadow, pasture, hills and a small lake, peacefully living out the remainder of their lives. In addition to providing the day-to-day care of animals, Animal Place is an advocacy organization offering farm tours, volunteer training and outreach activities. More information on the sanctuary can be found online at
http://www.animalplace.org
.
We are 100% volunteer and depend on your participation to sustain our efforts!
Get Involved
If you'd like to help with maintaining or developing the website, contact us.