From the Open-Publishing Calendar
From the Open-Publishing Newswire
Indybay Feature
Veterans hold SF vigil in solidarity with NYC Agent Orange court hearing
Several million Vietnamese are still suffering physically and mentally from diseases caused by the U.S. sprayings of dioxin-laced toxic chemicals, particularly Agent Orange.
On January 31st, 2004, a victim's rights group, VAVA filed a lawsuit in a US Federal District Court in Brooklyn, New York, against several US companies, for liability in causing personal injury, by developing and producing the chemical. Dow Chemical and Monsanto were the two largest producers of Agent Orange for the US military, and were named in the suit along with the dozens of other companies .

On March 10, 2005, the District Court judge Jack Weinstein dismissed the suit, ruling that there was no legal basis for the plaintiffs' claims. The judge concluded that Agent Orange was not considered a poison under international law at the time of its use by the US; that the US was not prohibited from using it as an herbicide; and that the companies which produced the substance were not liable for the method of its use by the government.

On September 30, 2005, the Vietnamese victims lodged an appeal in the Second Circuit Court of Appeals. On June 18th, 2007, the U.S. Court of Appeals for the Second Circuit will hear oral arguments in New York from VAVA and others. The US government is not a party in the lawsuit, as it claims sovereign immunity.

A number of lawsuits by American GIs were settled out of court - without admission of liability by the chemical companies - in the years since the Vietnam War. In 1984, some chemical companies that manufactured Agent Orange paid $180 million into a fund for United States veterans following a lawsuit.

[Most of the text above from Veterans for Peace and Indybay.org]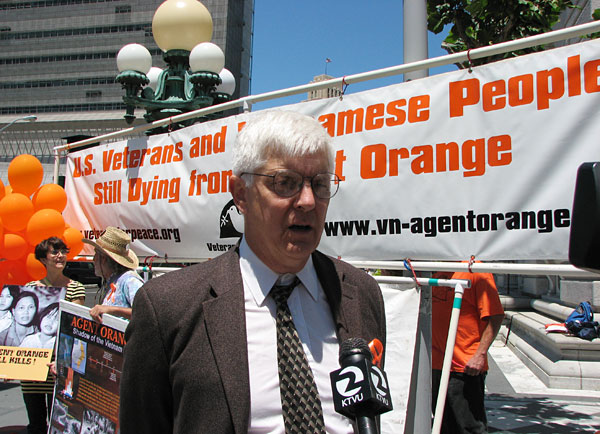 Paul Cox speaking for Veterans for Peace Chapter 69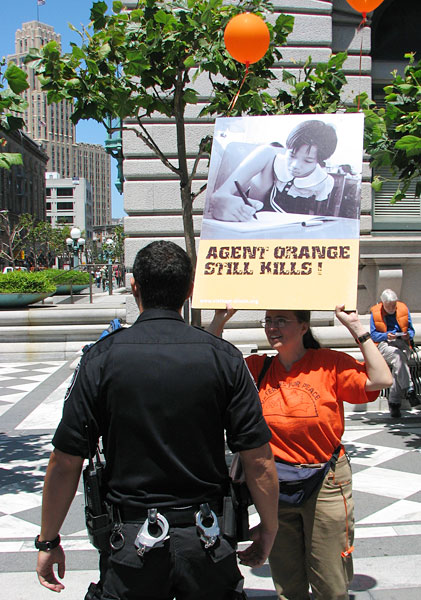 Police check in with vigil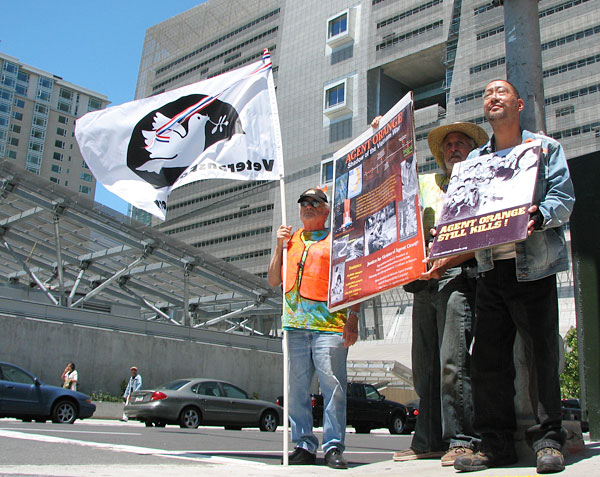 Veterans hold vigil
"Agent Orange Still Kills!"
"U.S. Veterans and Vietnamese People Still Dying from Agent Orange"
VFP member: "Agent Orange Still Kills!"
We are 100% volunteer and depend on your participation to sustain our efforts!
Get Involved
If you'd like to help with maintaining or developing the website, contact us.