From the Open-Publishing Calendar
From the Open-Publishing Newswire
Indybay Feature
East Palo Alto Youth Win Preliminary Battle Against Giant Polluter
After more than a decade of fighting Romic Environmental Technologies' polluting presence in East Palo Alto, the young activists of YUCA (Youth United for Community Action) are celebrating a major success towards shutting down environmental racism in their city.

Organizer Annie Loya, pictured here speaking at a May 30, 2007 press conference, began working on the campaign against Romic when she was 13 years old. She is now 23.
Related stories at:
http://www.indybay.org/newsitems/2007/02/10/18360617.php
http://www.indybay.org/newsitems/2007/02/10/18360748.php
http://www.indybay.org/newsitems/2007/02/10/18360878.php
On May 30, 2007 members of Youth United for Community Action (YUCA), celebrated a California state order that will shut down large portions of a major hazardous waste handler located in East Palo Alto, ironically named Romic Environmental Technologies.
"Romic feels that since it is located in a community of color that they don't have to abide by regulations," said organizer Annie Loya in a recent newspaper interview, explaning the difficulties faced over the last decade by her youth-led environmental justice organization. "But also it is the regulatory system that is failing. The result is that there is a blind eye cast upon how businesses operate in communities like ours."
From YUCA's Press Release:
Dear Community members, family, and friends of East Palo Alto,
Today, Wednesday, May 30, 2007 is a historic day for the community of East
Palo Alto. After 16 years, the Department of Toxic Substances Control
issued a historic enforcement order to shut down 70% of ROMIC¹s present
operations in East Palo Alto. Issued today, Romic has 30 days to cease the
handling of hazardous waste operations. This is a great moment for East
Palo Alto, for little communities who can take on a fight, for the
environmental justice community and for history.
For 43 years, Romic Environmental Technologies has operated a hazardous
waste recycling facility in East Palo Alto with reckless abandon. Romic¹s
violation-plagued facility has operated in East Palo Alto since 1991 without
a proper operating permit. Romic constant violations have put the lives of
East Palo Alto residents at risk. The City of East Palo Alto and its
residents have carried this burden of San Mateo County hazardous waste
recycling for too many years. With its high asthma and cancer rates, East
Palo Alto residents cannot afford to be put at any more risk.
Since 1991, community residents have waged a campaign to shut down Romic in
East Palo Alto. Our efforts have won a partial but significant victory in
our efforts to rid EPA of this blight. We want Romic completely shut down
because people should not have to suffer from Romic¹s carelessness.
DTSC has finally begun to listen to the East Palo Alto community. In making
this decision DTSC has taken in to consideration our well-being by beginning
the process to shut ROMIC down
WE WOULD LIKE TO THANK ALL OUR COMMUNITY MEMBERS, ALLIES, FRIENDS, FAMILY,
AND SUPPORTERS WHO MADE THE CALL/ EMAIL/ PROTESTED/ WROTE A LETTER/ ETC TO
DTSC TO URGE THEM TO SHUT ROMIC DOWN!
BUT THE FIGHT IS NOT OVER FOR THE EAST PALO ALTO COMMUNITY! Romic's
operating permit is still pending. We continue to unequivocally desire our
community to be rid of Romic and its toxic activities. YUCA and the East
Palo Alto community will respond vigorously and vocally to any appeal filed
by Romic that attempts to stay this enforcement order.
Please make a call to Mohinder Sandhu at DTSC to finally shut Romic down!
Mohinder Sandhu, Branch Chief, in charge of permitting, MSandhu [at] dtsc.ca.gov,
(916) 255-3716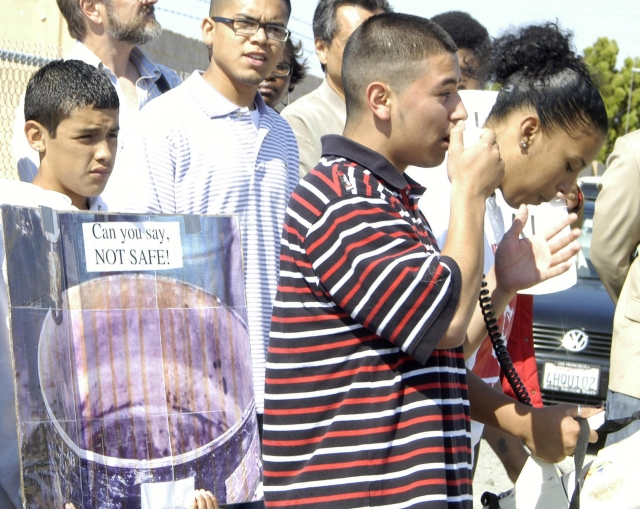 Alvaro Alvarez, 16, YUCA member and East Palo Alto resident, promises that the youth will not rest until Romic is completely shut down.
Longtime community organizer and East Palo Alto City Council member Peter Evans and Keisha Evans along with community
resident Charles Brewer, started the campaign against Romic back in 1989.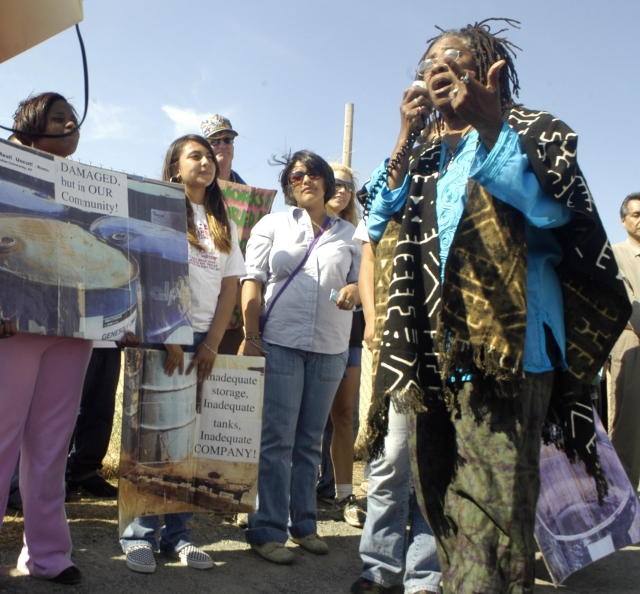 Keisha reminded the crowd, "the race is not always to the swift, but to those who keep on running."
We are 100% volunteer and depend on your participation to sustain our efforts!
Get Involved
If you'd like to help with maintaining or developing the website, contact us.