From the Open-Publishing Calendar
From the Open-Publishing Newswire
Indybay Feature
Related Categories:

California | Central Valley | U.S. | Anti-War
Journalist Jeremy Scahill delivers fervent speech to Sacramento
Independent journalist and author of 'Blackwater-Rise of the World's Most Powerful Mercenary Army', a New York times bestseller, gave a fervent speech Thurs. May 3 at the United Methodist Church on J and 21st streets in Sacramento.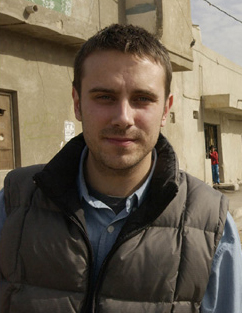 Independent journalist and author of 'Blackwater-Rise of the World's Most Powerful Mercenary Army', a New York times bestseller, gave a fervent speech Thurs. May 3 at the United Methodist Church on J and 21st streets in Sacramento.

Investigative reporter Jeremy Scahill, a correspondent for the independent radio and television news show Democracy Now, and frequent contributor to The Nation, went into detail with the crowded room about his investigation into the private contractor security company Blackwater USA.

"It's sort of an inappropriate term because when you hear the term contractor I think what comes to mind is construction worker, people that are building something, a bridge or a building or a hospital. I think it's an odd term for heavily armed men running around war zones with no laws governing their presence," Scahill said.

The private contractor security company Blackwater USA was founded in 1997 by Erik Prince, a wealthy ex-Navy seal who has close ties to the current republican administration, some of those ties amounting to millions in contributions to the Republican Party and its candidates.
Referring to the Columbine school shooting in 1999 Scahill said, "It would be the first of annual tragedies that would end up benefiting Blackwater's business."

Scahill explained that Blackwater USA set up a mock high school called "Are you ready high" to train their troops how to "face down the violent youth of America," Scahill said.

Today Blackwater is most known for guarding high profile individuals like Paul Bremer and its presence in Iraq. There are about 126,000 total contractors in Iraq, however, not are all Blackwater forces. Which is about the same amount of U.S. military inside that country, effectively doubling the amount of forces that most Americans already believe to be in Iraq.

According to Scahill, at least 770 of these private personnel have been killed in Iraq alone, and at least 7,700 have been wounded. Adding these numbers to the 3,400 U.S. soldiers who have already died pushes the U.S. death toll in Iraq above 4,000 and the wounded into the tens of thousands.

Sacramento City College student Jennie Jones, 20, political science major, said that she felt both inspired and horrified from what she learned. She explained that while she was astonished that the mainstream media has not pursued this investigation, she was amazed that one individual could break such a monumental story.

"His presentation was really eye opening," Jones said, "It never crossed my mind to consider all of those contractors in how many soldiers are actually over there."

Scahill said that what he feels is even more disturbing than the fact that the media and government do not count these forces, is the lack of oversight and transparency.

"We don't know what many of these private forces are doing, and they're doing it with U.S tax-payer dollars and their doing it in the name of U.S. policy in Iraq," Scahill said.

Sacramento City College student and women's rights activist, Hakeem Naim, said that he was moved with how Scahill compared the coverage of the Virginia Tech shootings to the coverage of the war. Scahill said in his talk that if the media treated victims of the war like they did the victims at Virginia tech, that most Americans would no longer allow the war to go on.

"If we humanize the victims in Iraq, the war would be different," Naim said.

Another point that Scahill stressed was the disparity in wages between Blackwater forces and U.S. troops making it an easy decision to, "Go Blackwater." On average, one private armed force earns in one month what a U.S. soldier makes in one year.

"The Bush administration came to power with the most radical privatization agenda in the history of our country," Scahill said.

This story has come to light at an important time for Ca. as the N.C. based company plans to build another training facility called Blackwater-West in the small town of Potrero outside of San Diego.

"This is very much a California story," Scahill said

About half of the residents in this small community have begun protesting the construction of the facility and are working hand in hand with Rep. Bob Filner, D-San Diego to keep Blackwater out of their backyards.

"What they [Blackwater USA] never expected was to face an indigenous uprising of the people of Potrero," Scahill said.

Jones said that she was inspired and felt proud that a small Californian community with no activist or organizing background has been able to ban together.

Bringing the story even closer to home is the alleged meeting between Governor Arnold Schwarzenegger and Blackwater spokeswoman Anne Tyrell to discuss the possibility of outsourcing California's earthquake response to the private company. The meeting was originally reported by Joanne Kimberlin and Bill Sizemore of The Virginian-Pilot, but was denied to have taken place by Tyrell after the Sacramento News and Review contacted her. Schwarzenegger's spokesman would not confirm if the meeting took place.

"Politicians should be accountable to the people who put them in office," Jones said, "He [Schwarzenegger] should be forced to answer that question."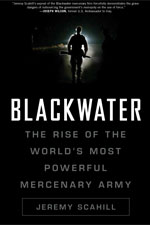 We are 100% volunteer and depend on your participation to sustain our efforts!
Get Involved
If you'd like to help with maintaining or developing the website, contact us.