From the Open-Publishing Calendar
From the Open-Publishing Newswire
Indybay Feature
City of Fresno Continues to Destroy Homeless Peoples Property
The City of Fresno has a court order preventing them from taking and destroying homeless peoples property. On April 5, 2007 the city implemented a new policy to take and store homeless peoples property during their sweeps. The policy is that they (the City of Fresno) will take and store, for 90 days, homeless peoples property. Homeless people can come to the city yard on G street and reclaim their property. . . except that the property was left out in the rain and is no longer usable.

City of Fresno Continues to Destroy Homeless Peoples Property
By Mike Rhodes
Dee was close to tears as she searched through the container the City of Fresno used to store homeless peoples property. The city is under a court order to stop taking and destroying property taken during sweeps of homeless encampments. The solution the city came up with is to take and store the property, giving homeless people 90 days to reclaim anything that was taken. A copy of the notice from the most recent sweep can be seen here:
http://www.indybay.org/newsitems/2007/03/29/18385669.php
. In that sweep, which took place on April 5, 2007 (see:
http://www.indybay.org/newsitems/2007/04/05/18389735.php
), the City of Fresno implemented their new policy and did put any property they encountered into a large bin, which was then hauled to the city yard on G street.
Dee, one of the homeless women who lived at the encampment, saw the city take some of her property on that day. Today, Dee and I went to reclaim her property. What Dee saw made her upset. "It's all ruined, we can't even use our sleeping bags because they all smell like mildew." Dee was looking in the container (see video below) where the city had stored the property taken on April 5. The container was in a parking lot, fully exposed to the elements, which included a rain storm about a week ago. There was a tarp that covered about a third of the container. The tarp was partially collapsed with a large pool of water on top.
Speaking of the property she was looking at, Dee said "they say they are going to put it somewhere that is protected. Does this look like it is protected?" Carlos, a city worker sent with us to reclaim the property, agreed that the containers exposure to the elements could be a problem, saying "yeah, and it can cause damage, I will bring it to their attention."
Dee could not find anything worth saving in the pile of property the city had saved from the encampment she lived at. She was angry and frustrated that the city treated her property like rubbish, not taking care to carefully store it.
For a list of articles and documents about the struggle for civil liberties for homeless people in Fresno, see:
http://www.fresnoalliance.com/home/homelessness.htm
###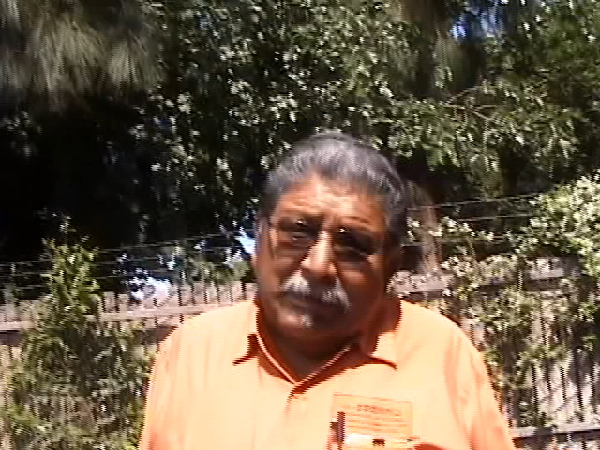 We are 100% volunteer and depend on your participation to sustain our efforts!
Get Involved
If you'd like to help with maintaining or developing the website, contact us.