From the Open-Publishing Calendar
From the Open-Publishing Newswire
Indybay Feature
Related Categories:

U.S. | Global Justice & Anti-Capitalism
Hundreds of Thousands Introduced to Bob Avakian
The current issue of Revolution, a special broadsheet, will be getting into the hands of people of all walks of life this week from coast to coast. Distributors of Revolution are calling on students, residents of the barrios and ghettoes, as well as teachers, clergy and all who want real change to take part in this massive two week project. Showings of the DVD Revolution: Why It's Necessary, Why It's Possible, What It's All About are being planned in homes, bookstores and other spots to prepare for this effort. The point: to introduce hundreds of thousands of new people to Bob Avakian's vision of communism, his analysis of the heavy challenges that people face today, and his program for how to deal with all this.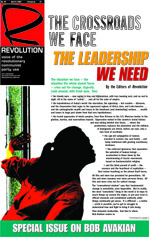 The editors of Revolution note that we are at a crossroads, citing wars in the middle east, , the desperate poverty of the regions of Africa, Asia and Latin America, the oppression of people without the U.S. from New Orleans to the U.S./Mexico border, the subjugation of women, the pursuit of profit at the expense of the planet : "The situation we face—the situation the whole planet faces—cries out for change. Urgently. Look around, with fresh eyes."
"All this and more cries out for radical change."
Challenging "conventional wisdom" that says that fundamental change is unrealistic and impossible, this special issue of Revolution argues that the most "unrealistic" thing in the world is to "put your trust in official channels and established authority, while things continually get worse. If a different—a better—world is possible, you've got to struggle to understand how and fight to bring it into being."
From Revolution:
"Bob Avakian fought against the war in Vietnam in the 1960s, and worked closely with the Black Panther Party in the struggle for Black liberation. He was inspired by the courage and creativity of the masses who rose up in those times and the horizons they opened. He was fired by anger at those injustices and by an unstoppable drive to understand their root causes—a fire that burns in him to this day. And as he dug deeper, he saw a system, one whose very rules and workings give rise to—and indeed require—this oppression.
Then, grasping not only that things shouldn't be this way but that they didn't have to be this way, he became a revolutionary and a communist. He persevered, even after the high tide of revolution ebbed. He built, and today leads, a revolutionary party, the Revolutionary Communist Party, USA—a party that has mobilized thousands to fight against the system in different ways through the past decades and that has continued to promote revolution and communism.
But Bob Avakian is more than that. He is someone who has persisted in confronting the hardest, most excruciating questions before humanity. In so doing, he's taken the communist understanding of the world and how to change it to a new place. The answers he's brought forward and the pathways he's forged demand a serious look—a deep engagement—from everyone concerned about the future of humanity."
What people are saying about Bob Avakian:
Cornel West, commenting on From Ike to Mao and Beyond:
"Bob Avakian is a long distance runner in the freedom struggle against imperialism, racism and capitalism. His voice and witness are indispensable in our efforts to enhance the wretched of the earth. And his powerful story of commitment is timely."
******
From a letter from a prisoner forwarded from Insight Press to Revolution, commenting on Observations on Art and Culture, Science and Philosophy:
"I could read Bob Avakian all day long, literally. His writings speak to me very powerfully and profoundly. He doesn't speak as an 'intellectual' to the masses; he speaks intellectually to the masses, in a way that's easy to grasp a hold of and figure into our everyday lives and scattered ideas and feelings about our place in society and the system which exploits and oppresses us and gives form and organization and orientation to all this. It's very motivating and inspiring when everything that troubles us finds accessible interpretation and a 'bright' though 'tortuous' future is unfolded before us."
* * * * *
Howard Zinn, commenting on From Ike to Mao and Beyond
"A truly interesting account of Bob Avakian's life, a humanizing portrait of someone who is often seen only as a hard-line revolutionary. I can understand why Bob Avakian has drawn so many ardent supporters. He speaks to people's alienation from a warlike and capitalist society, and holds out the possibility for radical change."
* * * * *
From a letter from Joanne Rojas, proletarian woman, printed in Revolution, Aug 20, 2006
"A different world is possible. And I think we need Bob Avakian out there much more explaining to people what that different world, a communist world, could be. And I think this all needs to happen pretty fast because the Bush regime are trying to sew things up. And they are going to try and shut Bob Avakian up, so more people need to have his back and defend him.... Now, especially, I really believe we need Bob Avakian's leadership. The masses need him and his ability to take really complex ideas about revolution and communism and 'break it down' to people—like he says, 'Revolution: why it's necessary, why it's possible, and what it's all about.'"
* * * * *
Read the full article "The Crossroads We Face... The Leadership We Need" at:
http://revcom.us/avakian/crossroads/index.html
We are 100% volunteer and depend on your participation to sustain our efforts!
Get Involved
If you'd like to help with maintaining or developing the website, contact us.