From the Open-Publishing Calendar
From the Open-Publishing Newswire
Indybay Feature
April 5 - 2 year anniversary!
Two years ago today, UC Santa Cruz students kicked military recruiters off campus for the first time since the early 70's. This was the first action of what The Project newspaper called 'The Spring Insurrection' of 2005, including the 1,000+ strong AFSCME strike and shutdown of campus, Tent U. and more. That spring was a big part of what radicalized our particular generation of activists and organizers.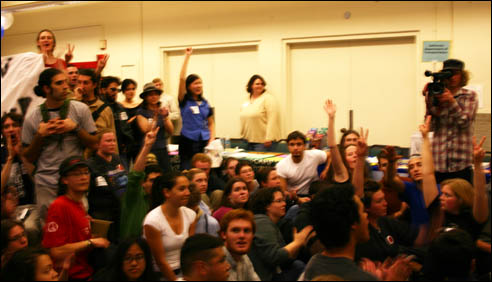 April 5 was also part of a national upsurge in kick-recruiters all around the nation that had started January 20, 2005 at Seattle Central Community College (the same day SAW was founded), before going to SF State, UCSC and another dozen schools all in the span of a few months.
Last year I posted my photos from the day as a remembrance article of sorts:
http://www.indybay.org/newsitems/2006/04/10/18142201.php
You can see the other folks' photos and thoughts on the original Santa Cruz Indymedia feature of that day:
http://santacruz.indymedia.org/feature/display/17073/index.php
--
The April 5 action became even more important after December of 2005 when we learned that the action had been included in a list of events spied on by the Pentagon. The Army's 902nd Military Intelligence Group (which, along with others, spied on Dr. King in the 60s), had listed us as a 'credible threat' of terrorism. This caused a big uproar and became a permanent part of Students Against War's identity. The Baytree Bookstore started selling T-shirts with the UCSC slug and the words 'Credible Threat?' underneith, while the Servicemembers Legal Defense Network (SLDN.. a queer rights in the military advocacy org.) made the widely popular 'Kissing Me May Constitute Terrorist Activity' t-shirts after they mistakenly thought that our Queer Kiss-In (Oct. 18, 2005) was spied on by the Pentagon, rather than our previous major protest of April 5. We were also featured in the New York Times:
http://www.nytimes.com/2006/01/14/national/14santacruz.html?ex=1294894800&en=5ef31752c5a539e6&ei=5090
We've since kicked recruiters off again (April 11, 2006) and much more, but our original April 5 action was very much a watershed moment and an important part of UCSC's image. This can be illustrated by one of my favorite quotes, from an exasperated UCSC sports fan:
"Maybe if we tied military recruiters to the goalposts during athletic events, we'd finally find some rabid fans up on the hill." - Mark Conley, deputy sports editor, Santa Cruz Sentinel (05/27/06).
Recruiters will be visiting UCSC again on April 24 of this year.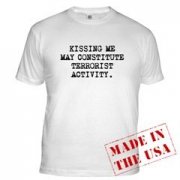 The Servicemembers Legal Defense Network's T-shirts, used as a way of raising money for their organization. They continued with this message even after we told them they misunderstood which protest of ours was spied on... A nice shirt though :)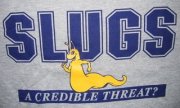 Baytree Bookstore's T-shirts. Sold for $12.99, manufactured by Russell Athletics.