From the Open-Publishing Calendar
From the Open-Publishing Newswire
Indybay Feature
Activists Call for an End to Foreign Military Bases
March 5-9, 2007

Hundreds of activists from around the world came together March 5 through 9 to attend the International Conference for the Abolition of Foreign Military Bases at the Catholic University in Quito, Ecuador.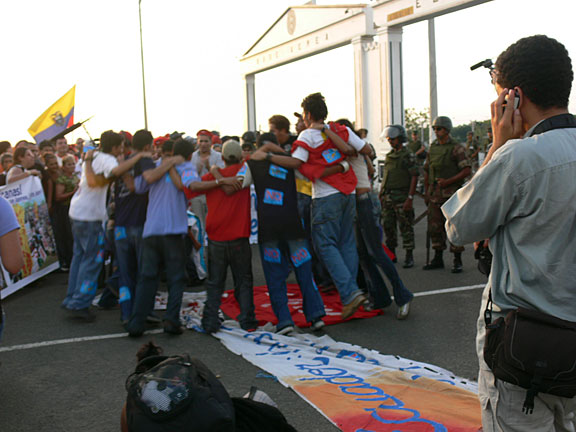 The event was organized by the International Network for the Abolition of Foreign Military Bases and is composed of a network of organizations, coalitions and individuals working for the closure of foreign military bases and other forms of military presence worldwide.
Socialist-leaning Ecuadorian president, Rafeal Correa, stated that he intends to withdraw the U.S. military from Manta when the joint-U.S./Ecuadorian base agreement expires in 2009, although activists are working to get foreign troops out before the expiration date.
The president expressed his support for the anti-base, anti-war movement, according to the "No Bases" coalition spokeswoman, Helga Serrano, when he met with a group of participants to the conference.
The week long conference started with three days of forums and workshops focusing on education, coordination efforts and networking for attendees and ended with a march at the Eloy Alfaro Air Force base in Manta against U.S. military presence.
Topics at the conference included construction of foreign military bases in the Middle East, specifically Afghanistan and Iraq; cited cases of torture at Abu Ghraib, Guantanamo and Diego Garcia; new base construction in Okinawa; prostitution and sex crimes near bases; and the dramatic increase of joint military exercises as part of the so-called "global war against terror" have highlighted how foreign military bases and militarization of whole societies are used to secure certain states and corporations interests at the cost of democracy, justice, and sovereignty around the world.
PARTNERS IN EMPIRE BUILDING
Though much attention was focused on the United States because it is the country with the most foreign military bases, many activists pointed out that NATO and the EU are partners with the United States in carrying out corporate/military policies.
"The EU is now a major military power with a reaction corp of 180,000 soldiers and a elite corp of 1,500" said Tobias Pflüger, a member of the European Parliament from Germany, "The EU also have the same analysis as the United States when it comes to military intervention saying they can take action in response to weapons of mass destruction, international terrorism and to failed states."
Hans Lammerant of the Forum for Peace Action also spoke of how EU and NATO troops are directly linked to U.S. policy. "Afghanistan has become a NATO mission and there are planes leaving from Ramstein Air force base, which is used by both EU and Nato troops, to bomb Iraq."
Stating that countries were just as complicit in war crimes when they host foreign militaries that commit crimes against humanity, Lammerant added, "You are not considered neutral under international law if you allow foreign military planes to bomb countries when they are stationed in your country or use your air space."
Governments in Latin American, Africa and Asia were also criticized.
Walter Bello, a representative from the Philippines called the program, "'imperial democracy,'" an economic plan to open up markets for strategic extensions."
"Our military has become private guards for transnational companies," said Blanco Chancoso, an indigenous indian from Ecuador. "In indian territory it is rich in biodiversity and oil. The people have a right to live, and we blame our government for not protecting us."
It was unclear as to what the new government under Rafeal Correa would do to address Chancoso's concerns.
PRETEXTS FOR EMPIRE
Activists pointed out how the "War on Terror" and the "Drug War" are being used as pretexts for transnational corporations to steal other countries' resources and to help the U.S. and its allies position themselves militarily to exploit and control strategic regions around the world.
"Ecuadorians were tricked into accepting U.S. bases under the pretext of fighting drugs and terrorism," said Ecuadorian No Bases organizer Nieve Solórzano." What the U.S. wants to do is make an agreement with the Ecuadorian government's military to create more bases by using the war on terror and drugs."
"By using the pretext of drug trafficking they can transplant people so oil companies can come in," said Blanco Chancoso, "This is part of Plan Columbia and is military branch of the FTA."
Kenyan peace activist Otieno Ombok also pointed out how U.S. and Britain are attempting to control key water resources in Africa by putting in military bases in Africa. "Water is being shipped out from Africa to Europe and the U.S. from Coca Cola Company in the form of Dasani water. Bases are used to secure these resources for private companies."
U.S. REPRESENTATION
Many U.S. activists were present at the conference including Medea Benjamin from Global Exchange and Code Pink; Joseph Gerson of the American Friends Service Committee; Ikaika Hussey, a Hawaiian anti-base activist; Genaro Rendón, Co-Director of the Southwest Workers' Union and the Committee for Environmental Justice Action in San Antonio, Texas, and John Lindsay-Poland of the Fellowship of Reconciliation.
Medea Benjamin pointed out how the American people are hurt by U.S. foreign military bases as it diverts money from social causes and promotes militarism. "The U.S. people do not want more bases abroad. We know it is not about protecting people but protecting corporate profits. We are victims of the empire and our kids are getting killed."
Delegates ended the conference by drafted a declaration that condemned foreign military bases for their role in "wars of aggression that violate human rights; oppress all people, particularly indigenous peoples, African descendants, women and children; and destroy communities and the environment." They demanded a closure of existing bases, cleanup of environmental contamination, and an end to legal immunity for foreign military personnel.
The statement concluded with support and solidarity for "those who struggle for the abolition of all foreign military bases worldwide."
Other Coverage:
http://www.no-bases.org/
http://www.monthlyreview.org/0302editr.htm
http://coanews.org/tiki-read_article.php?articleId=1733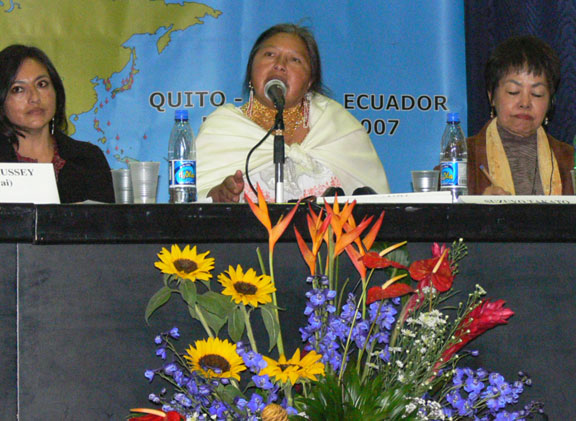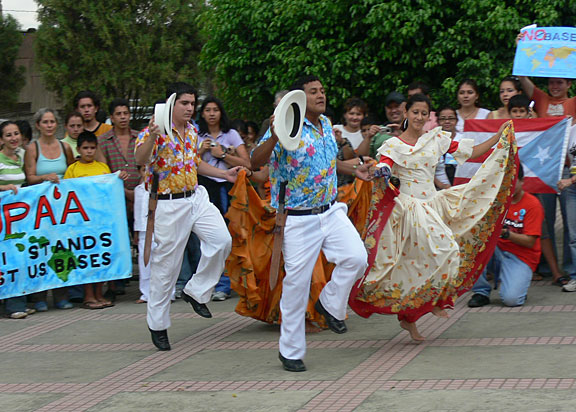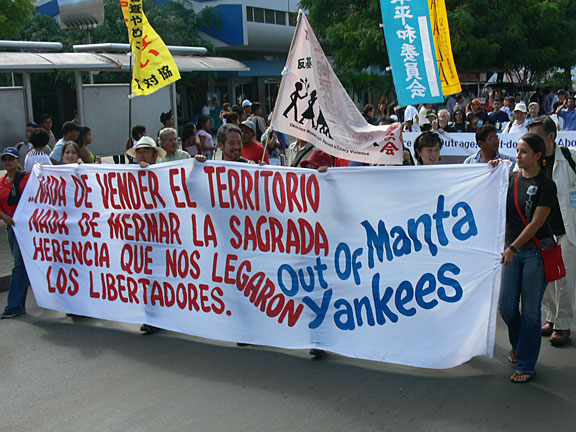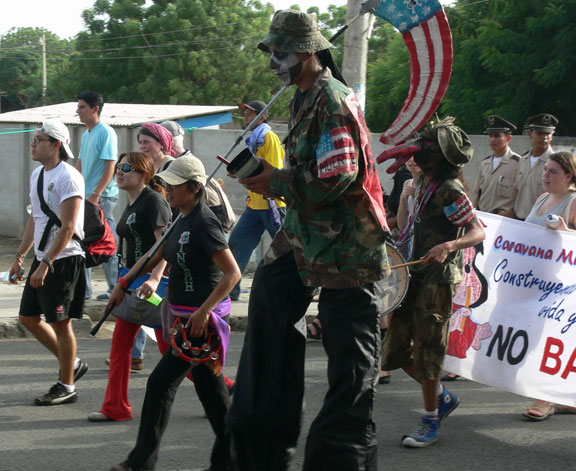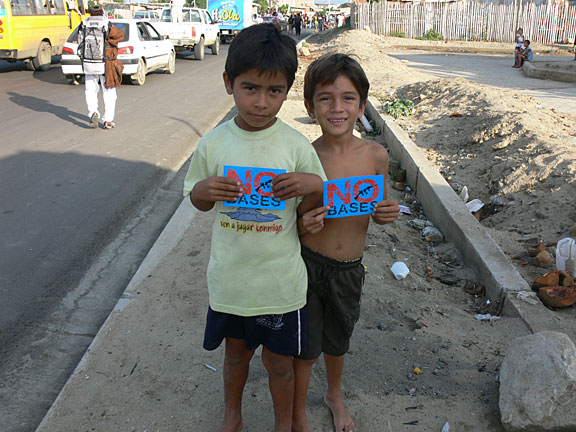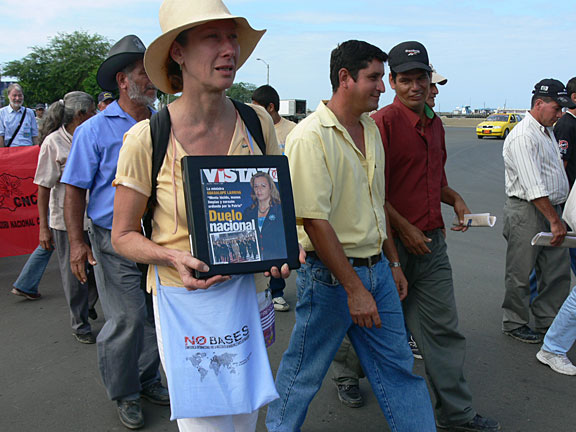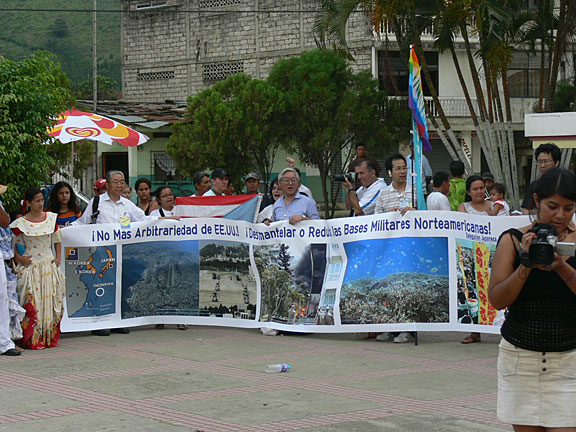 We are 100% volunteer and depend on your participation to sustain our efforts!
Get Involved
If you'd like to help with maintaining or developing the website, contact us.