From the Open-Publishing Calendar
From the Open-Publishing Newswire
Indybay Feature
Related Categories:

San Francisco | Media Activism & Independent Media
Arbitration Continues in Josh Wolf Case
Attorneys for jailed journalist Josh Wolf met with a federal magistrate Thursday in San Francisco in an ongoing mediation. Wolf has spent an unprecedented 201 days in solitary confinement for refusing to hand over unpublished videotape of a 2005 demonstration to federal investigators. Wolf's detractors say that as a poster of online web logs, or "blogger," he should not be protected by laws allowing journalists to safeguard their sources.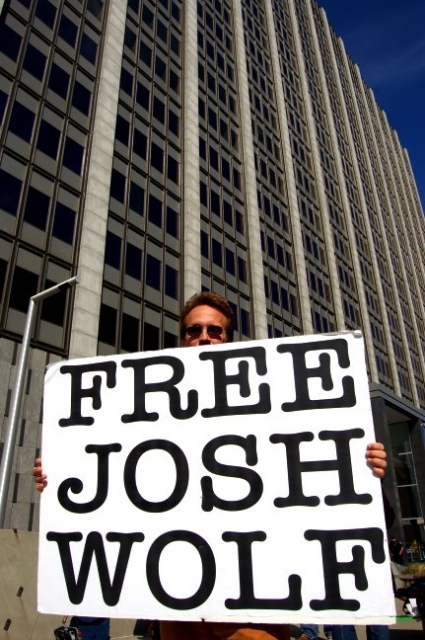 "I think that a democracy cant function without a free press...its that basic," said Free Josh Wolf coalition member Liam Wicksmith. "A video blogger is an independent journalist who is not beholden to a corporation, doesn't have to answer to his editor, and is more likely to tell the truth. I think this prosecution is about shutting down someone who was doing that on the behalf of the left, on behalf of the anti war movement."

Attorney Pondra Perkins, representing Wolf for the 1st Amendment Project, emerged after Thursday's arbitration, but said she was barred from discussing the case. Wolf filmed a demonstration by anarchists in San Francisco in 2005 against the G8 meeting in Gleneagles, Scotland. The G8 meeting, which draws leaders of the world's most powerful nations together to discuss security and military alliances, has seen the emergence of a grassroots protest movement by people who see the G8 leaders as a threat to global peace and security. Wolf's refusal to turn over his unpublished tape to federal prosecutors has stirred a debate about press freedom.

"It seems that the federal government is going after all journalists," Says Dave Rhodes, an independent journalist and colleague of Josh Wolf. "Its just that Josh, who doesn't have the Herbst [publishing empire] and their legal council backing him up is much more vulnerable to being in jail instead of being out on appeal. Its clear that there has been a major shift in policy with Gonzoles, the current attorney general. The justice department obviously has undergone major changes under Bush. A lot of long term professionals in the justice department have either resigned or been pushed out."

Wolf has served more time that nay journalist in US history for withholding material from a court. Wolf would ordinarily be protected by a California state shield law that allows journalist to offer confidentiality to sources, but the state law doesn't apply to federal cases. Wolf is alleged to have taken video footage of the attempted, but unsuccessful, torching of a San Francisco Police Department car, partially purchased with federal antiterrorism funds. Federal prosecutors have used this fact to take the case out of state hands. Supporters of Josh Wolf are calling for the implementation of a federal shield law.

"In the current administration, there has been an increased willingness to imprison and coerce information from journalists,"Said Julian Davis, organizer for the Free Josh Wolf Coalition, speaking at Thursday's rally at the Federal Building. "The Bush administration has been much more brazen in trying to get information from journalists and use them as a tool in law enforcement investigation."

The Society of Professional Journalists, the National Lawyers Guild and a host of other professionals and civil liberties organizations have rallied in support of Wolf, saying that the future of a free press in the US hinges on the case.
Free Josh Wolf Coalition Organizer Julian Davis speaks at a press conference at the fedearal building in San Francisco on Thursday
We are 100% volunteer and depend on your participation to sustain our efforts!
Get Involved
If you'd like to help with maintaining or developing the website, contact us.