From the Open-Publishing Calendar
From the Open-Publishing Newswire
Indybay Feature
Strange Fruit: The Task of Forcing Tasers on Palo Alto
Without saying what's the problem, the Palo Alto police chief and City Council are ready to declare that Taser is The Solution - with a little help from a "task force" that they declared represents the community.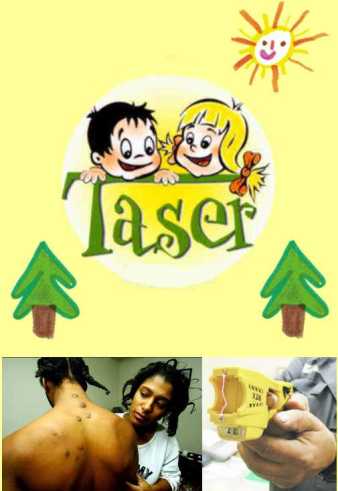 To convey this story accurately, I'd have to start in mid-sentence and provide no context or background. Events must seem to have no cause, yet race towards an inevitable doomed conclusion. The words used must placidly neutralize the unspeakably horrifying screams at the finale. This is how the plague spreads. This is the story of Tasers coming to Palo Alto CA
There is no beginning. One morning in July of 2004, the police chief arose and decreed that anyone saying "No" to police will be tortured with electroshock - as soon as she could get her hands on the electroshock weapons (called "Tasers"). She never said what caused her to announce this. But we knew that two of her police were charged with felony assault for beating a 59-year-old African man with damn near everything they could grab from their belt - just because he said "No". And the police chief let us know that pissed her off. Because they're good officers who were just doing what she wants them to do, she explained. And besides, she reasoned, San Jose has Tasers, so why shouldn't we? The Palo Alto City Council sat silently, staring into space. The rest of us got busy trying to figure out who declared the police chief the Exalted Ruler of the city.
A week later the New York Times published its now-classic article exposing the Fake Science and Real Deaths behind Tasers. Suddenly the chief had some more explaining to do. So, four months later, she arose and decreed that the media is wrong and people are too stupid to understand why getting Tasered is good for them - and she was going to fix that. But not right now. (See Palo Alto Police Postpone Taser Plans, http://www.indybay.org/newsitems/2004/11/10/17043711.php)
So, for the past two years, Palo Alto was free of the mounting controversy surrounding police use of electroshock weapons. That's one way to tell the story. Or you could say that for the last two years the street has been hot with action and PAPD ain't been gettin' a piece.
We don't know what vision is playing in the minds of city leaders. We only know that on the fourth morning in December of 2006, the City Council arose and decreed "WE BELIEVE that the City Council should firmly and finally decide whether or not to permit the use of tasers by our police department". They did not say why. Nor did they say why now - why not wait until there's general agreement on safeness of Tasers? It's a perverted ventriloquist act: the words seem to come from the dummy, but the only lips that are moving are those of the police chief.
The Council then firmly decided that someone else should take the blame for their subservience to the police chief, and so they followed step 5 of the Police Chief's 9-step Program for Spreading The Plague [1]: they appointed a task force (aka "community outreach") to research Tasers and advise the Council whether to buy Tasers. Then in their next meeting, just one week later, the Council voted to apply for $120,000 state grant to buy the Tasers they were supposedly still deciding on. The police chief admitted the process was "slightly convoluted". The public graciously overlooked the police chief's slight error in word selection, since we all understood that the process was "very corrupted".
The task force went right to work. Setting the tone in the first meeting, Jay Boyarsky, deputy district attorney for Santa Clara County, frowned into his hand-held electronic calendar as he calculated how much time he cared to invest in this charade. Boyarsky hinted that he saw the question of Taser deployment in Palo Alto as a no-brainer: "Hey - we don't need to reinvent the wheel, right?".
Right, just shut up Palo Alto and fall in line with the rest.
"We need a Taser 101", Boyarsky declared. "We need to see a real Taser, feel one, smell one". The Taser opponents were beaten before they'd hit the track: who could resist that narcotic whiff of brand new Taser? Who could fight that good ol' down home secure feeling that comes with the sudden smell of burning flesh. The prosecution rests its case. The task force is doing its task: force Tasers on people too stupid to understand why they must be electroshocked into excruciating, groveling submission whenever they don't obey fast enough.
This is how the plague spreads.
With state and federal grants ensuring that every local law enforcement agency can go shopping for Tasers, it should be clear that the true purpose of Tasers is not defense from violent criminals. And, despite appearances, they're not for defending The Great White Homeland from the Rising Tide of Color - colored folks are just the guinea pigs. There's never been any pretense that The Final Solution for them will be anything less than lethal. Then are Tasers for defending against terrorists? Not even the police are making such an absurd claim - yet.
No, the laser beam's on the activist - actual or potential. Tasers are a highly mobile and highly effective torture tool, used for incapacitating dissent with 50,000 jolts of fear. It's how an increasingly despised government keeps us in line as it expands an unpopular war: eliminate the threat of resistance. Incapacitate the opposition. It's the business end of last year's Military Commissions Act (that relieved us of the burden of habeas corpus) and Insurrection Act Lite (that helps us ease on down the road to martial law).
Right now Cambridge MA (home to Harvard/MIT) is virtually moving in lockstep in the same race to arm local police with Tasers as Palo Alto (home to Stanford University) - see Cambridge City Council Agenda at http://www.rwinters.com/council/012207.htm. So we've got two advanced research campus communities arming themselves for lockdown. It's likely there are others. They're getting ready for us. Are we ready for them?
[1] The police chief provided an information packet of, what she termed, "objective research on Tasers". The packet included a report from the International Association of Police Chiefs called Electro-Muscular Disruption Technology: A Nine-Step Strategy for Effective Deployment (http://www.policechiefs.org/research/CuttingEdge/EMDT9Steps.pdf). Electro-Muscular Disruption Technology, or EMDT, is the generic term used for Tasers. The term allows reports such as this to discuss Tasers in a way that sounds vendor-neutral (the name "Taser"is a registered trademark), even though Taser is the only EMDT product under consideration. Step 5 of this Nine-Step strategy is "Engage in Community Outreach":
Employ an outreach strategy with key stakeholders and the community. Their acceptance of EMDT is essential to successful deployment