From the Open-Publishing Calendar
From the Open-Publishing Newswire
Indybay Feature
Cop Watch - making an official complaint on an officer
How to file a Citizens Complaint about an officer, even if you just witnessed an incident.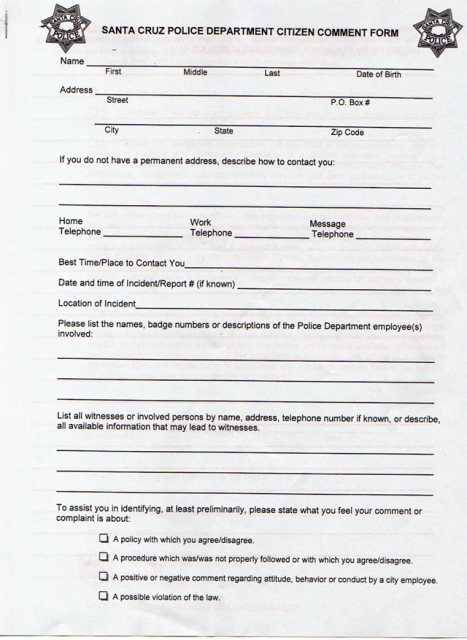 Attached are two pages for filing a Complaint or even a commendation on a Police Officer in Santa Cruz. There are 5 types of complaint. The only one that any merritt at all is the 5th, a citizens complaint. A citizen's complaint should (in theory) spark a formal investigation, collection of evidence, and a review by the Police Auditor and then possible disciplinary action.
You may pick up forms at the Police station of simply e-mail them to
professionalstandards [at] ci.santa-cruz.ca.us
The last third page which would not scan just has the e-mail address, police station address and lines to write your complaint.
Here is a complaint I just filed. I hope the formatting stays.
Santa Cruz Police Dept. Citizens Complaint
This is a 5.) Citizens Complaint
Name: Tim
Middle: Paul
Last: Rumford
Address:
Tim Rumford
755 14th Ave (Apt 715)
SC 95062
Home Tele# 831-464-8455
Work: disabled
Message: Same
Best time to contact - mornings or evenings or sometimes daytime.
Date of incident: Feb 20th 2007
Location of Incident: Pacific Ave
Police involved:
Sgt. Warren Barry
Witnesses:
Tim Rumford - Me
unnamed woman (should be in officers report)
Jeremy ( a homeless man)
Two downtown Hosts I can recognize by face.
What Complaint is about: All apply
* Possible violation of the Law
* A procedure not properly followed or which I disagree
* A negative comment about an officer
* A possible violation of the law
Do you want your name name released to the press = YES
Detailed Account:
This is a complaint against Sgt. Warren Barry for harassment, stalking and intimidation of a law abiding citizen.
On Feb 20th 2007 I drove down Pacific Ave and witnessed Sgt. Warren Barry standing approx. five feet behind Jeremy, a homeless man. I parked and walked around for about 10 minutes before I arrived to see the Sergeant still 5 feet behind Jeremy. Jeremy was standing in front of the Del Mar Theater across from Logos at that moment, although as he showed me, Sgt. Barry would follow him like a mime if he walked up or down the block.
I sat on the bench next to both Jeremy and the Sgt. The Sergeant was not answering ANY of Jeremy's questions regarding his being followed and basically intimidated and harassed for being 100% legal, even in his panhandling. Jeremy knows the ordinances and was taught how to make sure he was in compliance by the new public Safety Officer Eric Peabody of whom I have no complaint. What did Jeremy receive for his listening to Eric on how to be legal? He got intimated, followed, stalked and harassed.
I asked Sgt. Warren Barry what Jeremy was doing wrong to warrant such action by him. "Standing here." He replied.
I informed the Sergeant that this was not against the law, was more then the legal distance from the theater which was closed and was abiding by all panhandling laws. He ignored me. He did reply "and I will.", after Jeremy told me the Sgt. would continue to follow him all day.
Jeremy explained he had even offered his ID to check him for warrants. I took Jeremy on a walk of aimless circles in a one block radius and Sgt. Barry followed but eventually gave up and began speaking to two Downtown Hosts pointing at us as we walked on. I left after a few minutes but learned that the Sgt. returned to his previous behavior following Jeremy everywhere he went and standing just 5 feet behind him.
A woman in an SUV pulled over concerned at what she saw as I was. After all, Jeremy was sober, abiding by all downtown ordinances and even offered to help Sgt. Barry clear his name for outstanding warrants. The women bought three orange juices and brought them over, one for her, one for Jeremy and one for Sgt. Barry, although Sgt. Barry refused his. After some talk, she explained to Sgt. Barry if he did not stop stalking Jeremy, she would have him arrested for stalking and would call the police that moment. Sgt. Warren Barry then left immediately saying nothing. This could easily be taken as an admission of guilt. If the Sgt. was behaving legally -- he had nothing to fear from this woman calling the police. What ever happened to public relations with the people the police are supposed to serve, like concerned citizens?
This is not what the police are here to do. They are here to stop laws being broken. Not watch someone until they might break a law. You have one officer, Eric Peabody making an effort to get to know the people, and inform them of the ordinances and another doing the exact opposite. Eric Peabody has garnered respect from the people downtown. In that same week I watched an arrest where the officer said yelling "Do you have a job!" at a homeless man as he loaded up a ten dollar beat up non - stolen bike into the trunk. The implication was he could not afford such a bike. These kinds of remarks are inappropriate. I am forwarding this complaint to the City Council.
Please contact me by phone or postal mail. I have a video interview with Jeremy and a picture of Sgt. Warren Barry.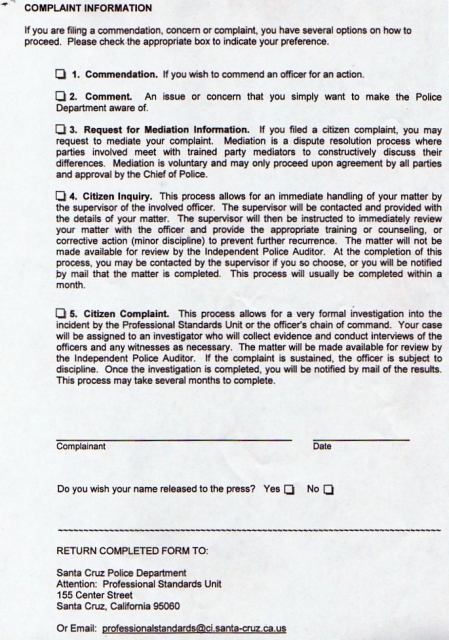 We are 100% volunteer and depend on your participation to sustain our efforts!
Get Involved
If you'd like to help with maintaining or developing the website, contact us.