From the Open-Publishing Calendar
From the Open-Publishing Newswire
Indybay Feature
Watch The Cops As They Watch You
The recent crackdown on Homeless in Santa Cruz Ca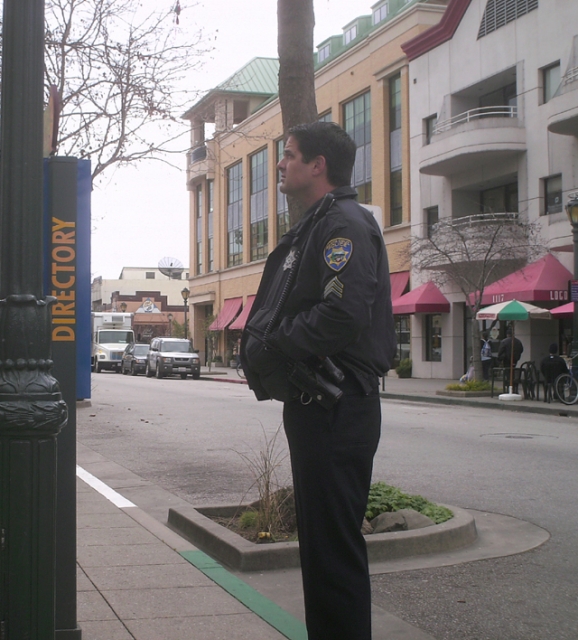 On Feb Tuesday 20th I took a drive down the mall on Pacific Ave at 10:30 A.M. There were few people out and stores were just opening. I noticed 4 police cars and several officers on foot all near the corner by Borders. After seeing the recent sweeps of the mall and the actions of some officers, I parked my car and began a quick walk of the mall. It was within 5 minutes that I ran into a fellow named Jeremy. He was standing perfectly legally, obeying all down town ordinances. He was sober and not making a scene. What bothered me was one police man had made it his sole mission to stalk this man, waiting for him to say the wrong thing or break one part of the downtown ordinances -- to step one foot too far to the wall, or approach someone and ask for money within 3 feet, etc. He literally stood 4 – 8 feet behind him looming for 20 minutes. I sat on the bench right next to both of them and said "hi" to the man.

Jeremy explained that for the last 20 minutes, as I had witnessed as I drove in, the officer not only stood right behind him but would follow him everywhere he went. After my short video interview, he proved this by walking 10 or 20 yards and coming back as the officer followed every which way he went and we both sort of laughed at the ridiculousness of the officer's actions. When the man told me the officer had been and would continue to follow him, the officer looked at me and said "I will." I did a quick video of Jeremy but was running low on batteries. This is a typical harass you out of town type approach to law enforcement.

I asked Officer Bradley what the man did wrong to warrant an officer being basically assigned to him. "Standing here" said Officer Bradley. I replied "But that is not against the law, what law is he breaking?" I received no answer but was assured he would continue to follow the man. So I walked with him and after 20 yards or so we turned direction and did this a few times, walking in circles, until the officer must have felt a little stupid turning around and around, which was my intent and he gave up.

I talked to the man for a few minutes and passed on all the downtown deadly ordinances to him, although he was pretty well versed in them already - he was interested.


He had offered to allow Officer Bradley to run his name and the officer refused. This is the part that bothers me. We have Officers who work for everyone (in theory) stalking one class of people, in this case breaking no laws, sober, and even offered to let the officer check him for warrants. Two days prior I watched an officer ask a man being arrested "Do you have a job!?"

These crack downs are aimed at the homeless, selectively enforced and criminalize a class of people, and it seems some police don't care if this is legal or even moral. I will say Officer Bradley did not look very comfortable with his current assignment but he did it any way, and in the end reported something to the downtown hosts. Who gives an Officer an order to stand over LEGAL panhandlers and follow them? It was obvious; with an officer behind him it would ruin his business. But, will it really drive the homeless out of town? Of course it won't.

One person, who is a friend of mine, received a bike ticked in a large alley he has been driving through for 5 years, where 4 feet is one way. He has been around long enough that they know he is not violent, doesn't drink or ever caused a single issue downtown. This is his first ticket in 5 years. Of course, my friend is homeless.

These crack downs and sweeps are happening in the mornings or right before the shops open so there is less public eyes on the police and they can cleanse the mall as much as possible before the day begins. Of course they happen at night too but I was struck by the large presence while so few people were around. This allowed an officer to stick on one person, basically to drive them away.

The biggest mistake I see the people making as these sweeps happen is saying way too much while being questioned or arrested and the charges can add up, information will be used against you.

That same day I watched a well dressed tourist or shopper blow his nose onto the sidewalk. Where is a cop when you need one?

People may say, look Jeremy is panhandling, or look, he is unkempt. The question is -- was he breaking the law? The day I see an Officer assigned to a passive tourist in this fashion I will give up writing about such abuses. Laws are for everyone, but this would never happen to a good consumer or a tourist loitering or sitting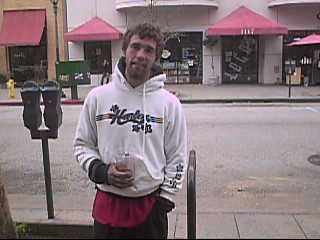 This is a video of appropriate size. I hope it posts. I have had trouble lately.
Today I ran into Jeremy again. He updated me that after I left, the officer returned and continued to follow him and wait for him to do something wrong. A woman driving saw the officer looming over him and stopped as I had. She asked the officer the same basic questions I did and got the same response. But, she did something I did not think of and it worked well. She went and bought three Orange Juices and returned, one for her, one for Jeremy and one for the officer. She then informed the officer if he did not leave, she was calling the cops herself to make a citizens arrest for stalking. At this point the officer had been following Jeremy for over an hour.

I would like to point out that there is a new presence on the mall. Fully uniformed "Peace Officers" they have no guns. Eric Peabody has been very helpful and I have heard nothing but good things from the homeless about him. He is the one the took the time to show Jeremy how to count the sidewalk blocks to make sure he was in compliance. He is a musician. He talks to people, learns there names and says hello to them as he sees people by name. He writes few tickets. I spoke to him at length about this incident. Although he could not tell me much as the other officers orders, they do not come from the same place. He urged me to write or call the officers boss, which I will and report back. I don't not often write nice things about the police or peace officers, but, if all the police acted like him, the mall would be a much better place. I would like to thank him for informing people of the law rather then giving out tickets like candy, asking if the have a job, or stalking one man for doing nothing for an well over an hour.

If the upload works there is a short video Jeremy's 2nd interview. The end got clipped a bit but you here the whole story. The sentence at the end was just that the officer walked away.
We are 100% volunteer and depend on your participation to sustain our efforts!
Get Involved
If you'd like to help with maintaining or developing the website, contact us.