From the Open-Publishing Calendar
From the Open-Publishing Newswire
Indybay Feature
New "Baby Rescue Mission" Is a Hit at "Walk for Life"
Marchers at the Third Annual Walk For Life in San Francisco were treated to demonstrations of a revolutionary new concept: The Baby Rescue Kit(TM). The kit includes a parachute and life jacket to help fetuses save themselves from their Misguided Moms' wombs.
"The UnBorn are ready to take the next step," proclaimed Dr. Bertha Childs, one of the inventors of the kit. "All they need is a little help."
Childs and her fellow promoters of the ultimate in rights for the Unborn demonstrated how the kit works by abducting an apparent pregnant woman, tying her down with duct tape (more duct tape was applied to her mouth) and inserting the life jacket, parachute and brightly colored instruction manual into her womb. A few seconds later, the baby flew out and used the loudspeaker to thank its rescuers for helping it save itself.
Organizers of the annual anti-abortion march chose San Francisco as their west coast venue because of what it calls the City's "Culture of Death" (see
http://www.catholicsforthecommongood.org
). The Baby Rescue Mission, say its creators, is intended to illuminate the absurdity of the pro-lifers' logic.
"We find their arguments both harmful in the real world to real women's autonomy and choice and fundamentally absurd," said participant Karissa Utter, who works part-time at a women's clinic. "We want to show what their position taken to its logical extreme would look like."
The "Baby Rescue Kit" satirizes pro-life arguments of "fetal intelligence" by claiming that fetuses can yell for help, read an instruction manual, and escape from the womb without aid from mothers who wish to harm them.
"With our Baby Rescue Kit, the Unborn can take their lives into their own little hands," says their product information card. Hundreds of the attractive glossy cards were distributed to activists on both sides of the issue. Reactions were mixed, from ire to thanks to confusion.
Police determined that the BRM was not allowed to conduct their infomercial inside Justin Hermann Plaza during the anti-choice rally because the information card didn't make sense to the officers. "I didn't know that our theater had to make sense to you," one member of the group argued, to no avail.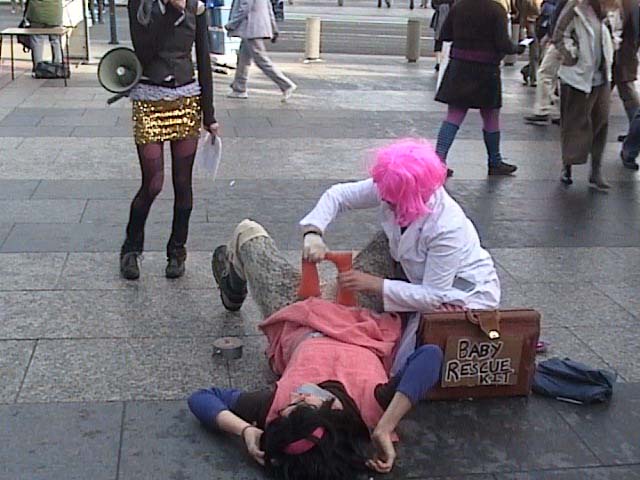 We are 100% volunteer and depend on your participation to sustain our efforts!
Get Involved
If you'd like to help with maintaining or developing the website, contact us.