From the Open-Publishing Calendar
From the Open-Publishing Newswire
Indybay Feature
Parrots Withstand Cold Weather In San Francisco's Financial District.
As everyone faces the problems of cold weather, I was surprised to see a flock of parrots near the
anti-recruitment demo I want to today
in San Francisco. They apparently have
survived at leat one past freeze
, so hopefully they can make it through the next couple of days of
record cold
. I was at the anti-war protest and heard a flock of some loud bird flying overhead and figured they might be the parrots I had heard about so when I was walking back to BART and heard a loud sound from a nearby park, I walked over and found a few people feeding the birds apples, while hundreds of other birds were just sitting in the trees above the park. Apparently this is the same flock that was up on Telegraph Hill and had a movie made about them.
Although I just heard them squawking, apparently the type of parrot in SF is one that can talk and is quite intelligent (some other species of parrots can have a human "
vocabulary of 950 words
, and shows signs of a sense of humour").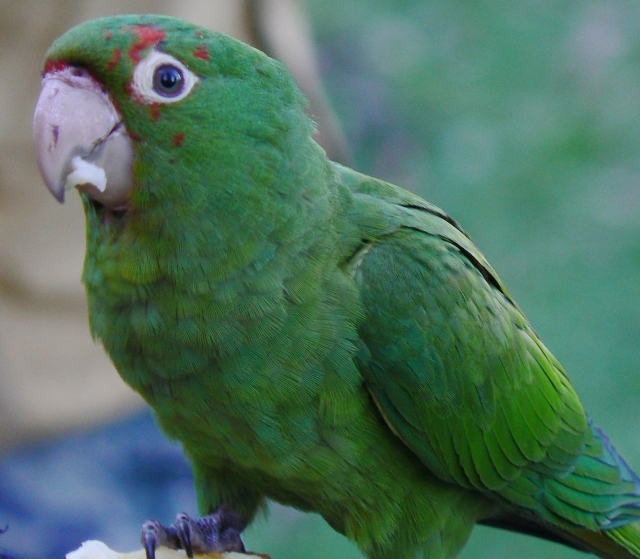 ---
Here are some related things I found when I got home
----
Most of the birds in the flock are the same species
, a parrot known variously as the cherry-headed conure, the red-masked conure, the red-masked parakeet, and the red-headed conure....Its scientific name is Aratinga erythrogenys.
There is also a female mitred conure, or parakeet, in the flock. (This photo was taken when she was in my care during an illness.) Its scientific name is Aratinga mitrata. She has been breeding with the cherry heads, so there are a lot of hybrids in the flock. The hybrids are fertile, too.
There are two flocks of parrots in San Francisco
. The flock that roosts along Dolores Street and flies to Potrero Hill and Noe Valley is a different species: the canary-winged parakeet (Brotegeris versicolorus). The canary wings have been in San Francisco since the early 1970s.
-----
The Red-masked parakeet, Aratinga erythrogenys, is a medium-sized South American parrot from Ecuador and Peru. It is known in the pet trade as the Cherry-headed Conure. It has been the 10th most common neotropical parrot imported into the USA with over 26,000 parakeets checked in from 1981-1985. This bird was formerly more common in its limited range, and only fairly recently has been reclassified from a species of least concern to a species near threatened (1994).
Red-masked parakeets average about 33 cm (13 in) long, of which half is the tail. They are bright green with a mostly red head on which the elongated pale eye-ring is conspicuous; the nape is green. Also, the lesser and median underwing coverts are red, and there is some red on the neck, the thighs, and the leading edge of the wings.
Clutches average 3 to 4 eggs and incubation is 23 or 24 days. Nests are usually made in tree cavities. Juvenile birds fledge after 50 days with solid green plumage; their first red feathers appear around the age of 4 months. The call is two-syllabled, harsh and loud.
These birds are native to southwestern Ecuador and northwestern Peru, where they inhabit forest edges and partially cleared areas. Some are sold as cage birds; they are considered good talkers. Escaped cage birds are considered to be introduced in Spain. They are also found in Florida and California, and make up most of the feral population in San Francisco that was documented in the book The Wild Parrots of Telegraph Hill by Mark Bittner and the film of the same name by Judy Irving. Although these birds reproduce in the wild, the Red-masked Parakeet is not considered established in North America.
Breeding popultations of feral parakeets have been observed in San Diego County, Los Angeles, San Gabriel Valley, Sunnyvale and San Francisco. The birds have been observed feeding on the fruits of the cultivated tropical vegetation, and nesting in the ubiquitous palm trees.
http://en.wikipedia.org/wiki/Red-masked_Parakeet
-----
Establishing a population in Los Angeles of significant numbers of escaped pets, the Mitred Conure of South America is transplanting itself with accidental human help! In fact a wild flock was even reported to be thriving in Brooklyn, New York in spite of the freezing temperatures.
....
Originating in Peru, Mitred Conures are also found in northwestern Argentina and eastern Bolivia. They were first noted by Tschudi in 1844. Today, Mitred Conures are very popular as pets. They are studied closely in the United States because escaped pets have formed a flock of about 40 birds that live in Los Angeles and they function much as wild South American Conures will. It is speculated that they may start an American population.
http://www.centralpets.com/animals/birds/parrots/prt1284.html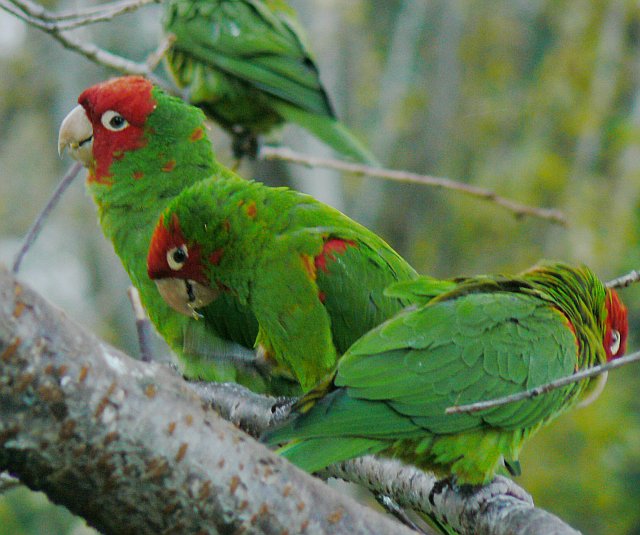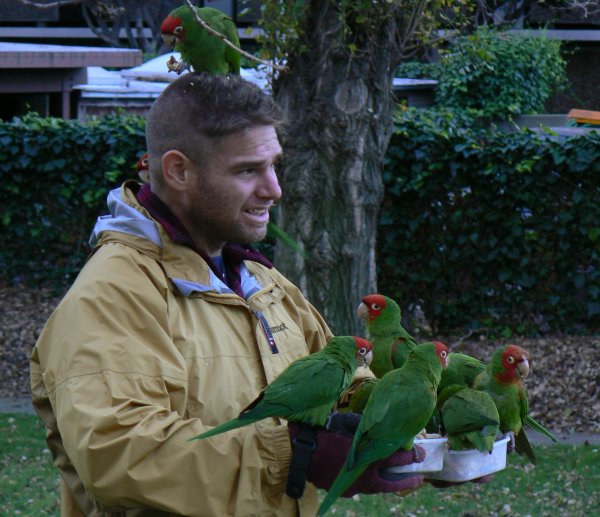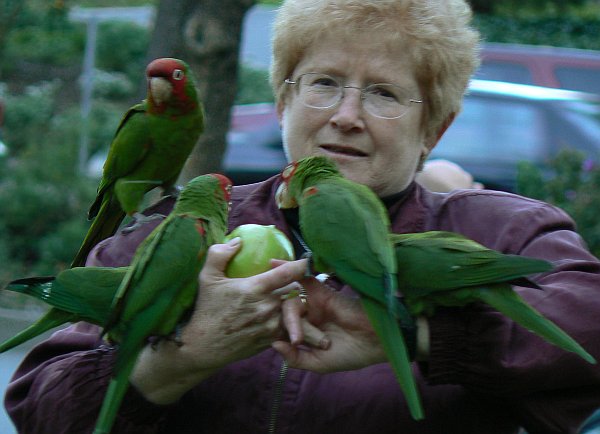 We are 100% volunteer and depend on your participation to sustain our efforts!
Get Involved
If you'd like to help with maintaining or developing the website, contact us.