From the Open-Publishing Calendar
From the Open-Publishing Newswire
Indybay Feature
Homeless in Fresno Ordered off "The Island"
Caltrans, backed up by the California Highway Patrol forced people to leave a strip of State land near highway 99 today. Joanna Garcia says the CHP arrived carrying shotguns and told everyone to leave immediately.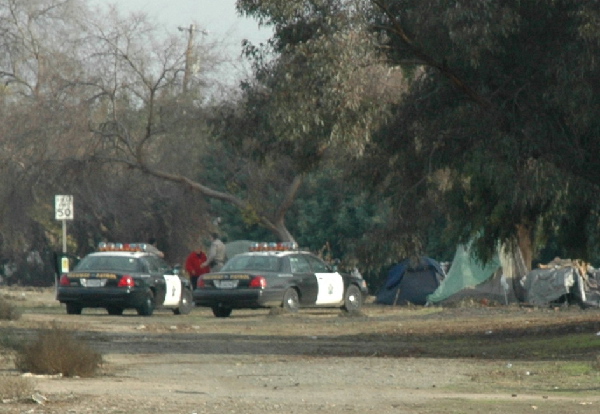 Homeless in Fresno Ordered off "The Island"
By Mike Rhodes
Joanna Garcia, who is a homeless women in Fresno, said the California Highway Patrol came to her tent today, telling her to get her things and leave - immediately. The two officers had shotguns and Garcia knew they were serious. Garcia and about a dozen other homeless men and women live on a narrow strip of land, owned by the State of California (Caltrans), near highway 99.
They have lived on what they call "the island" since the sanitation department, backed up by the Fresno Police Department, bulldozed their last shelter. See that story here: http://www.indybay.org/newsitems/2006/08/26/18301032.php . There is now a preliminary injunction, issued by the Federal Court, to stop the City of Fresno from further attacks that take and immediately destroy homeless peoples property.
CHP officer Perry Miller told Joanna and the other homeless people on the island that the injunction does not apply to this situation. Joanna said "they told us that Caltrans was going to measure the distance around the island and that we have to be gone by the time he is done." But, the Caltrans worker came, did his work, and left without the CHP coming back to further threaten Joanna and her friends.
Officer Miller and Sergeant Lawrence Gale explained the operation to me. Miller said that "we first give them a verbal warning . . . If they don't leave I will issue them a citation. . . If they still don't leave, we will arrest them." According to Miller and Gale, if the homeless on this strip of land do not remove their property, Caltrans will bring in a truck and remove it. Both Miller and Gale said the property would be stored at a Caltrans facility for 90 days and the owners could claim it.
Officer Gale had been involved in the August 26, 2006 raid when the homeless were removed from the Caltrans strip of land on E street (see link above). Gale said he was brought in because of a jurisdictional dispute. The FPD wanted to remove the homeless, there was at least one person who refused to move, but the land was not technically in the FPD's jurisdiction.
Since that time, Caltrans and the CHP have met and discussed their strategy for removing the homeless. Caltrans, according to Gale and Miller, are the moving party in this raid. They (Caltrans) directed the CHP to move in, give the verbal warnings, take photos, and wait. If the homeless do not move fast enough in removing their shelters, they will give them a citation. If after receiving a citation they still don't move fast enough, they will be arrested. How fast is fast enough? Neither Gale or Miller would say.
Gale and Miller did say that Caltrans is going to put a fence around this strip of land. Fences have gone up elsewhere in downtown Fresno to keep the homeless off Caltrans property. There are fences around a strip of land on E street and there are fences around an abandon overpass near H street.
Most of the homeless people who were displaced today did not know where they were going to end up tonight. There are no camping areas in Fresno where they can safely set up a tent. There are only a couple hundred shelter beds for the (estimated) 8,000+ homeless in Fresno and all of those beds come with significant restrictions (for example the largest homeless shelter in town is for men only). Gale and Miller acknowledge that there is nowhere for the homeless to go, where they can live without the threat of being forced to leave at a moments notice. Officer Miller said he was just doing his job and that coming up with a plan to treat the homeless with dignity and respect was a policy decision that would be made at a higher level.
We are 100% volunteer and depend on your participation to sustain our efforts!
Get Involved
If you'd like to help with maintaining or developing the website, contact us.