From the Open-Publishing Calendar
From the Open-Publishing Newswire
Indybay Feature
Time for action on climate change or else (plus graphs, stats, links)..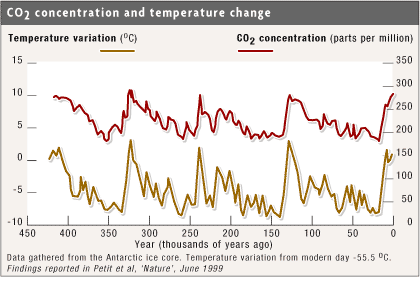 Time for action on climate change or else (plus graphs, stats, links)..
Stats, graphs and further reading:
Here is a graphic that shows the strong correlation between CO2 concentrations in the atmosphere and global temperatures throughout the earth's history:
("What do we do now the climate wolf is at the door?," Martin Wolf, Financial Times, July 11 2006)
This graph shows the same relationship over the last 150 years:
("Global warming could ignite sudden calamity," Fiona Harvey, FT, Sept. 14, 2006)
A graph from a story in the WSJ showing future projections of Carbon dioxide emissions:
("White House Plans to Skip High-Profile Talks on Climate," By JIM CARLTON, WSJ, July 31, 2006)
Economist Jeff Sachs on trending towards disaster:
The 10 warmest years on record have all occurred since 1990, and 2005 is likely to be the warmest ever. This year, we've gotten a taste of the many kinds of dangers that lie ahead: more extreme hurricanes, massive droughts, forest fires, spreading infectious diseases, and floods. The climate is changing, and more is yet to come.
http://www.project-syndicate.org/commentary/sachs105/English
A graph from the Economist's recent survey on climate change showing the strong correlation between warm sea temperatures and hurricanes:
("Reaping the whirlwind," The Economist Climate Change Survey, Emma Duncan, Sept. 7, 2006)
Some statistics on per capita energy-related carbon dioxide emissions:
US: 21 tons per person per year
Germany: 10 tons per person per year
Sweden: 6 tons per person per year
France: 6 tons per person per year
China: 3 tons per person per year
India: 1 ton per person per year
http://www.foundation.org.uk/801/311002_2.pdf
Percentage of people in each country concerned about global warming:
("Doing it Their Way," The Economist Climate Change Survey, Emma Duncan, Sept. 7, 2006)
Statistics on the source of greenhouse gas emissions:
Electricity and Heat: 24.5%
Deforestation: 18.2%
Industry: 13.8%
Transportation: 13.5%
Agriculture: 13.5%
Other: 12.9%
Waste: 3.6%
("Selling Hot Air," The Economist Climate Change Survey, Emma Duncan, Sept. 7, 2006)
Jim Hansen, the head of NASA's Goddard Institute for Space Studies:
The Earth's climate is nearing, but has not passed, a tipping point beyond which it will be impossible to avoid climate change with far-ranging undesirable consequences. These include not only the loss of the Arctic as we know it, with all that implies for wildlife and indigenous peoples, but losses on a much vaster scale due to rising seas.
http://www.nybooks.com/articles/18618
Time for global action on climate change
Published: December 29 2006
The Financial Times
Editorial
This year the public, at least in Europe, has taken on board the urgent need for global action to tackle climate change. The warmest year on record in many countries, ending with a dire shortage of snow in many Alpine ski resorts, has convinced most people that the greenhouse effect is real and serious. In the US (which has in contrast enjoyed fabulous Christmas skiing conditions) there are many more doubters. But even in America a stream of scientific reports about the damaging impact of global warming, particularly in the Arctic, seems to have turned public opinion against the sceptics - and Al Gore's polemical film, An Inconvenient Truth, has had a surprising impact.
Unfortunately the world's politicians did little during 2006 to respond to the new mood, beyond talking; 2007 must be a year of political action. Top priority is to begin putting in place a successor to the much maligned Kyoto protocol which, for all its faults, has done something to curb carbon emissions in Europe and Japan and is certainly preferable to not having any international agreement on climate change.
It would be catastrophic if a stronger replacement treaty were not in place by the time Kyoto's provisions run out in 2012. Given the long timescales involved in negotiating international treaties, and the need for governments and industry to plan ahead, some progress will have to be made in 2007 towards formulating the basic shape of Kyoto Mark II, though the crunch year for negotiations is likely to be 2009. By then the US will almost certainly have an administration more sympathetic to the battle against global warming than George W. Bush has been.
Kyoto II must impose a global cap on greenhouse gas emissions. That means bringing in the developing countries, above all China and India, whose emissions have grown far faster than the designers of the original protocol had expected. There will also have to be an efficient world market in tradable rights to emit carbon dioxide.
A key event in 2007, setting the tone for Kyoto II negotiations, will be the release expected in February of the fourth "assessment report" by the UN Intergovernmental Panel on Climate Change. This scientific document, updating the third IPCC assessment published in 2001, will underpin the debate for the next few years. Expect both global warming sceptics and environmental fanatics to confuse the issue by spinning the report's conclusions to support their case. Judging by what has already been leaked, the IPCC's overall tone will be more gloomy than in 2001, and it may say that a truly catastrophic temperature rise greater than 10°C this century is more likely than previously believed. But the impact of global warming on sea levels may be less than feared.
Meanwhile the European Union must stick to the tough targets proposed recently by the Commission in Brussels for carbon dioxide emissions from 2008 to 2012. Some governments, egged on by industry lobbyists, will undoubtedly push for a significant relaxation in these targets, pleading national economic interests. The EU must resist them if it is to demonstrate to the world that a carbon trading scheme, based on mandatory cuts in emissions, can work well.
One hopeful sign is Germany's assumption of the G8 presidency for 2007. Angela Merkel, the German chancellor, has indicated that she will make the battle against global warming a priority for the year - in contrast to Vladimir Putin, who has taken little interest in the issue during the Russian G8 presidency.
The challenge for Mrs Merkel is to cut through what David Miliband, the UK environment secretary, calls the "after you Claude, no after you Cecil" impasse, after a classic British radio comedy catchphrase in which two super-polite gentlemen always insist that the other must go first.
No country wants to risk economic damage from cutting its carbon emissions unless it is sure that others will do the same. But in fact, as Sir Nicholas Stern, the former World Bank chief economist, showed in his recent review, the economic cost of acting against global warming is far lower than the cost of inaction. Public opinion is now ready for serious action. This year the politicians must finally respond.
Copyright The Financial Times Limited 2006
--------------------
Giant Ice Shelf Breaks Free in Arctic; Climate Change Cited as Major Factor
By Rob Gillies
Associated Press (printed on
http://www.washingtonpost.com
)
Saturday, December 30, 2006; A18
TORONTO, Dec. 29 -- A giant ice shelf has snapped free from an island south of the North Pole, scientists have said, citing climate change as a "major" reason for the event.
The Ayles Ice Shelf -- all 41 square miles of it -- broke clear 16 months ago from the coast of Ellesmere Island, about 500 miles south of the North Pole in the Canadian Arctic.
Scientists said Thursday that they had discovered the event by using satellite imagery. Within one hour of breaking free, the shelf had formed as a new ice island, leaving a trail of icy boulders floating in its wake.
Warwick Vincent of Laval University in Quebec City, who studies Arctic conditions, said he traveled to the newly formed ice island and couldn't believe what he saw.
"This is a dramatic and disturbing event. It shows that we are losing remarkable features of the Canadian North that have been in place for many thousands of years," Vincent said. "We are crossing climate thresholds, and these may signal the onset of accelerated change ahead."
The ice shelf was one of six major shelves remaining in Canada's Arctic. Packed with ice that is more than 3,000 years old, they float on the sea but are connected to land.
Some scientists say that the shelf's collapse is the largest event of its kind in Canada in 30 years and that climate change was a major factor.
"It is consistent with climate change," Vincent said, adding that the remaining ice shelves are 90 percent smaller than when they were first discovered in 1906. "We aren't able to connect all of the dots . . . but unusually warm temperatures definitely played a major role."
Laurie Weir, who monitors ice conditions for the Canadian Ice Service, was poring over satellite images in 2005 when she noticed that the shelf had split and separated. Weir notified Luke Copland, head of the new global ice lab at the University of Ottawa, who initiated an effort to find out what happened.
Using U.S. and Canadian satellite images, as well as seismic data -- the event registered on earthquake monitors 155 miles away -- Copland discovered that the ice shelf collapsed in the early afternoon of Aug. 13, 2005.
Copland said the speed with which climate change has affected the ice shelves has surprised scientists.
"Even 10 years ago, scientists assumed that when global warming changes occur that it would happen gradually, so that perhaps we expected these ice shelves just to melt away quite slowly," he said.
--
Tim Hermach
Native Forest Council
PO Box 2190
Eugene, OR 97402
541.688.2600
541.461.2156 fax
web page:
http://www.forestcouncil.org
DEFENDING NATURE -
SAVING LIFE, LAND & LIBERTY
* Honest & Fully-Costed Accounting,
* Honest & Uncompromised Education, Advocacy & Litigation,
* Real Protection for 650 Million Acres of Publicly Owned Land, Rivers & Streams
See the industry's report card at:
http://forestcouncil.org/learn/aerial/index.html
Donate online (call or mail to the address above):
http://www.guidestar.org/partners/networkforgood/donate.jsp?ein=93-0977788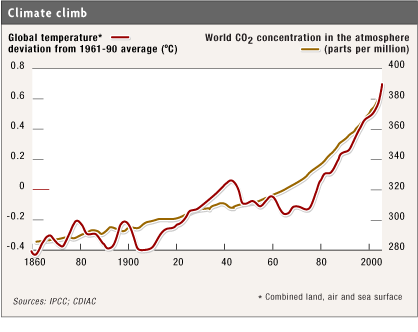 top of page is a graphic that shows the strong correlation between CO2 concentrations in the atmosphere and global temperatures throughout the earth's history:
We are 100% volunteer and depend on your participation to sustain our efforts!
Get Involved
If you'd like to help with maintaining or developing the website, contact us.