From the Open-Publishing Calendar
From the Open-Publishing Newswire
Indybay Feature
Protest Stephanie Landa's Incarceration!
Protest medical cannabis patient and provider Stephanie Landa's incarceration of 41 months.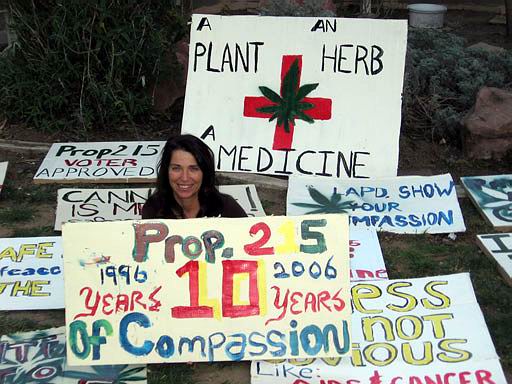 Medical cannabis patient and provider Stephanie Landa is scheduled to surrender herself over to federal authorities on Thursday, January 4th, 2007 at 1PM.

HempEvolution.org and Axis of Love will be holding a rally and protest at 12 Noon at 450 Golden Gate Ave before Ms. Landa turns herself in. We request that you bring flowers, cards, etc. to show your appreciation for Ms. Landa's bravery in the fight for safe access.

Below is part of an article written by Ann Harrison for the S.F. Bay Guardian entitled: "Waiting to Exhale" on June 8, 2006.

" The risks involved in a case-by-case approach are clear to Stephanie Landa, Kevin Gage, and Thomas Kikuchi. In February 2002, they say, they attended a Medical Marijuana Task Force meeting with Halloran and Capt. Kevin Cashman, then head of the SFPD narcotics unit.
According to Landa, Cashman said at the meeting that the Board of Supervisors had designated San Francisco as a medical marijuana sanctuary and police wouldn't cooperate with federal law enforcement.
Landa told us Cashman explained that as long as they used licensed electricians, kept their medical marijuana garden within city limits, and sold only to medical marijuana dispensaries, they would have no trouble. She said Cashman presented them with a handout noting that there was no medical marijuana plant limit in San Francisco and told them if they had any burglaries, they should call the police. Sullivan, who organized the meeting, supports Landa's account.
After more assurances from then-district attorney Terence Hallinan, Landa and her partners borrowed $250,000, moved from Los Angeles, secured a business license, and began creating a nonprofit medical cannabis collective. In April 2002 they rented a warehouse for an indoor garden at 560 Brannan St., less than three blocks from police headquarters, and began growing 40 strains of cannabis to treat different conditions.
"We wanted to be near them so they could protect us as promised," Landa told us.
Four months later a group of plainclothes San Francisco police officers burst into the warehouse, threw Landa and Gage to the ground, and pointed guns at their heads. Leading the raid was Halloran, whom Landa said denied ever having met her.
When Cashman arrived, Landa told us, he recognized her and ordered her handcuffs removed. They weren't arrested, but Cashman asked Landa and Gage to give statements and come back the next day. When they returned, Landa said, more than 1,000 small marijuana plants were gone, $2,000 in cash was missing, and the entire growing facility had been heavily vandalized.
Two weeks later Landa, Gage, and Kikuchi were indicted on federal charges for growing more than 1,000 marijuana plants with intent to distribute.
Landa charges that when they couldn't make a state case, police simply turned over the evidence to federal authorities who weren't present at the raid; police dispute that characterization.
"The federal authorities were on the scene that day, and they adopted the case," Halloran told us. He said a citizen complaint prompted him to investigate and secure a search warrant. Despite repeated requests, the SFPD wouldn't make Cashman available to set the record straight, and he has been transferred from his former post.
But Halloran told us Cashman never made the statements Landa claims he did. "At no time did we give assurances that someone who cultivated 1,500 plants two blocks from the Hall of Justice would not be prosecuted under state and federal law," said Halloran, who charges that the group didn't possess enough medical cannabis recommendations to prove they were growing for a large group of patients. "They can possess marijuana if they possess a recommendation, and if they possess a recommendation, we said at that meeting that we handle all cases on a case-by-case basis."
Landa said the paperwork was forthcoming and they hadn't yet sold any cannabis. Nevertheless, federal prosecutor George Bevan threatened to put Landa in prison for life because of a prior heroin-smuggling charge 35 years earlier and proposed 10-year sentences for Kikuchi and Gage.
In a plea agreement written by Bevan, Landa said she and her partners weren't allowed to mention the roles of Halloran and Cashman in the case and were forced to sign away their right to an appeal. Bevan didn't return calls seeking comment.
Landa says 10 San Francisco city supervisors wrote letters to the judge on their behalf. But they were sentenced last summer to 37 to 41 months in federal prison. Gage and Kikichi are now eight months into their terms at a federal prison camp in Sheridan, Ore. Landa, who was given a delayed sentence because she and Kikichi have a child, will begin serving her 41 months in a maximum-security prison in about two years.
"When government officials gave us permission to do this, this was not in the plan," said Landa, who sobbed as she recounted the ordeal. "I can't figure out why they would tell us something and then come in and destroy it. It doesn't make sense."
And it's particularly hard to understand in a city that has taken the lead in tolerance of medical marijuana, at least in the rhetoric of local politicians.
"The asylum resolution was a great piece of showmanship, but it didn't impose any penalty for it being violated by city officials," Landa's friend Michael Lee told us. He has also been arrested for growing medical cannabis.
Lee worries that future medical cannabis collectives encouraged by the city could be targeted by police. "If the Board of Supervisors doesn't have any teeth in the situation," Lee said, "they might be waving a flag and yet subjecting people to criminal violations."