From the Open-Publishing Calendar
From the Open-Publishing Newswire
Indybay Feature
Mexico City Solidarity with Oaxaca, Acteal and Atenco on December 22
On December 22nd, 2006, hundreds of people came together in Mexico City to honor the peoples of Oaxaca, Acteal and Atenco during a global day of remembrance and solidarity. The demonstration was held at the Hemiciclo a Juárez in Mexico City's Historic Center where people spoke about Oaxaca and the demonstrations taking place around the world. There were musicians, memorials, stilt walkers and banners calling for liberation of political prisoners and an end to illegal detentions, an end to torture, the living appearance of the disappeared and the exit of the Federal Preventative Police and Ulises Ruiz Ortiz from Oaxaca.

There have been reports of more than 60 actions in solidarity with Oaxaca in at least 37 countries on December 22nd, 2006. The EZLN called for the day of solidarity which marks nine years of impunity for the massacre in Acteal, Chiapas. The US and Mexican governments are responsible massacres in Acteal, Atencto and Oaxaca.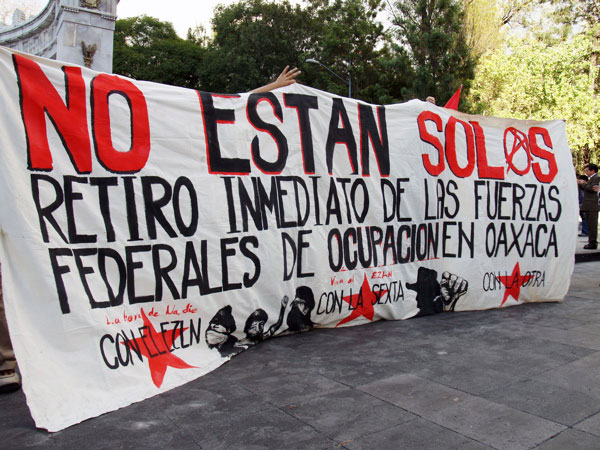 El Enemigo Común has announcements for many of the Oaxaca solidarity demonstrations which took place on December 22nd, 2006:
http://elenemigocomun.net/2006/12/oaxaca-solidarity-demonstrations-friday-december-22nd/
On October 16th, 2006, 21 members of APPO began a hunger strike at the Hemiciclo a Juárez. You can read more about the hunger strike at listen to audio on Indymedia Mexico:
http://mexico.indymedia.org/tiki-read_article.php?articleId=168
The Alianza Magonista Zapatista published an APPO communiqué on October 28th, 2006, about the hunger strike:
http://espora.org/amz/article.php3?id_article=131
On December 22nd, 1997
in the mountains of Chiapas,
paramilitary forces aligned with
the ruling party massacred
45 villagers accused of being
zapatistas.
The dead included 10 men,
21 women, and 14 children.
A week later, the Mexican
government announced it
wanted to reopen peace talks
with the zapatistas.
Then they deployed 5000 new
troops to a place called Chiapas.
* The Role of the United States
http://www.zmag.org/zmag/articles/feb98mora.htm
According to the preliminary results of an EZLN-headed investigation, the 6 pregnant women murdered in Acteal had their bellies split open and the contents exhibited as war trophies. This is a trademark ritual of the "Kaibiles", the Guatemalan military responsible for 40 years of counter insurgency war that left at least 100,000 civilians dead. It's communique issued by the CCRI, the Indigenous Revolutionary Clandestine Committee (the political decision making body of the rebel forces) said that after January 1994, a selected group of Mexican army officials accepted the Guatemalan army's offer to train Mexican forces in counterinsurgency warfare. Since then additional groups have been trained.
Guatemalan army officials have in turn been and continue to be trained in the U.S. This is not the only US connection to the warfare strategies used by the Mexican military. In the past decade, over 700 Mexican military officials have been trained in the US, more than from any other Latin American country. From 1996 to 1997, approximately 3,200 Mexican soldiers received training in Fort Bragg, North Dakota, by the Green Berets' Special Forces Group, the same group that trained those responsible for horrendous human rights abuses in El Salvador and Honduras. General Mario Renan Castillo Fernandez, the brain behind the counterinsurgency strategies in Chiapas has been trained in Fort Bragg as well.
Hundreds of millions of dollars in US military aid have been sent since 1994, primarily under the auspices of the war on drugs. As hundreds of thousands of EZLN sympathizers, as well as indigenous people throughout the republic can attest, the US sold Mexican helicopters that daily fly over their villages, are not used to combat narcotrafficking but rather for intimidation in Mexico's undeclared war on its people.
Here are links to more information about Atenco and Acteal.
Acteal, Chiapas, Mexico:
Massacre in Chiapas
http://www.zmag.org/zmag/articles/feb98mora.htm
Details of the Acteal massacre
http://flag.blackened.net/revolt/mexico/ezln/1997/ccri_acteal_details_dec.html
Paramilitary group kills 45 Tzozil Indians
http://www.peacebrigades.org/ern/ernchiapas.html
San Salvador Atenco, State of Mexico, Mexico:
The government of Mexican president Vicente Fox issued a presidential decree on October 2nd, 2001, by virtue of which more than 5,000 hectares were expropriated in the municipalities of Texcoco and San Salvador Atenco (in the State of Mexico) for the construction of a new international airport in Mexico D.F. This decision was framed within a plan to modernize Mexican infrastructure with the aim of achieving better integration of the Mexican economy into global markets, a project closely related to the North American Free Trade Agreement, which came into force on January 1, 1994, and in effect will expand Plan Puebla-Panama.
http://www.zmag.org/content/showarticle.cfm?ItemID=2182
When the Mexican government announced the expropriation of 5000 hectares of farmland around San Salvador Atenco, 20 miles outside Mexico City, they presumed everyone was on board for their big airport plans. Addressing the campesinos who were about to lose their land, their communities and their way of life, President Fox gushed how they had in effect "won the lottery…" and there would be jobs a plenty at the airport.
http://flag.blackened.net/revolt/mexico/comment/airportAUG02.html
How the Victory at Atenco Was Won
http://www.narconews.com/Issue38/article1395.html
VIDEO: ¡Tierra si! ¡Aviones no! (Land Yes! Airplanes No!)
http://www.salonchingon.com/cinema/atenco.php?city=ny
2006 Repression and Resistance in Atenco:
Special coverage on Indymedia Mexico: Todos Somos Atenco
http://mexico.indymedia.org/tiki-index.php?page=Atenco
The Struggle in San Salvador Atenco, Mexico
http://www.indybay.org/newsitems/2006/05/10/45922.php
Brutal Repression in Atenco, Mexico; Zapatistas Issue Red Alert
http://austin.indymedia.org/feature/display/29696/index.php
Atenco: Never Again
http://www.narconews.com/Issue42/article1938.html
VIDEO: Romper el Cerco
http://chiapas.indymedia.org/display.php3?article_id=122886
VIDEO: Breaking the Siege
http://salonchingon.com/cinema/otra_canal6atenco.php?city=ny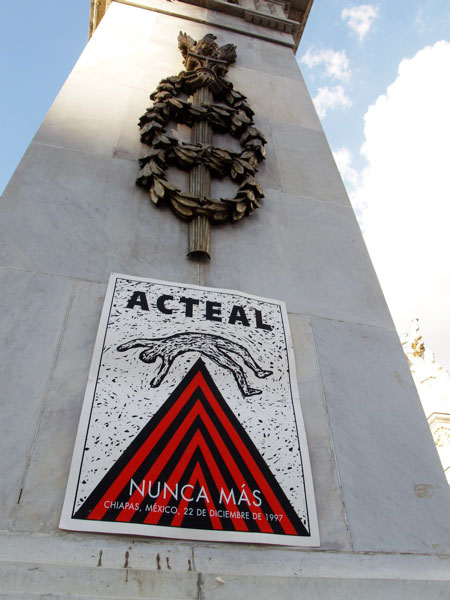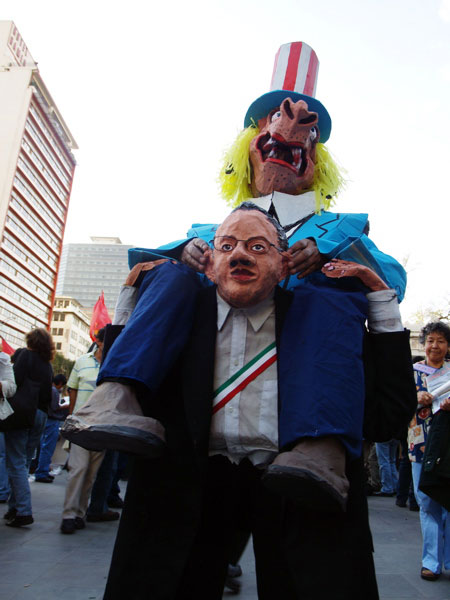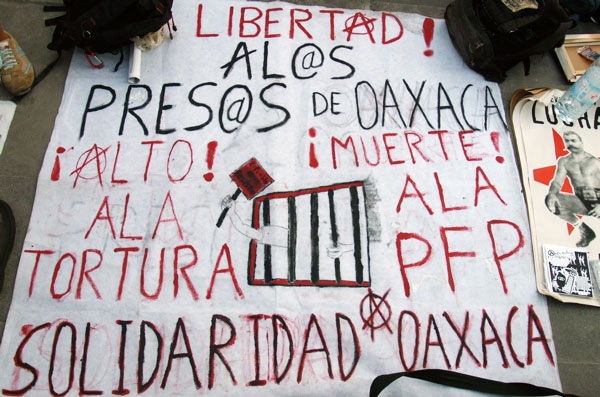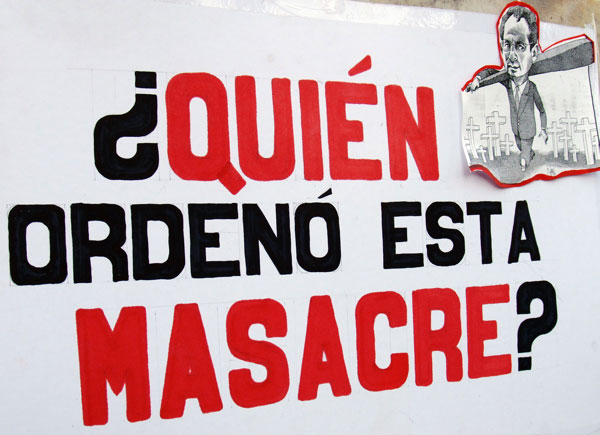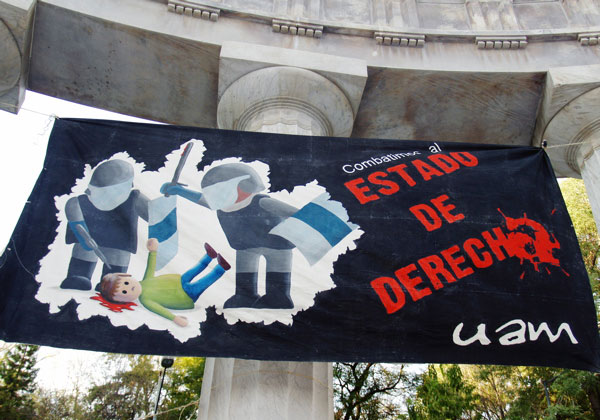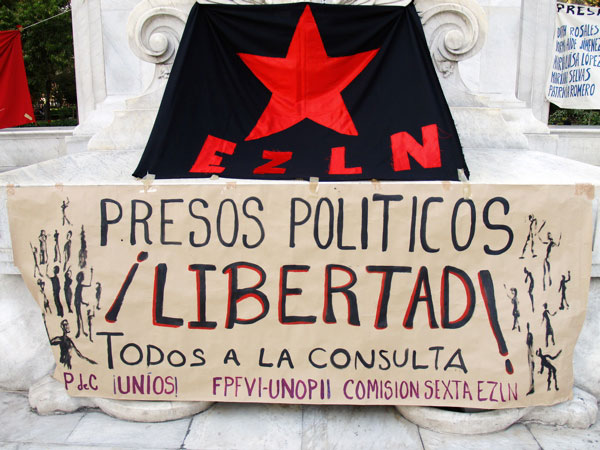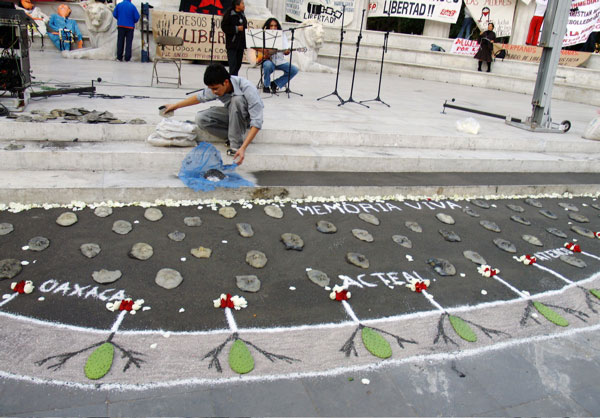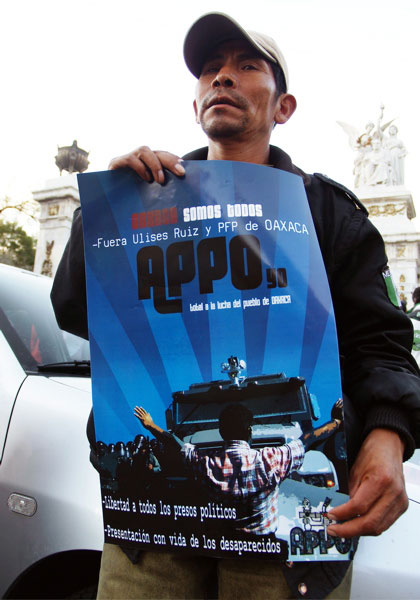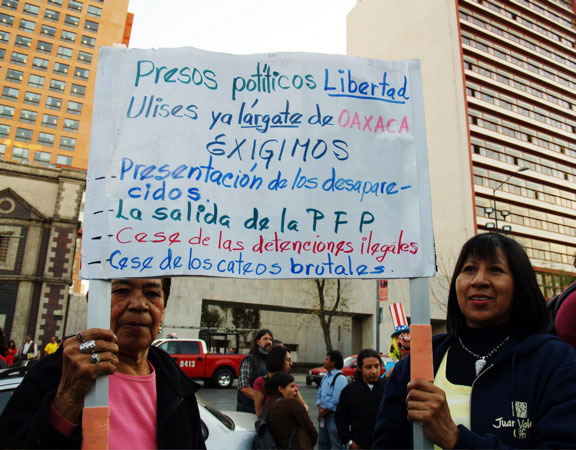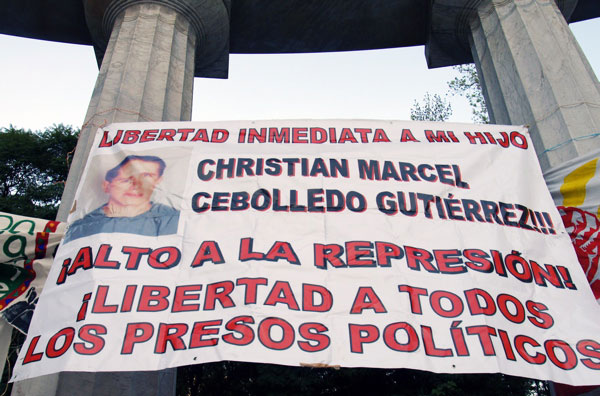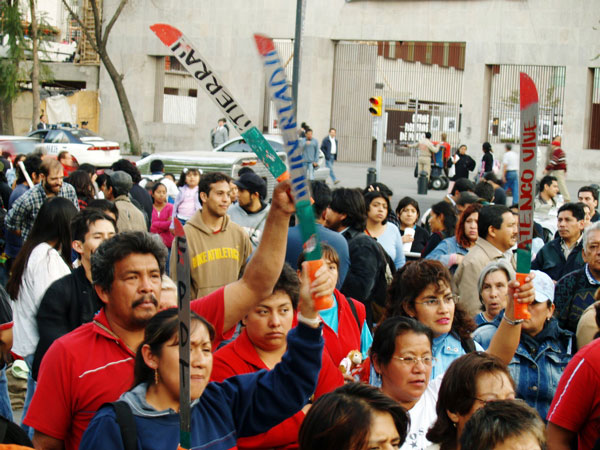 We are 100% volunteer and depend on your participation to sustain our efforts!
Get Involved
If you'd like to help with maintaining or developing the website, contact us.