From the Open-Publishing Calendar
From the Open-Publishing Newswire
Indybay Feature
Veg*n outreach planting the seeds of awareness throughout Bay Area
Bay Area Vegetarians has 4 tenets - build and support the vegetarian community, advocate a vegan diet, provide resources to support the vegetarian community, and educate the public about a vegan lifestyle. In a nutshell, BAVEG has CARE.
During October and November, we've distributed vegan food samples and literature, and most recently, vegan recipes and literature. The events are not difficult to organize, volunteers enjoy them, and it gets vegan information into the hands and minds of people who may not have otherwise received this information. And, when we're talking about veganism, it is not overly dramatic to call the information life-saving, because that's what it is when the animals are concerned.
On Saturday, October 28th, plant-powered volunteers donned costumes and hit the Sharp Park Beach to distribute hundreds of samples of vegan grilled chik'n burgers, donated by Gardenburger.
Bay Area Vegetarians' had done a similar event in March for Great American Meat-Out, and with the perfect fall weather, decided to return again.
We set up a canopy, fired up the propane stove, put out our literature, and cooked up burgers that mingled with the aroma of sautéed onions.
"This volunteer event in Pacifica was a blast. The setting was perfect, the weather was perfect and the people & doggies absolutely loved the food. Most everyone wanted a vegetarian starter kit or a BAV card and even picnickers with KFC buckets came over for a sample. Tammy in a chicken costume and Elliot dressed as a cow really drove home the idea that animals were asking people to eat alternatives. The incredible Chef Alex Bury, with the equally incredible Oliver and doggy Myshkin, enticed everyone with the delicious scent coming off the grill. Chris kept the burgers coming at a perfect pace, and while the number of people wasn't as high as you'd think for a perfect day at the beach, those we saw were too receptive not to call this a victory for the animals!" says Elizabeth, one of the volunteers distributing literature.
Adds Elliot, the costumed cow, "Direct outreach to the not-yet-vegetarian public is important in educating them on the benefits of the vegetarianism, the diet of the kind. Yet it is often hard not to get them to listen. You say "Here's an easily followed delicious diet that will benefit your health, eliminate animal suffering, and reduce the environmental impact of agriculture," but somehow they hear 'Eat flavorless twig tips you murdering habitat plunderer.' Not exactly the most productive exchange.
Fortunately, providing easily prepared veggie burger or veggie chicken samples changes the dynamic. They now hear 'Free food!', and (provided you've chosen your sample well) are pleasantly surprised on how mainstream it tastes. As Mary Poppins so correctly observed, 'Just a bite full of mock-meat makes the diet change go down, in the most insightful way.'
Many thanks to Bay Area Vegetarians for organizing a great way to spend a day in the sun at the beach, with friends, making people happy with free food while doing some serious activism."
Our Chef for the day, Alex, also chimes in, "I love these events. Great outreach. It's helpful to give meat-eaters a bite of yummy vegan food, and it's helpful to give them a Vegetarian Starter Kit. But giving both at once is the best. That way they're looking at how animals suffer for meat at the same time that they're enjoying a positive vegan taste experience, and you can just see the mental walls come crumbling down."
With Thanksgiving approaching, and as PETA says, it's Murder on Turkeys, we decided it was a great opportunity to leaflet at the San Francisco Ferry Building Farmer's Market. So this past Saturday, on November 4th, we gave away turkey-free recipes and flyers about how turkeys are raised and slaughtered, as well as Even If You Like Meat booklets.
With five volunteers, we distributed about 30 pounds of literature, over 500 individual pieces of literature. Reactions varied from the non-verbal response of ignoring the volunteers and the information to Verbal replies like "I already have that" to "No thanks" to "Oh, how sad" to the sarcastic "I like caged animals".
Leafleting is planting the seed of awareness. It is our hope that others in the community will join us as we continue our outreach & education efforts -- planting the seeds of compassion and good health.
We would like to expand our volunteer team to do leafleting on a regular basis in the East Bay, San Francisco, and South Bay. No previous experience is necessary, just a willingness to help animals; a friendly, outgoing personality is also helpful. Please contact Bay Area Vegetarians at
http://bayareaveg.org
http://www.bayareaveg.org/gallery2/v/burgergiveaway-oct06
http://www.bayareaveg.org/gallery2/v/tgferrybuilding06/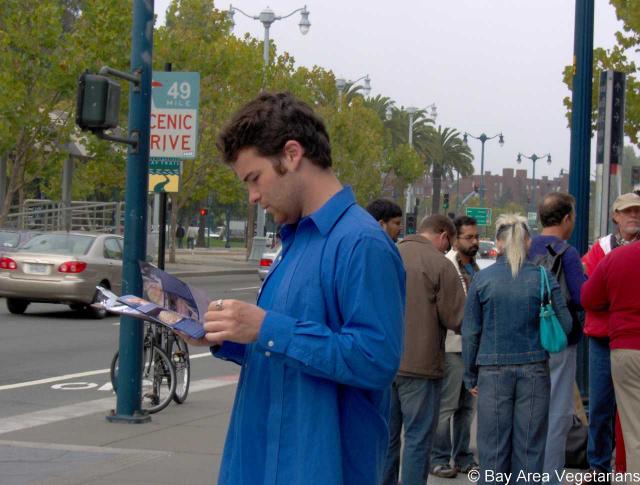 We are 100% volunteer and depend on your participation to sustain our efforts!
Get Involved
If you'd like to help with maintaining or developing the website, contact us.