From the Open-Publishing Calendar
From the Open-Publishing Newswire
Indybay Feature
PFP and Paramilitaries Attack Oaxaca City: NYC Indymedia Journalist shot and killed
A shootout has occurred in the municipality of Calicate, in Oaxaca City, Mexico today, leaving New York City Indymedia journalist Bradley Will dead after bein shot in the chest. He died before reaching the hospital, according to La Jornada. A photographer from the newspaper millenio diario, who was at Wills side, was shot in the foot and reported injured, his status unknown.
Radio APPO, the radio of the Assembly Popular of the Oaxacan People, are reporting truckloads of armed paramilitaries entering the city. They are also calling for people to reinforce the thousands of barricades that have been constructed for months as part of the statewide teacher strike and popular uprising that has demanded the removal of PRI governor Ulisis Ortiz Ruiz.
Original Article from La Jornada:
Matan a documentalista de EU en Oaxaca; un fotógrafo herido
La Jornada On Line
27/10/2006 18:38
Oaxaca, Oax. Una balacera ocurrida en el municipio de Calicante causó la muerte del documentalista estadunidense Brat Will, de Indimedia Washington, quien recibió un balazo en el pecho. A su vez, un fotógrafo del periódico Milenio Diario, Oswaldo Ramírez, resultó herido con un disparo en el pie, informó la edición Web del periódico.
El enfrentamiento ocurrió cuando grupos de supuestos guardias blancas, según reportó Radio Fórmula, agredieron a los brigadistas que resguardan las barricadas.
El dirigente de la APPO, Flavio Sosa, pidió la urgente intervención del gobierno federal en ese municipio, porque dijo que grupos al servicio del alcalde priísta están amedrentando con armas de guego a los brigadistas que resguardan las barricacas. Nosotros sólo tenemos piedras y ellos armas de fuego", dijo.
De acuerdo a las primeras informaciones, en Calicante se registró una balacera y aparte del periodistas muerto y el fotógrafo herido, tres personas más resultaron heridas.
El reportero fue herido en el estómago, y falleció antes de llegar a un hospital.
Tanto en Calicante como en el municipio de San Antonio, ambos conurbados a la capital, priva un ambiente de tensión, debido a que en ambos grupos de appistas que resguardan las barricadas y de supuestos guardias blancas se encuentran separados por un centenar de metros y se corre el riesgo de un enfrentamiento mayor.
Los brigadistas se mantienen agazapados tras las barricadas y de acuerdo con la información, uno de ellos se encuentra herido sin posibilidad de ser trasladado a un centro de atención.
http://www.jornada.unam.mx:8080/ultimas/matan-a-documentalista-de-eu-en-oaxaca-un-fotografo-herido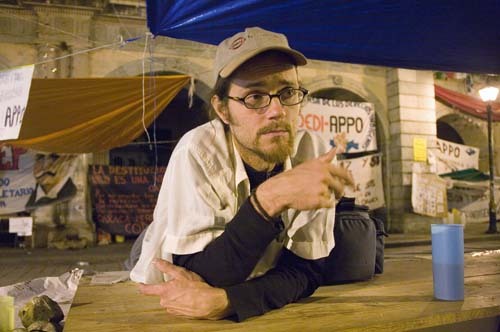 We are 100% volunteer and depend on your participation to sustain our efforts!
Get Involved
If you'd like to help with maintaining or developing the website, contact us.