From the Open-Publishing Calendar
From the Open-Publishing Newswire
Indybay Feature
Oaxaca en Crisis: APPO representantes a la reunión de los Brown Berets (10/12)
Indigenous representatives from Oaxaca, Mexico are speaking in Watsonville on the very critical situation in the state of Oaxaca. Come and learn about the Mexican government's attempt to send in the Mexican military as a solution to crush the peoples' right to demand the resignation of Governor Ulises Ruiz Ortiz. Ruiz Ortiz uses police and paramilitary squads to inflict violent acts of fear and intimidation against people who oppose the Oaxacan state government.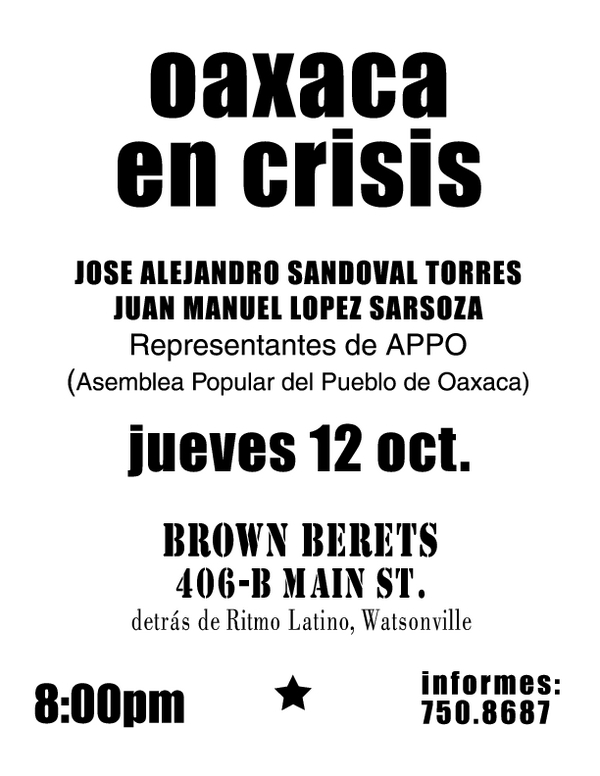 Speakers: Jose Alejandro Sandoval Torres
Juan Manuel Lopez Sarsoza
Representatives of APPO
(Popular Assembly of the People of Oaxaca)
Thursday, October 12
8:00pm
Brown Berets Office
406 Main Street (Suite 408b)
behind Ritmo Latino
-------------
Jose Alejandro Sandoval Torres
Juan Manuel Lopez Sarsoza
Representantes de APPO
(Asemblea Popular del Pueblo de Oaxaca)
Jueves 12 de Octubre
8:00pm
oficina de los Brown Berets
406 Main Street (Suite 408b)
detras de Ritmo Latino, Watsonville
URGENTE !!!!
OAXACA ESTA EN ESTADO DE CRISIS
SE LE INVITA AL PUEBLO A ESTA REUNION EN DONDE SE DARA UNA EXPLICACION SOBRE LA CRITICA CRISIS EN QUE VIVE EL PUEBLO DE OAXACA EN ESTOS MOMENTOS CRITICOS POR PARTE DE REPRESENTANTES,MIEMBROS DE ORGANIZACIONES SOCIALES DE OAXACA, EN DONDE EL GOBERNADOR DE ULISIS RUIZ, UTILIZA LA POLICIA ESTATAL PARA REPRIMIR AL PUEBLO CON LA VIOLENCIA CONTRA LOS QUE DEMANDAN SU RENUNCIA DE GOBERNADOR POR ABUSO DE PODER CONTRA EL PUEBLO OAXAQUENO Y EL GOBIERNO FEDERAL BUSCA DE ENVIAR EL EJERCITO A OAXACA, VENGAN A ESCUCHAR ,QUE ES LO QUE ESTA PASANDO EN OAXACA.ENTERESE !
"NO A LA INTERVENCION DE LA POLICIA
Y MILITAR EN OAXACA !!!!"
--------------
http://asambleapopulardeoaxaca.com
http://codepappo.wordpress.com
http://elenemigocomun.net
http://lists.riseup.net/www/info/oaxaca
http://narconews.com/otroperiodismo/oaxaca/en.html