From the Open-Publishing Calendar
From the Open-Publishing Newswire
Indybay Feature
Interview with Shannon Young in Oaxaca City
On October 2nd, 2006, the 38th anniversary of the Tlatelolco Massacre, I spoke with Shannon Young, Headlines Producer for Free Speech Radio News, who lives in Oaxaca City, Mexico. The 1968 student massacre at Tlatelolco in Mexico City sets a creepy undertone for the military provocations currently taking place in Oaxaca City which include low-flying marine helicopters. Shannon discusses MegaMarches, the march from Oaxaca City to Mexico City and the technicalities of getting Ulises Ruiz Ortiz (URO) to leave office. (25 minutes / 11.5 MB)
Free Speech Radio News
http://fsrn.org
Topics discussed in the interview include:
* Anniversary marches for the Tlatcoco Massacre
http://en.wikipedia.org/wiki/Tlatelolco_Massacre
* Marine helicopters flying overhead and a plane with a camera has been flying overhead as well
* 500 - 2,500 barricades throughout Oaxaca City
* A Federal meeting with all sides
* The training of 2,000 special police forces outside of Oaxaca City
* URO's appearance in Oaxaca City
* Schools, students, teachers and scab teachers
* Drive-by shootings and kidnappings
* Unusual attacks on banks which may have been committed by a guerilla group which may have been planted by the government as a pretext for military force against the people of Oaxaca
* The effect on tourism and the economy
* Warnings from the US State Department and Canada not to go to Oaxaca.
* Shutdown strikes in Oaxaca City by business owners
* Traveling to Oaxaca
* Media reporting on the situation in Oaxaca
* Spreading the word about Oaxaca and solidarity
* MegaMarches and the march from Oaxaca City to Mexico City and the situation in Puebla
* Technicalities of getting URO to leave office
* The false image of democracy in Mexico
For more information on Oaxaca:
Narco New coverage
http://narconews.com/otroperiodismo/oaxaca/en.html
El Enemigo Común
http://elenemigocomun.net
Join the Oaxaca solidarity list
http://elenemigocomun.net/email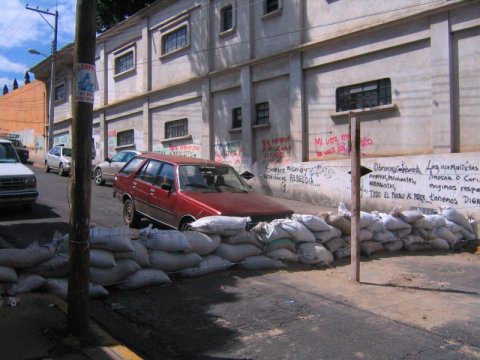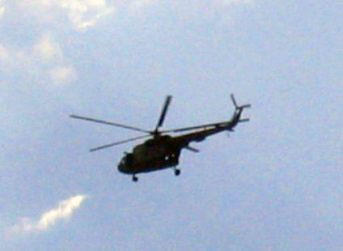 photo:
http://mexico.indymedia.org/oaxaca
September 30th - The presence of military helicopters and a small airplane in Oaxaca City airspace fuels rumors of a coming crackdown against the popular movement calling for the ouster of the despised governor.
Military Over-flights Heighten Tensions in Oaxaca
http://elenemigocomun.net/139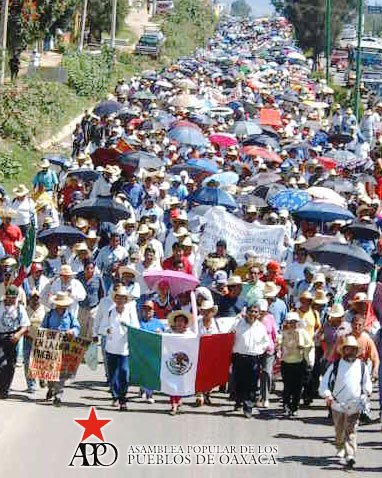 photo:
http://asambleapopulardeoaxaca.com
On September 21st, approximately 3,000 schoolteachers, parents, students, and members of civil society began WALKING to Mexico City (over 300 miles). The march's primary objective is to pass through communities along the way, talking to people about the situation in Oaxaca, and to demonstrate the level of sacrifice the marchers are willing to endure. Along the way, they will pass through three states with very unpopular governors: Puebla, whose current governor is accused of belonging to a child-pornography ring; Morelos, whose governor is a known drug-trade king-pin; and the State of Mexico, whose governor was responsible for the recent repression against the community of San Salvador Atenco.
When the marchers arrive in Mexico City, they will camp out in front of the national senate to demand the resignation of Governor Ulises Ruiz. The last time the teachers walked to Mexico City was in 1986.
Read more about the teachers movement in Oaxaca
http://elenemigocomun.net/131
We are 100% volunteer and depend on your participation to sustain our efforts!
Get Involved
If you'd like to help with maintaining or developing the website, contact us.